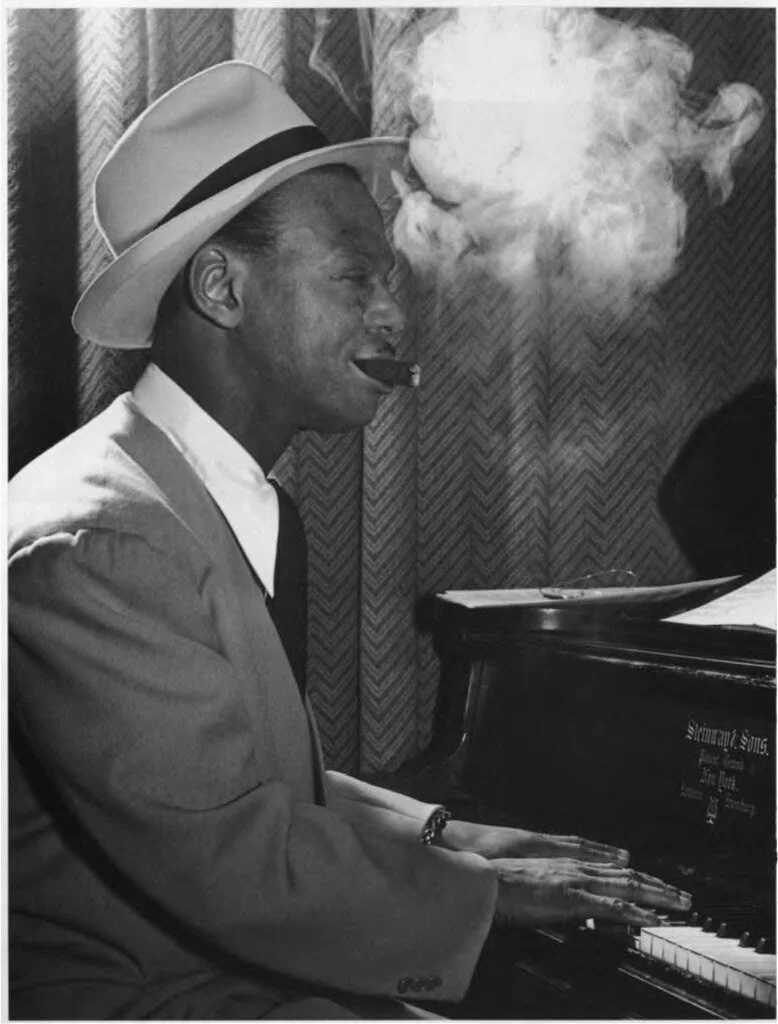 Earl Hines has been called the first modern jazz pianist. His style differed from other pianists of the Twenties in his use of what were then considered unusual rhythms and accents. Jelly Roll Morton had set the direction of Jazz piano in the early part of the decade, but after 1926 Hines was at the forefront of the Hot Jazz style. Hines started playing professionally around 1921 in Pittsburgh. In 1923 Hines moved to Chicago where he worked with Deppe's Seranaders, Erskine Tate's Vendome Orchestra and with Carroll Dickerson.
He met Louis Armstrong in 1926, at the local musician's union hall and the two became friends. Hines worked briefly in Louis Armstrong's Stompers and along with Zutty Singleton and Armstrong tried unsuccessfully to manage their own club together in Chicago.
1928 was a productive year for Hines. He recorded his first ten piano solos including versions of "A Monday Date," "Blues in Thirds" and "57 Varieties." Hines worked much of the year with Jimmie Noone's Apex Club Orchestra.
Hines joined Louis Armstrong on the Hot Five and Hot Seven recording sessions, playing on the classic "West End Blues," "Fireworks," "Basin Street Blues" and composing " A Monday Date."
On his birthday that year, Hines debuted with his first big band. Earl would continue to lead his own big bands until 1948. In 1940 Billy Eckstine became the band's popular singer and in 1943 both Dizzy Gillespie and Charlie Parker were added. In 1948 Hines joined the Louis Armstrong's All-Stars and played with them for three years.
In 1951, Hines moved to California and formed a Hot Jazz band to cash in on the Dixieland revival that was going on at the time. He continued the Dixieland band throughout the Fifties, but by the early Sixties, Hines was pretty much out of the Jazz mainstream and forgotten. In 1964 he staged a major comeback that lasted through the rest of his career.

Title

Recording Date

Recording Location

Company

A Monday Date


(Earl Hines)

12-8-1928
Long Island City
QRS
R-7037
A Monday Date


(Earl Hines)

12-9-1928
Chicago, Illinois
Okeh
8832
Blues In Thirds


(Earl Hines)

12-8-1928
Long Island City
QRS
R-7036
Chicago High Life


(Earl Hines)

12-8-1928
Long Island City
QRS
R-7037
Stowaway


(Earl Hines)

12-8-1928
Long Island City
QRS
R-7038
Chimes In Blues


(Earl Hines)

12-8-1928
Long Island City
QRS
R-7038
Caution Blues


(Earl Hines)

12-9-1928
Chicago, Illinois
Okeh
8832
Fifty-Seven Varieties


(Earl Hines)

2-12-1928
Chicago, Illinois
Okeh
8653
Glad Rag Doll


(Jack Yellen / Dougherty / Milton Ager)

2-25-1929
Chicago, Illinois
RCA X
LVA-3023


50528-1

Glad Rag Doll


(Jack Yellen / Dougherty / Milton Ager)

2-25-1929
Chicago, Illinois
Bluebird
B-10555


50528-2

I Ain't Got Nobody


(Graham / Bert Williams)

2-12-1928
Chicago, Illinois
Okeh
8653
Just Too Soon


(Earl Hines)

12-8-1928
Long Island City
QRS
R-709-B
Panther Rag


(Earl Hines)

12-8-1928
Long Island City
QRS
R-709-A
Off Time Blues


(Earl Hines)

12-8-1928
Long Island City
QRS
R-7036


The World of Earl Hines by Stanley Dance, Da Capo Press, 1977