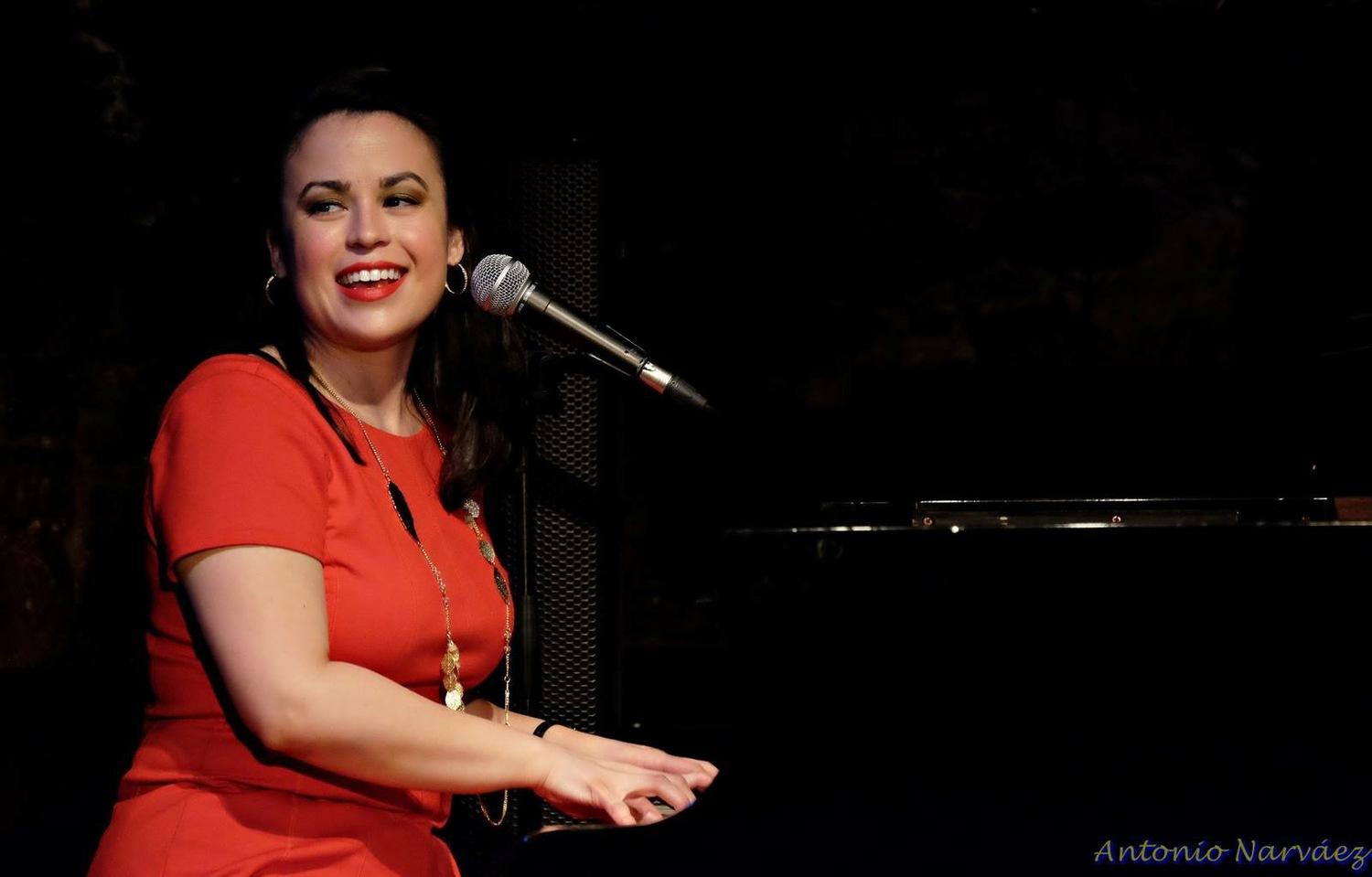 Champian Fulton: A Fresh Breath of Swing
Related: Christmas With Champian Champian Fulton, piano and vocals, Christmas with Champian
The Story Of Champian Fulton
Children often change their minds about what they want to be when they grow up as often as they change their socks. As teens, they can also rebel from the influences of their parents. Champian Fulton proves the exception to those rules having become a premiere jazz pianist/composer/vocalist by the age of 31 after growing up exposed to jazz in her Norman, Oklahoma, home. Her introduction to the music came even before her birth, as her parents repeated played the classic record "Charlie Parker & Strings" while she was in utero.
"When I was still not yet born, my parents decided that they were going to play only Charlie Parker with strings for me," Fulton says. "They thought it was the most beautiful record and they wanted me to experience this beautiful thing and that's how my life sort of began. And when I was born, my dad would come to the hospital to see my mother and I with a tape recorder and play Bird with strings on repeat."
Fulton's father Stephen, himself a noted flugelhorn player and educator, held jam sessions with jazz legends like Clark Terry, Red Holloway, and Snookie Young. Little Fulton soaked up the atmosphere and channeled it into playing piano, drums, and trumpet. By five years of age, she says she loved jazz so much that "there was just nothing else I wanted to do."
Unlikely Tastes
It wasn't before long that Fulton sat in with her father and his friends as they jammed. The swinging feeling of the music satisfied her soul. It stood out in sharp contrast the music her Oklahoma peers enjoyed at the time.
"They were listening to NSYNC and Britney Spears. I just didn't really like it. I would hear it out in the world but it wouldn't grab me at all. I wouldn't push my music onto my friends. It wasn't my motive, but I would just say something like, "You got to listen to this new Count Basie record," Fulton says.
Mentorship
As her passion and talent for the music deepened, she earned the mentorship of the great trumpeter Clark Terry, who was not only an in-demand legend but also someone who cared deeply about passing on the music to younger people. Fulton absorbed his knowledge like a paper towel cleans up a spill.
"I was sort of like the child that Clark could order around," Fulton recalls. "Clark would say 'go get this' or 'go get that' because around this time he was 75 and I was just there all the time. I must have seen him give hundreds of master classes and clinics and talks with students. I understood what he was doing and I appreciated it. And as I got older, I started to appreciate the importance of it even more. But he was very welcoming and I think he knew I was serious so he was willing to tolerate a small child."
Her relationship with Terry also led to her first paying gig as a musician. A 10-year-old Fulton fronted her own jazz group for Terry's 75th birthday party.
Studies
As she matured and continued her studies while performing throughout Oklahoma, Fulton began developing her style as both a pianist and as a vocalist with Dinah Washington being a big influence on her sound. She approached the complexity of jazz by first copying the artists she heard on records. Fulton says she transcribed many solos from age eight to well into her twenties. Her goal wasn't to mimic her favorite artists but draw out what made them swing.
"I always had a clear idea of what I wanted my music to be about. Of course, I'm well into swing and the swinging feeling. I wanted to be the most swinging person. I have not yet achieved that but it's still up there. And in sort of an odd way, I wanted to be super melodious and super swinging like Clark (Terry). I wanted to be a bebopper. I wanted to combine those two things and go from there, both vocally and musically," she says.
Graduation
Following her graduation from high school in 2003, Fulton attended the State University of New York at Purchase where she studied with trumpeter Jon Faddis, an acolyte of Dizzy Gillespie. Though her father, Terry, and Faddis all play trumpet, Fulton chose to focus on piano because it allowed her more freedom to sing while she played. She says that she liked being able to sing and play at the same time. The trumpet would color of her vocal approach giving her sound a more horn-like quality. She also made rhythm her business infusing her sound with aspects of both be-bop and swing.
Old New York
By 2006, Fulton made her way to New York City as a full-time musician. She earned a "Rookie of the Year" award from the Village Voice the following year. Her first record, , also dropped to positive reviews. Seven more recordings as leader would follow from 2008-to the present, all on independent labels. Critics compared her to such greats as Red Garland, Wynton Kelly, and Errol Garner. Fulton also toured jazz clubs and festivals as well as began performing at landmark jazz venues like Birdland, Dizzy's Club Coca-Cola, and Bemelmans Bar at the Carlyle Hotel.
Fulton, full of youthful energy and ebullience, didn't think of herself as "different" in the world of jazz—until she looked around at other performers in the Big Apple.
"It took me a really long time after moving to New York to sort of think, 'Wow, I'm different.' But I'm not different; I look different," she says. "I think when it came to navigating the jazz musician world, it didn't matter too much because most jazz musicians only care about the music. But navigating the business side of things was different. And of course, they'll always be musicians have difficulty working with women for whatever reasons."
Fulton says she moved to New York, she wanted to meet the jazz musicians, like alto saxophonist Lou Donaldson, whom she had been listening to all of her life. It didn't occur to her until recently how odd it may have appeared to them that this petite, young, white girl could recite chapter and verse on their music.
"They were so welcoming," she says. "And Lou, he's one of my best friends and we really became close. And I know that he doesn't think of me as this younger girl who's not black. We just connected and have a lot in common. Being 'a woman in a man's world' has always been a thing, but I think a lot musicians just care about the music."
Speechless
Currently, Fulton is on a world-tour in support of her latest record that is a departure from her previous releases. Speechless (Posi-Tone Records) presents Fulton as just a pianist and composer, leaving behind the songs of the Great American Songbook that comprised a bulk of her earlier recordings. It also follows the critically acclaimed tribute to her beloved Dinah Washington, After Dark (Gut Sting, 2016). All ten songs on Speechless are original compositions.
"I've always wanted to write tunes…like all of my heroes. And I always wanted to make a piano trio record because I love piano trio records, but I was always a little shy about it because I thought 'Well, people like the singing and I want to be consistent, I want to give people what they like'", Fulton says.
The record's producer (and Posi-Tone owner), Marc Free, convinced Fulton to drop the vocals and embrace just the piano.
"This is my seventh record and I thought 'You know, seven is a lot' and there's a lot of vocal records [people] can buy and nobody's going to hate me for making an instrumental record. So I thought it was the time to do it and I got inspired, wrote the tunes and we just sort of did it. And I'm really glad that we've done it," she says.
And so are the jazz critics, calling Speechless Fulton's "irresistible." Downbeat called it "an intensely personal statement—brimming with delicate flourishes, brilliant runs, and moments of quiet intensity."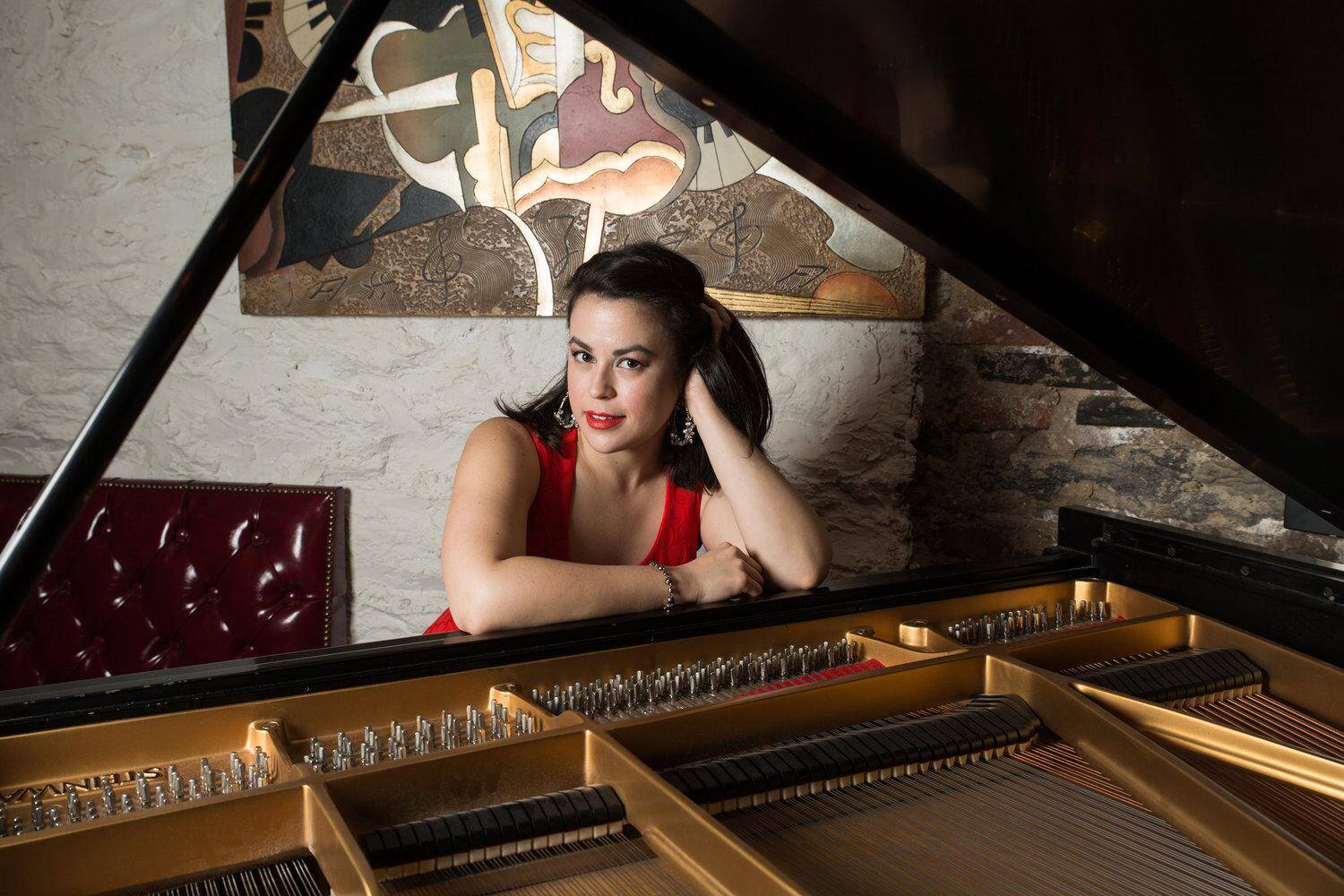 "I had never written before I started on this project aside from one or two things, so this was a really new thing for me," Fulton explains. "And it being new made it difficult to find out how to go about it. A lot of it was trial and error and I went through many revisions until [the pieces] were really good—until they were finished. And even when I finish, I still think 'how can I change it?'"
Style
The one thing that doesn't change is Fulton at the keyboard. When seeing her in concert, you can be assured of always getting "the same Fulton," not matter if she is performing at an outdoor jazz festival or in the moneyed atmosphere of the Carlyle.
"I have moods, like maybe I feel like singing more or maybe I want to sing less. But I'm always the same…and mostly everyone is happy with that. When I first came to New York, I was playing in a lot of restaurants and I would hire really good and older musicians to play with me. I was really into Bud Powell and would say, "Let's play "Un Poco Loco," or Monk's "Off Minor" and they would say 'You can't play those kinds of songs here. You have to play the "The Girl from Ipanema." This is a restaurant, you can't do that!' And I would just say, 'Oh, we're going to do it!' And I never had an issue regarding the tune selection. I mean if you like music, then you're going like it."
With a youthful, can-do attitude like that, coupled with a bright smile and stupendous talent, jazz looks safe and secure in Fulton's capable hands. Her prodigious use of social media can also only mean good things for attracting young people to jazz. One doesn't need to be born into the music like she was, when just listening to her can turn anyone into a lifelong jazz fan.
---
Champian Fulton: Online and Social Media Presence and Discography
Online: www.champian.net
Instagram: champianfulton
Twitter: @champianfulton
Facebook: www.facebook.com/champianfulton
YouTube: youtube.com/user/ChampianFulton
Discography As Leader:
Champian (Such Sweet Thunder, 2007)
When Your Lover Has Gone (Venus, 2008)
Sometimes I'm Happy (Venus, 2010)] The Breeze and I (Spectra, 2011)
Champian Sings and Swings (Sharp Nine, 2013)
Change Partners: Live at the Yardbird Suite (Cellar Live, 2014)
After Dark (Gut String, 2016)
Speechless (Posi-Tone, 2017)
---
Brian R. Sheridan, MA, is the chair of the Communication Department at Mercyhurst University in Erie, PA (hometown of Ish Kabibble) and a longtime journalist in broadcast and print. He also co-authored the book America in the Thirties published by Syracuse University Press. Write to Brian Sheridan at [email protected]; find him on Twitter @briansheridan and as brianrsheridan on Instagram.
---
Online Only
For Online Only Access without delivery of the print paper sign up below.
Subscription Options
---
Print Edition
 If you'd like the PRINT EDITION, (12 monthly issues) use the following PayPal link. After your payment is complete you will be allowed to create an online account. You will receive the next mailed copy, usually shipping around the 22nd of the month. See a PDF Sample Here.