For nearly 50 years, Arkansas-born Dan Hicks picked guitar and sang songs that cleverly blended the best of American music styles. Hicks died Feb. 6, at his home in Mill Valley, Calif., after a lengthy bout of throat and liver cancer. He was 74.
Though his career began with a rock band called The Charlatans, it didn't take off until he embraced his true loves: classic jazz, country blues and pop standards.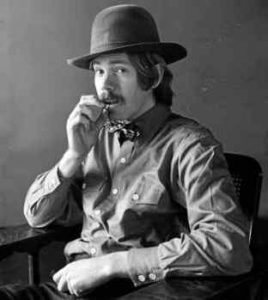 "I'm not really a rock baby," Hicks told me when I telephoned him while he was touring the East Coast in 2007. "I was aware of Elvis and Chuck Berry and Bill Haley, but I was really more of jazz and folk kinda guy."
Hicks hailed from Little Rock, Ark., but was raised in Northern California where he played drums in his high-school marching band. His influences, he said, ranged from Jimmie Rodgers, the Father of Country Music, to contemporary jazz poet Tom Waits.
"It doesn't matter what style it is exactly, but what I like is something especially tasteful," he told me nine years ago. "Right now, I'm listening to the big band channel. I'm prejudiced, I guess, in favor of old standards."
His best-known band, Dan Hicks and His Hot Licks, was formed in 1967 in San Francisco, Calif. where psychedelic rock bands such as Jefferson Airplane and the Grateful Dead dominated the music scene. The Hot Licks stood out as something completely different.
Record reviewer Michael Ruby explained the band's quirky appeal. "Hicks created hip, jazzy, and sophisticated music that found its roots a lot further back than the 1950s," Ruby wrote. "The band was in fact modeled on gypsy guitarist Django Reinhardt's 1930s quintet and buttressed by a pair of female vocalists, fondly called The Lickettes."
The first version of the Hot Licks included vocalists Sherry Snow and Christine Gancher, guitarist Jon Weber, violinist "Symphony" Sid Page, bassist Jaime Leopold and no drummer. That lineup lasted until 1971.
The group's first album dubbed Original Recordings, produced in 1969 by legendary knob-turner Bob Johnston, includes memorable compositions such as "Canned Music, "Evenin' Breeze," and – perhaps Hicks' best-known tune, the tongue-in-cheek masterpiece "How Can I Miss You When You Won't Go Away?"
Hicks & Co.'s reliance on close harmonies, call-and-response vocal patterns and subtly swinging musicianship made for unforgettably pleasing listening experiences.
When Hicks reformed the band circa 1972, Page and Leopold remained, and vocalists Naomi Ruth Eisenberg and Maryann Price joined, followed later by guitarist John Girton. This group recorded three albums, culminating in 1973's Last Train to Hicksville on which the group first added a sparingly used drummer, Bob Scott.
Last Train to Hicksville was so good that Rolling Stone magazine put Hicks' mustachioed mug on its highly coveted cover.
Though he disbanded the Hot Licks in 1974 at the peak of its popularity, he reformed a new version of the group in 1998. Several moderately successful albums followed, and – after already releasing music on LPs, 45s, 8-tracks, cassettes, and compact discs – a decade ago Hicks issued a downloadable cyber-album called Duets. featuring collaborations with Willie Nelson, Elvis Costello, Rickie Lee Jones, and others.
On tour in 2007, Dan Hicks' Hot Licks included Paul Smith, Dave Bell, Richard Chon, and the two "Lickettes," Roberta Donnay and the mono-monikered Daria. The combo paid homage to jazz greats such as Django Reinhardt with "Topsy" and Fats Waller with "Honeysuckle Rose." Hicks sang Tom Waits' infamous anthem to alcohol, "The Piano Has Been Drinking," while the ladies were featured on "I'm an Old Cowhand," a big hit for Bing Crosby back in 1936.
"My music is kind of a blending," Hicks told a Colorado concert audience that year. "We have acoustic instruments. It starts out with kind of a folk music sound, and we add a jazz beat and solos and singing. We have the two girls that sing, and jazz violin, and all that, so it's kind of light in nature. It's not loud, and it's sort of, in a way, kinda carefree. Most of the songs are, I wouldn't say funny, but kinda maybe a little humorous. We all like jazz, so we like to play in a jazzy way, with a swing sound you know, so I call it 'folk swing.' There are a lot of original tunes that I've been writing through the years, so that has its personal touch on it."
Discs released in 2009 and 2013 show Hicks still dabbling in early jazz and swing. The CD Tangled Tales has Hicks crooning "The Blues My Naughty Baby Gave to Me" from 1919 and "Ragtime Cowboy Joe" from 1912. On 2013's Live at Davies, Hicks handled "Hummin' to Myself" by the Washboard Rhythm Kings and Duke Ellington's "Take the A Train."
In a report on his death, the New York Times called Hicks "defiantly unfashionable, proudly eccentric and foot-tappingly catchy."
"Dan was one of contemporary music's true innovators," said Patricia Lockwood-Blais, who booked him in 2007 to play the Earlville Opera House in Upstate New York. "And his wit was irresistible."
In fact, humor has always been an important part of the Hot Licks' act.
"It's just part of my makeup," Hicks told me. "I just lean that way, but I have more serious tunes and thoughts too. I'm not going for big, loud laughs; more like smiles, snickers, and giggles. It's nice, though, to hear the audience react at a funny line in a song. I listen for that, and if they don't laugh, I just pack up and leave."
He was joking.
I think.