Britain has a few reasons to be blue. Our economy is shrinking. Our politics is an international joke. And the weather this summer has been really, truly lousy.
David Broad has had the blues much longer than that—since first picking up a guitar, as a teen during the 1990s. Growing up in Liverpool, where rock 'n' roll never really died, he developed a childhood obsession with Elvis. Soon he was digging at the roots of modern American music. Now he's sprouting a career from them.
The freelance web designer mixes his high-tech day job with the much older profession of a "songster." Footloose David totes an eclectic repertoire of American jazz, blues and folk classics wherever he goes, delivering them all in the rural stylings of Mance Lipscomb, Blind Willie McTell, and Big Bill Broonzy.
"They were traveling human jukeboxes," he said, "playing whatever people wanted to hear. A lot of blues, but also whatever was on the radio. They were the guys I wanted to emulate." Like his heroes, David likes traveling solo. But the hard-working guitarist and bassist also rolls with the David Broad Trio and rockabilly outfit Hailbails.
His string-slinging career began with a horn. "At school, a teacher asked if anyone wanted to learn an instrument," he said. "I was into militaria and wanted to play fanfares and bugle calls. So I said yes, trumpet. But practicing was hard work and I was lazy."
Fortunately, while digging through his dad's record crate, David discovered The King and his passion for practice was restored. He took up guitar and could soon thrash out a mean 12-bar blues— but quickly craved greater variety. "A lot of urban blues just has three chords and I got a bit bored with that," he said.
It was an encounter with an English folk guitarist which first drew him towards the genre-bending songster style. "Someone took me to see Ralph McTell, who was playing Blind Boy Fuller and Blind Blake," he said. "I looked into them and ended up getting some books and CDs on rural blues guitar. Then online shopping came along and I could order teach yourself VHS tapes. It all took off from there."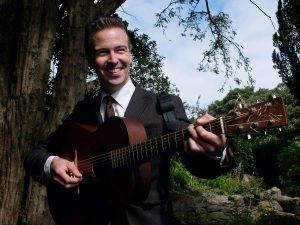 Robert Johnson and Mississippi John Hurt would come to have a big influence on David's musical development—as would Louis Armstrong, with whom he had dabbled in his trumpet days. "I found an album of Armstrong playing old blues songs," he said. I thought, why not learn a few jazz standards too? That's when I started learning what diminished chords were, all that sort of thing. Just making the blues a bit more complicated."
Soon David was immersed in the world of bluesy guitar jazz covers, typified by Broonzy's 1957 recording of Benny Goodman's "Glory of Love." Reinterpretations of ragtime and Dixieland—like Rev Gary Davis' 1964 version of Scott Joplin's "Maple Leaf Rag," or Tim Sparks' modern arrangements of Louis Armstrong—also piqued his interest.
After university, David traveled to France and busked on the streets of Paris for a few months. The money wasn't good enough to make a living, but he was living his dream and making some lifelong friends.
"Busking is great," he said. "It's just such a weird thing to do, putting yourself out there and hoping people like you. But when you do it, things happen. You can make connections online which is great for getting bookings, but you don't make the same sort of personal connections as you do meeting somebody outside."
He added: "I was busking in Strasbourg once and a guy came up to me. I was staying in a hostel and he said I could come and stay in his apartment. I slept with a penknife in my sleeping bag the first night, but we became good friends and we see each other quite regularly."
David has since returned to the UK—but still lives the footloose life of a wandering blues bard. He has made his base in Leeds, Yorkshire. For a while he played with the Leeds City Stompers, before moving on to other projects. Learning swing dance gave him the incentive to expand his repertoire. Now, The Trio's sets feature Lindy hop favourites like Jimmy Lunceford's "'Tain't What You Do" alongside danceable blues classics like Little Walter's "My Babe."
"We started learning more stuff from the Swing Era, but tried to stay away from the ones that people DJ all the time," he said. "Quite a lot of the blues repertoire has come into the dance set. We play a lot of Robert Johnson songs—we just swing them instead of shuffling them. Sometimes when I'm playing a song, I imagine how my feet move when I'm dancing. We watch the dancers' feet as well and we adapt to how they move. It mostly works out alright."
He added: "It definitely helps to be a dancer, if you're going to play for them. Knowing what to play, for how long and at what speed—I think that's why we keep getting booked for dances. It's a lot of effort to alter a set for dancers, though—it takes time, planning, and practice. Some songs work well at a dancing tempo and others just don't."