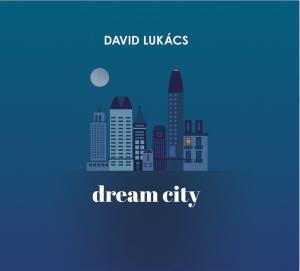 At 41 reedman David Lukács has already been playing the classic jazz circuit internationally for over 20 years. In 1998 he won the Kobe Jazz award which led to several subsequent tours of Japan as a member of all-star assemblies. Born in Breda, Netherlands home of one of the best known jazz festivals in Europe, he grew up on classic jazz both at home listening to his fathers records and in the heartbeat of his city.
Currently he is a member of the Dutch Swing College Band, a national treasure with roots in the underground of the second world war. He tours widely with them and has appeared on their last five albums. He's also toured with The Ramblers, another local institution dating back to 1926! Of course he's played with a number of visiting Americans, including Duke Heitger, Dan Barrett, Scott Hamilton, Harry Allen, and Scott Robinson, who provides the liner notes for this album.
Though he has appeared on dozens of recordings, Dream City is David Lukács' first album as a leader, an announcement that he is a distinct and important voice on the scene. He describes the dream city thus, "there's Bix and Tram's music in one club, Duke is playing in the theatre beside, and you might hear Django's music around the corner." You might call it Haarlem, a mix of jazz worlds that was once, and still is possible in Europe.
The Dutch Swing College Band has a distinctive sound somewhere between swing and early New Orleans. Wikipedia even lists "Dutch Old-style" as it's own sub-genre of traditional jazz. David Lukács has a more expansive vision but never ventures from the conventions of the 20s and 30s.
On Dream City he plays clarinet and tenor bringing together his peers from across the continent in a quintet. Names you should become acquainted with. Malo Mazurié of France is one of my favorite young cornetists. Attila Korb, plays trombone and also "the only vintage bass saxophone in Hungary". Félix Hunot, also of France is, with Mazurié, part of the trio Three Blind Mice. He plays guitar and banjo here. Joep Lumeij is an in demand bass player from the Netherlands.
The album was recorded naturally to a single pair of mics. The playing is pure, and the feel a little bit dream like. They play music of the 20s and 30s small groups with both seriousness and reverie. It's no archaeology project, but they also do nothing to clothe the early sound in crisp modern trappings. The inclusion of banjo, and that good old bass sax preclude any pretentiousness. What's left is simply jazz improvisation on a high level. Creative soloing without ever losing track of the underlying material. I wasn't stopped to "wow!" at a particular execution, instead they took me along for the whole ride.
Lukács ' arrangements get everything right. "Mandy, Make up Your Mind" has all the ragtime shake it should. "Blue Prelude" is subtle and moving. "Louisiana" recalls the city that care forgot, "Moonlight on the Ganges" bobs along through rapids.
Clocking in at 50 minutes, Dream City will be a joyous escape for anyone who appreciates a deep listen.