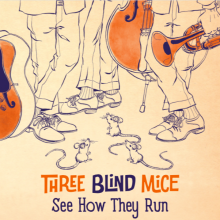 Highly skilled trios are common enough playing advanced swing or thoughtful chamber jazz and the members of Three Blind Mice are certainly capable of both. They have extensive backgrounds playing multiple styles from hot early jazz for dancers to straight ahead and bop.
The wonderful news for us is that, as the Mice, they choose to focus in on melody and bring us traditional jazz that climbs the fences of the genre without hopping over them. They've produced an exceptionally inventive, sometimes humorous and always delighting album. Their second as a group.
Australian born bass player Sébastien Girardot has now settled in France. His early background featured classical training and jazz experience with New Orleans style bands. He's now in demand across Europe and has joined Harry Allen, Cecile Mclorin Salvant, Dan Barrett, Evan Christopher, and Ken Peplowski on stage. He's recorded on GHB, Jazz Crusade, lejazzetal, Jazzology, and other labels. His other groups include La Section Rhythmique, a swing oriented quartet, another swing quartet focused at the moment on Charlie Christian material, and he was a founding member of Django à la Créole. He seems to be the force behind Three Blind Mice. He knows when to add a rhythmic boost, when to step up and when to fade away, helping to mold each track even where his contribution isn't prominent.
Girardot is prominent on two of my album favorites "Russian Lullaby", and "Chloe", both of which create a blissful zone of pure contemplation. He even breaks out the bow briefly to great effect.
28 year old Malo Mazurié began to play cornet as a seven year old enamored by Bix Beiderbecke. He's focused his career on New Orleans style traditional jazz and swing. He appeared at European festivals as a teenager and has since played everywhere, really, the Middle East, South Korea, even across Africa. He's shared stages with Dan Barrett, Scott Hamilton, Howard Alden, Rossano Sportiello, Paolo Alderighi, and Duke Heitger among others. Still a devotee of Bix, his performance focus has been on classic jazz styles, but he has studied both classical music and modern jazz to further understand his instrument.
At 34, guitarist Félix Hunot is still deeply engaged in the academics of jazz as both a student and educator. His studies have taken him to Canada and back. He's performed with Cécile McLorin Salvant, the King Reno Dixie 8, and other acts. He goes far beyond rhythm to become an equal partner in the trio and his interactions with Mazurié are a highlight.
The 15 mostly instrumental tracks explore classics including "Viper Mad", "Fidgety Feet", "Panama", and "Humeresque". The group skillfully recreates the stride solo works "Carolina Shout" and "Echoes of Spring". They delight in not having a piano or drums yet still making their three instruments sound like four or more. The big band hit "Don't be that Way" feels freed rather than pared down. They build energy to dramatic effect from the rhythms and quirks inherent in each melody. Melody is paramount. A few of the numbers can't help but be uptempo, but most of the album has a laid back feel with a natural bluesiness. It's exploratory.
These are virtuoso players full of creative fire searching the nuances of these classics for ever more to say. They rise to the challenge. Mazurié's is fantastic. His use of color and tone are smile inducing. He appears at Whitley Bay alongside Andy Schumm, Enrico Tomasso and other greats familiar to our readers. I'd like to see him at more American jazz parties. Or by all means, bring the whole band!
The variety of tempo within each title, and from one track to the next makes the album enthralling from beginning to end. If you think of traditional jazz as a vehicle of perpetual discovery this album belongs in your collection.
Find it at sebastiengirardot.com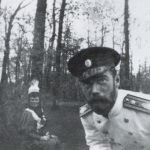 Joe Bebco is the Associate Editor of The Syncopated Times and Webmaster of SyncopatedTimes.com. He is available for liner notes and other writing or to give your website an overhaul. Reach him at [email protected]