Tenor titan is a team-player
When he was a kid growing up in Rhode Island, Harry Allen played the hot corner. Now he plays a hot horn.
The former Burrillville High School third baseman has become New York City's Number One tenor saxophonist. And no wonder, because even before he attended kindergarten, even before he began playing baseball, Harry Allen absorbed the sweet sounds of American jazz. His father, Maurice – who played drums professionally in West Coast territory bands in the 1940s—constantly played records for his young son including performances by tenor saxophonist Paul Gonsalves, a vital member of the Duke Ellington Orchestra.
As a seven-year-old, Allen took accordion lessons, started playing clarinet at 11 and switched to saxophone at 12. In high school—when he wasn't fielding groundballs on the diamond—Allen studied the swinging sound of Scott Hamilton's tenor sax. Hamilton, who is 12 years older than Allen, also hailed from Rhode Island and also emulated the lyrical sax stylings of Ben Webster and Zoot Sims.
In the mid-1980s, Allen attended college at Rutgers University in New Jersey. He'd left baseball behind in favor of a serious pursuit of music.
"At college, I was the only one who was trying to get a mellow sound on the saxophone," Allen recalled before his headlining set at the January Jazzfest at Mohegan Manor in Baldwinsville, N.Y., some 300 miles north of his Manhattan home.
And sometimes still, even after releasing some 70 records as a leader, he can occasionally feel like the odd man out. He's often featured, for instance, at festivals that primarily focus on traditional jazz. And sometimes Allen's booked on contemporary jazz cruises or fusion festivals. "I often say, I'm either the least modern or most modern musician at any festival I play," he chuckled.
At the January Jazzfest he was both.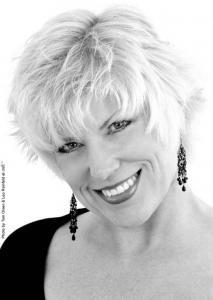 The one-day jazz bash in Central New York state presented Allen along with upstate vocalist Nancy Kelly and accompanied by pianist Dino Losito, drummer Jimmy Johns and bassist Danny Ziemann. The star saxman soared on standards such as the Gershwin brothers' "Strike Up the Band" from 1927 and stormed into the 21st century with his own bittersweet composition, "Silver Rain," played in F minor, which he called "the saddest of all keys."
When Kelly—the blonde and brassy veteran vocalist—stepped up to the microphone, she and Allen breathed new life into "Let Me Off Uptown" (with the saxophonist serving as Roy Eldridge to Kelly's Anita O'Day), a heartfelt "I Wish You Love," and a lovely version of Jobim's bossa nova classic, "Quiet Nights of Quiet Stars."
After earning enthusiastic applause for his headlining set, Allen sold and signed several discs before heading down to Mohegan Manor's basement cabaret lounge for a decidedly modern jam session. Allen sat in with trumpeter Jeff Stockham's Jazz Police on Horace Silver's "Nutville," Hank Mobley's "Take Your Pick," Bill Carter and Presbybop's "I've Heard the News," and Angelo Candela's "Coach." Carter is a Pennsylvania composer and Candela lives in Skaneateles, N.Y., so Allen was sight-reading unfamiliar charts on those two numbers, and he added a hearty dollop of hard bop to both of them.
"My style is wider that some people give me credit for," the tenor man said. "I play everything from Dixieland to avant garde. My influences are fairly wide."
But he doesn't feel at all out of place on the trad scene. "I love the old recordings," he insists. "Remember, I came up playing clarinet, so I played plenty of Dixieland and listened to all the great Dixieland recordings."
As a kid he became familiar with the work of New Orleans reedmen such as Sidney Bechet, Jimmy Noone, George Lewis, and Johnny Dodds.
"But I didn't want to stay with clarinet," he explained. "I'd always wanted to play tenor [sax]. I hear the sound of the tenor in my head."
His lifelong investment in the Great American Songbook has paid dividends as Allen has recorded more than five dozen CDs and toured the world several times over. He recently catalogued his complete discography, listing some 70 CDs as a leader.
"I was very lucky to fall into several situations where certain companies could make a lot of records with me," he said. For two decades, for example, he cut two discs a year in Japan. "The Japanese have a yen for jazz," he quipped.
He explains his growing popularity this way: "I think it's a style that your average person, not a musician, finds listenable and likes."
Last year he released three discs, The Candy Men by Harry Allen's NY Saxophone Band and London Date by the Harry Allen Quartet. The former features familiar tunes such as "After You've Gone" and "How Are Things in Glocca Morra?" And the latter's tracks include two joyous jams on "Indiana" and "Our Love Is Here to Stay" recorded live at the Watermill Jazz Club.* But Allen's more excited about his new disc of original compositions co-written with California-born stride pianist, singer and lyricist Judy Carmichael. Can You Love Once More? subtitled Judy & Harry Play Carmichael & Allen, the 12-track disc stands up well against the standards so fully embraced by both artists. Cole Porter could have written the title tune, Jimmy Van Heusen's joy de vivre is evident in "This Is My Lucky Day" and Harold Arlen couldn't have composed a better hilarious love song than "Make Me an Offer I Can't Refuse."
The disc was recorded at Trading 8s Studio and features cover art by Allen's wife of two years, Ivana Falconi, dedicated to their troubled rescue cat, Dorothy, which is a story all its own. Check out Judy's and Harry's record, and you'll hear it.
Subscription Options
---
Or get the Print Edition with Online Access. To get the print edition of The Syncopated Times use this Paypal link. After you pay you will be issued a coupon for free online access.