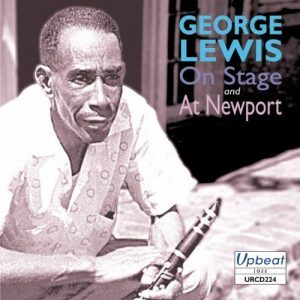 Of all of the New Orleans pioneers who spent the Depression years home in the Crescent City, George Lewis had the greatest commercial success in the 1950s. Lewis (1900-68) was an unlikely matinee idol. The soft-spoken clarinetist first came to prominence with Bunk Johnson during 1942-46, making his recording debut with the trumpeter who never seemed to treat him or the other sidemen very well, feeling that they were inferior musicians.
Actually Lewis, who was a skilled ensemble player, tended to play at the level of the other musicians who he was with, particularly the trumpeters. When he was teamed with an intoxicated Kid Howard, he could be out of tune and erratic, but on dates with Henry "Red" Allen or Alvin Alcorn, he was inspired and performed on a much higher level.
After leaving Johnson, Lewis returned to New Orleans and eventually led a group that included several of the other sidemen from Bunk's group. He had success locally, was profiled in a 1950 issue of Look Magazine, and against all odds caught on big, not only at home but in Europe and Japan.
On Stage and At Newport is a single CD from the British Upbeat label that has all of the music from two different sessions. On Stage is from 1956 and finds Lewis teamed with the excellent trumpeter-singer Thomas Jefferson, trombonist Bob Thomas, pianist Alton Purnell, bassist Alcide "Slow Drag" Pavageau, and drummer Joe Watkins. Some of the songs are a bit more sophisticated than one usually associates with Lewis, including "South Rampart Street Parade," "Nobody's Sweetheart Now" and "Dinah." Inspired by Jefferson's Louis Armstrong-inspired playing and singing, Lewis rises to his level.
The George Lewis Band performed at the 1957 Newport Jazz Festival. Their 25-minute set features the same band except that Jack Willis is on trumpet and Joe Robichaux on piano. The music is a bit wilder and looser (reflecting Willis' musical personality) than in the earlier set with particularly rambunctious versions of "Bourbon Street Parade" and "That's A Plenty."
George Lewis fans will enjoy hearing him in both of these settings.
On Stage And At Newport (Upbeat URCD 224, 17 selections, TT = 63:59) www.upbeat.co.uk