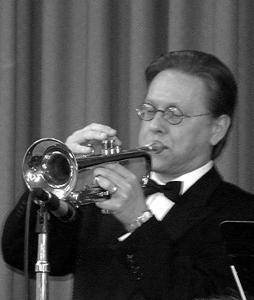 Syracuse, New York's hottest trumpeter is taking a stroll down the sweet side of the street.
Brass-instrument Brahmin Jeff Stockham—a member of the Salt City Jazz Collective, the Jazz Police, the Bear Cat Jass Band, and the CNY Jazz Orchestra—has formed a new Jazz Age-style dance band, The Stock Market Swing Orchestra. The band makes its debut Saturday, June 4, at "Forever Hotel Syracuse: A Historic Gala."
The eleven-piece ensemble includes some of the best musicians in Central New York, and recreates the swinging sounds of the 1920s and 1930s, at the Hotel Syracuse (a Salt City landmark since 1924), which will soon be renamed the Marriott Syracuse Downtown.
"We will be using vintage band fronts and vintage mutes, and I will be playing vintage instruments of the era," said Stockham, who is an internationally known collector of brass instruments. "And, of course, we'll be wearing tuxedos."
The orchestra will play original dance band arrangements from the 1920s, '30s, and '40s, including its theme song, "I'll Be Seeing You," a song written by Sammy Fain and Irving Kahal (introduced by Tamara Drasin in the 1938 musical Right This Way) that became a big hit for Bing Crosby in 1944.
Bands recreating genuine Jazz Age arrangements, such as Vince Giordano's Nighthawks, Matt Tolentino's Singapore Slingers, Dean Mora's Modern Rhythmists, Josh Duffee's Graystone Monarchs, and Alex Mendham's Orchestra, have been popular for quite some time in various cities in the US and abroad. Jeff Stockham's new group is the first attempt to launch an authentic '20s and '30s-style dance band in Central New York.
The Stock Market Swing Orchestra will use charts from the Eddie Moore Library from Ithaca, NY provided by pianist Dick Ford, the founder of Signature Syracuse. Ford also provided the authentic period band fronts.
The orchestra's motto is "Party like it's 1929!"
The band's book includes standards such as Duke Ellington's "Caravan," Fletcher Henderson's "Christopher Columbus," Benny Goodman's "King Porter Stomp" and Artie Shaw's "Begin the Beguine."
"But we'll also play some more obscure tunes," Stockham said, mentioning Hoagy Carmichael's "Ol' Buttermilk Sky," Jimmy Dorsey's "Dusk in Upper Sandusky" and "Who Broke the Lock on the Henhouse Door?" which was waxed in 1931 by the Washboard Rhythm Kings.
Keeping It Authentic
Authenticity is part of the Stock Market Swing Orchestra's stock-in-trade.
Stockham will blow a Selmer Paris "Louis Armstrong" style Balanced Model trumpet, and a Conn 36B "New Era" trumpet, a type which Armstrong also used. The leader will also play a 1930s Conn flugelhorn and a 1920s Conn valve trombone.
"I plan for the appearance of the band, as well as the music, to capture the style of the Jazz Age," Stockham said. "I've even bought a 1920s-style suspension microphone."
The Stock Market Swing Orchestra will feature Stockham, on trumpet and vocals; Pat Carney, lead trumpet; Steve Carney, second trumpet; Mark Anderson, trombone; John Delia, alto sax/clarinet; Frank Grosso, alto sax/clarinet; Mike Dubaniewicz, tenor sax; Bob Cesare, tenor sax/bari sax; Dave Solazzo, piano; Kevin Dorsey, string bass/tuba; and Josh Dekaney, drums.
Last summer Stockham was inspired to form the new orchestra after he'd been hired to contract the sidemen for a Guy Lombardo Orchestra concert at the Lake Placid Center for the Performing Arts.
"I used essentially these same musicians, and everybody dug it, so I decided to put together a 1920s-30s society orchestra," Stockham said. "The concept is less hot jazz and more of a sweet society sound."
Stockham also leads the Excelsior Cornet Band, a Civil War-era military brass band, and the Jazz Police, a Blue Note-style combo. Several members of the new orchestra perform along with Stockham in the Salt City Jazz Collective and the CNY Jazz Orchestra.