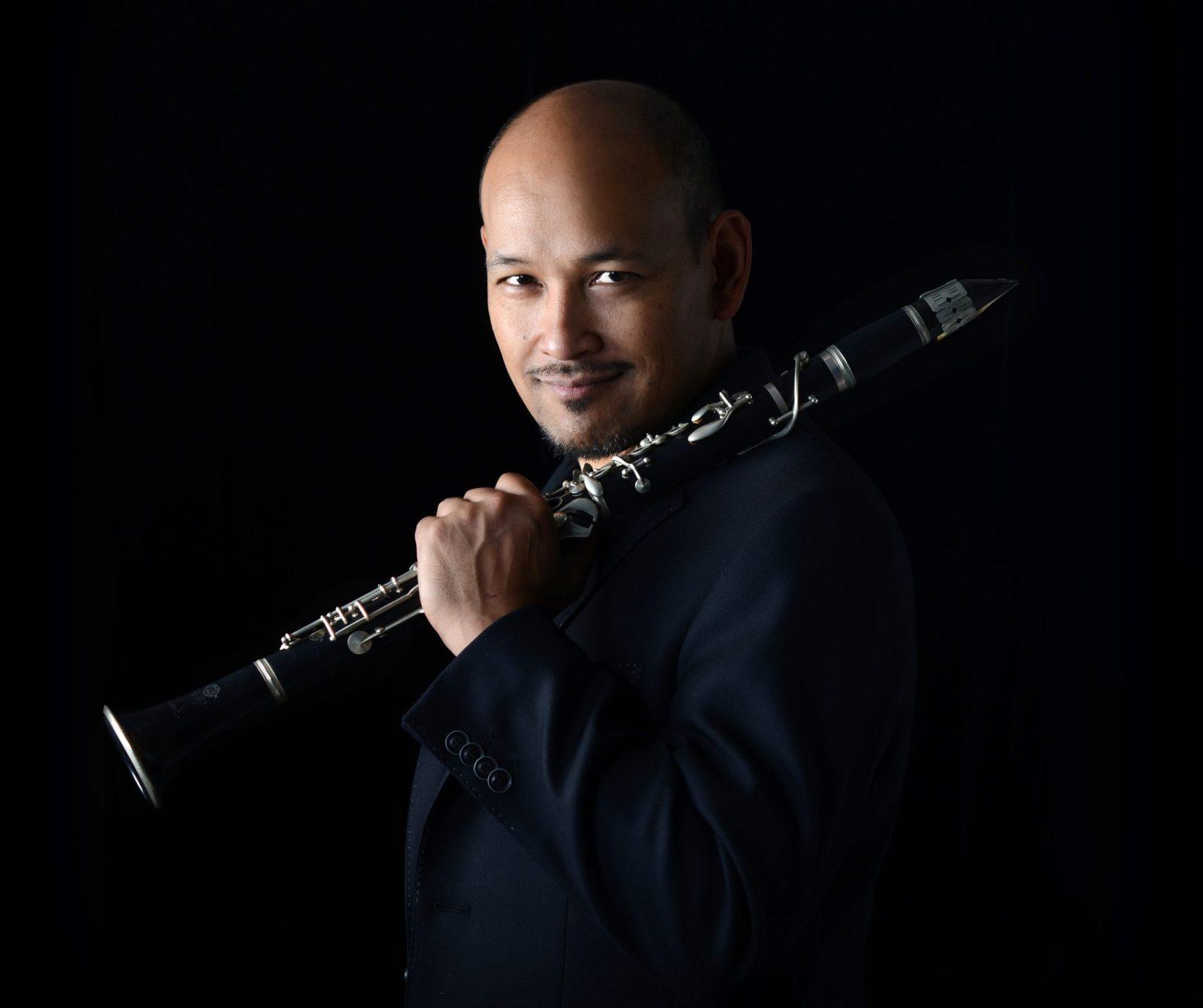 Evan Christopher "Craft is not Subjective"
Evan Christopher (photo ©2014 Ima Garmendia, courtesy www.clarinetroad.com)
Traveling the Clarinet Road
Evan Christopher is passionate about two things: the style in which he plays his musical instrument, and the adopted city which he has called home since 1994. Based on the impact he has had on the world of music over the past quarter century, it should come as no surprise that the common denominator is New Orleans.
Alyn Shipton of the London Jazz News wrote: "If there is a better living exponent of the New Orleans Creole clarinet style than Evan Christopher, then it's a discovery I have yet to make." Critics remarking on his dynamic expressiveness and intimate approach have coined the phrase "close-encounter music." The New York Times called his respect for the music traditions of New Orleans "a triumph, joining the present seamlessly to a glorious past."
He travels on Clarinet Road as he strives to extend the legacies of the early Creole clarinetists such as Sidney Bechet, Lorenzo Tio Jr., Omer Simeon, Barney Bigard, and Albert Nicholas. Known as a meticulous researcher, he has identified certain stylistic traits that evolved from the work of early clarinetists that are part of the instrument's broad history in the Crescent City. He has identified a New Orleans clarinet vocabulary, which he has incorporated into his own style that has allowed him to produce a unique sound that looks to the future from the vantage of the past.
Originally from Long Beach, California, he acknowledges that his first musical instrument was a recorder. His experiments on the clarinet began at age 11, and he won the prestigious Louis Armstrong National Jazz Award while in high school. In his senior year, he met Marshall Hawkins at the Idyllwild Arts Academy in the San Bernadino mountains of Southern California. "Marshall Hawkins, who had played bass for Miles Davis, was my inspiration to continue my education. I knew I wanted to be a professional musician, but I needed to be reminded I had to stay on track"
He finished high school at the Idyllwild Arts Academy and went on to study saxophone with Dr. Thom Mason at the University of Southern California and got his music degree at Cal State-Long Beach, where he studied under Gary Bovyer and graduated cum laude. He gained experience playing with a number of area "dixieland" and swing bands, and in the early 1990s, went on tour with the singer-songwriter, A.J. Croce.
– Introduction to NOLA –
As Evan tells it, "I was on tour with A.J. Croce, and we passed through New Orleans. I had a few days off and met so many great musicians around my age playing traditional New Orleans jazz. They were very welcoming, and the protocols about sitting in and hanging out were very relaxed. It was unlike anything I had experienced before and seemed like the ideal place to go for what my interest was at the time. If you want to absorb a culture, a lifestyle and the history that makes a city what it is, you have to be there. That's why I made the move," which he did in 1994.
He spent nearly three years in San Antonio as the featured clarinetist with the Jim Cullum band and free-lanced for another year, but was back in the Big Easy in 2001. Four years later, Hurricane Katrina hit the city, and his Broadmoor neighborhood was flooded due to the failure of the Federal levees and floodwalls. He was not in New Orleans at the time of the storm, but nevertheless became one of approximately 4,000 displaced musicians. At the invitation of the French Government, he relocated to Paris where he formed two groups: The Jazz Traditions Project, a postmodern strategy that blurred the lines between genre and tradition, and Django a la Creole, that fused gypsy swing with New Orleans grooves and rhythm of "le monde Creole."
Tours with Irvin Mayfield's New Orleans Jazz Orchestra made it possible for Christopher to return to Louisiana where he has been permanently based since 2008. As a member of the adjunct faculty at the University of New Orleans, Evan coached a traditional New Orleans music ensemble for three semesters which had the distinction of being the only performing group at the university level dealing with New Orleans-style music.
How did he decide it was the Clarinet Road that he would travel? He disclosed that it was when he met Tony Scott, the late bebop clarinet player, and had him autograph a picture of himself taken backstage at Carnegie Hall with Charlie Parker and Billie Holiday. Scott signed it 'Good luck on Clarinet Road…lots of curves!' Evan determined that "Tony gifted me that idea, and it seemed like a good way to describe what I do. I lost the poster in the flooding, but kept the Clarinet Road identity. The term can be the name of my band, a project, my publishing company, anything having to do with my career and all the curves it encompasses. There have been lots of curves, but the music will take care of you if you take care of it. You never know where it's going to lead you."
– Appearing at Newport –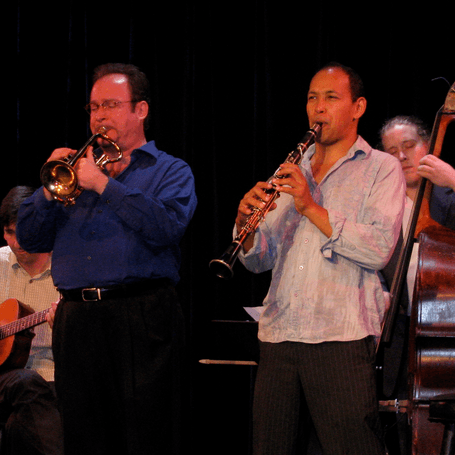 This month, on August 4, he will be making his second appearance at the venerable Newport Jazz Festival in Rhode Island. Two days later he will perform in New Orleans at the Satchmo Summerfest and give a talk on the music and lore of the famed Storyville District (2017 being the 100th anniversary of its closing). On the 12th, he will be in familiar territory for the 24th Idyllwild Arts Jazz in the Pines fresh-air festival that was started by his mentor, Marshall Hawkins. August 31 and September 1 will find him at Le Duc Des Lombards, one of Paris's leading jazz clubs, where he will celebrate his 48th birthday on the 31st.
Ever the teacher, Jazz at Lincoln Center invited him last month to conduct a free, two-day workshop dealing with the current state of traditional New Orleans music. It also served as a refresher course covering the basic elements of early jazz. Calling his presentation, "Not Just Music for Dancers & Drinkers," he explained "Despite the music's humble beginnings and the commercial trappings that persist today, I attempted to lay out a framework to guide listeners towards a better understanding of the craft from the musician's perspective, which should encourage deeper listening skills that in turn, can help drive musical artistry."
He's recorded 10 albums as a bandleader and appeared on another 30 as a sideman. His Treat It Gentle Suite, a concerto he wrote for clarinet and jazz band in the New Orleans style, debuted with the Minnesota Symphony Orchestra in 2010. He has also written online columns about the local music scene and the gentrification that is currently taking place in the city.
Christopher represents himself, does his own bookings and handles all the details that each performance demands. He's on the road about one-third of the time, but spends most of his time with his young family in New Orleans or in New York City. He constantly runs clinics, visits schools and gives master classes and private lessons as he continues to be an outspoken advocate for the preservation of early New Orleans jazz, not just through his music, but with education as well. (His website is www.ClarinetRoad.com.)
---
This is what our print edition feels like. If you want good news to read with your morning coffee, order a print subscription. You'll get full online access to our archives, web extras, and our next issue will arrive at your door. Online only access to all of our original material is also available! Support Hot Jazz Journalism- Subscribe
---
Online Only
For Online Only Access without delivery of the print paper sign up below.
Subscription Options
---
Print Edition
 If you'd like the PRINT EDITION, (12 monthly issues) use the following PayPal link. After your payment is complete you will be allowed to create an online account. You will receive the next mailed copy, usually shipping around the 22nd of the month. See a PDF Sample Here.