Ascona has been described as "ridiculously picturesque" and it is. On the shores of Lake Maggiore in Southern Switzerland, with the mountains sweeping down to the water it is hard to imagine a more congenial atmosphere for listening to great music while enjoying good food and fellowship.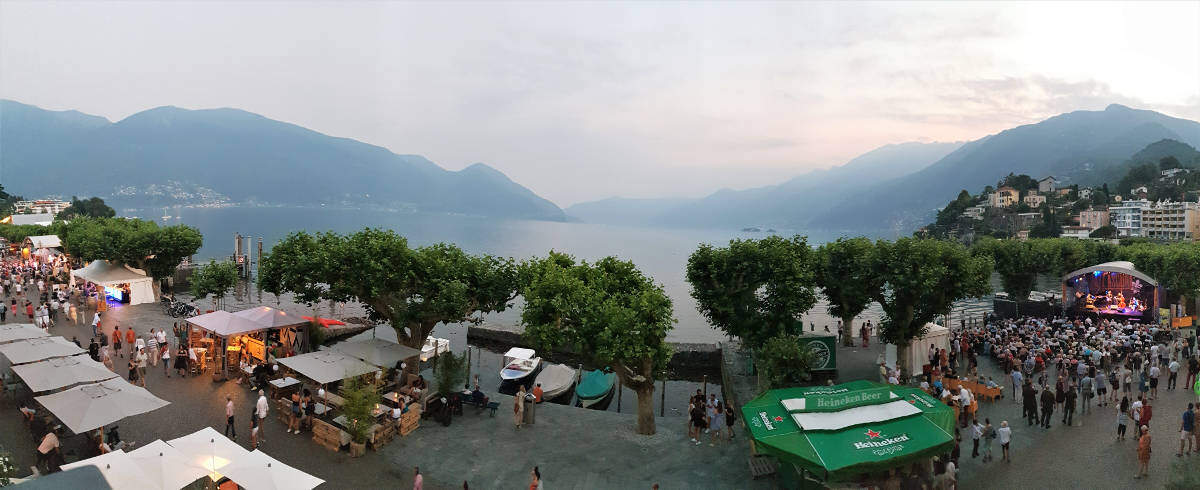 This is a total immersion experience. The Festival's four stages are literally on the waterfront—a misstep backward and the musicians could be taking a swim! The stages are strategically positioned to keep the sound from spilling over along the length of the pedestrian-only quay (about 2000 feet). Opposite are hotels and open-air restaurants. Step out of your hotel and you are instantly in the crowds strolling along the quay. Enjoy the ambiance with a drink or a full gourmet meal while the musicians are syncopating opposite you to their own beat.
Celebrating its 35th year, JazzAscona is justifiably known internationally as one of the most important New Orleans music festivals. Less known and very impressive, are the large number of younger people enjoying the music.
Much effort goes into this aspect. The music programs are liberally sprinkled with gigs that reflect contemporary New Orleans music with enough sets to satisfy the traditionalist. Five days are free admission allowing many to sample the music. Paid days are reasonably priced at $20 with students, half-price. The variety of free music encouraged us to try music we might otherwise have ignored. Each day the official music starts with a street parade at 6:30 pm and ends about 1:30 am with a jam session. During the day many local restaurants and bars also host the musicians with extra gigs.
To round out a complete vacation, all tourists receive a pass for unlimited free public transportation in the area. With daytime free to explore, in less than an hour one can be walking high in alpine meadows, visiting medieval castles, crossing ancient Roman bridges, exploring Lugano or enjoying steamer trips to Isola Bella, a small island with an exceptional botanical garden.
Our third year at Ascona again found the line-up very impressive. Monty Alexander, The Dutch Swing College, LeRoy Jones, The New Orleans Jazz Orchestra, The Oriental Jazz Band, and another thirty-five or so ensembles were listed in the program.
Monty Alexander was the Festival headliner. His concert was a homage to Nat King Cole emphasizing Cole's contribution to Jazz in his Trio years. He discussed how Cole was one of the major influences of his life from childhood. A rousing "Straighten Up and Fly Right" earned enthusiastic applause, while his bass player, Hassan JJ Shakur, offered a moving original arrangement of "Nature Boy" sung as a spiritual that was unsurpassed for its pathos. The audience rightly loved it. Monty also acknowledged his Jamaican roots with some jazz-style calypso as well as Sinatra's contribution to his career with "Come Fly With Me."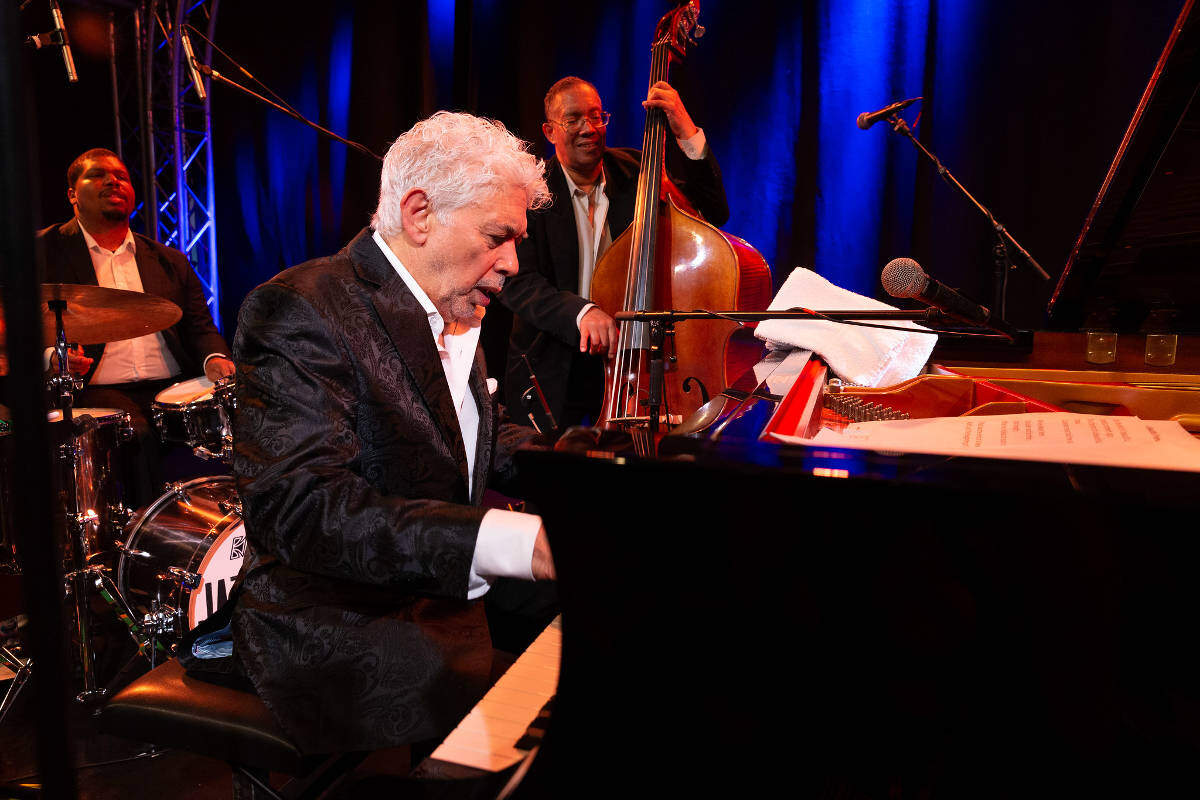 Another headliner, The New Orleans Jazz Orchestra (NOJO), made its first overseas tour after the hiatus of the original band. Now under the direction of Adonis Jones, a New Orleans native, Berklee College of Music graduate and alumnus of Harry Connick, Jr.'s band, they played several sets as the smaller NOJO 7 plus three full orchestra concerts.
NOJO were new to me. My New Orleans jazz is rooted in George Lewis, Jim Robinson, Kid Howard, and peers. This is a new generation of New Orleans born musicians. The sound is different, more modern but it is authentic New Orleans flowing from the same roots as their grandfathers. Their musicianship is superb, played with a passion and enjoyment that conveys itself to the audience. No, it's not the trad jazz I grew up with but it's great jazz.
"Congo Square – The History of New Orleans Music" was a review from Jelly Roll Morton to rock 'n' roll, through Louis Armstrong, Fats Domino, Harold Battiste, and many more while the Festival closed with "The Music of Allen Toussaint," honoring the memory of this icon of Soul and R& B composition.
Various members of the band covered some of Toussaint's greatest hits. The rendition of "Southern Nights" was superb with vocal by Michael Watson and Ricardo Pascal soloing on sax. Ashlin Parker offered a beautiful "Java" with Leon "Kid Chocolate," Jerome Ansari, and Ed Peterson all adding their tributes.
From the performances and talking with several of the NOJO musicians, it is clear that Adonis Jones is providing excellent leadership. What comes across in their sets is a strong feeling that the musicians enjoy working together and constantly challenging each other. They were happy.
The other headliner from New Orleans, Leroy Jones, this year's recipient of the Ascona Jazz Award for outstanding achievement, is described as the "keeper of the flame" as he bridges traditional to modern: "Royal Garden Blues," "Hindustan," "Panama," – listening to his beautiful, lyrical interpretations of these standards, one understands how he has been influenced by the modern greats, Gillespie, Davis, Eldridge, while holding true to the traditional sounds that surrounded him growing up in New Orleans. He was ably supported by the Uli Wunner's Jazz Creole Band with one of my personal favorite pianists, UK based Tom Kincaid.
Each year I am constantly amazed at the number of exceptional European jazz & swing bands present. Heading that European list was the Dutch Swing College. The band's make-up has changed since its founding 75 years ago, but the music and arrangements remain true to their style. They attracted some of the largest crowds for their concerts and no one was disappointed.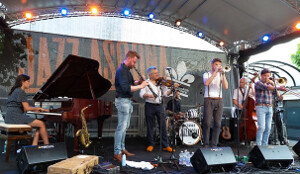 A younger group from Holland, the Oriental Jazz Band, are very good. They're so young it is hard to believe they are celebrating their 20th year. An energetic ensemble, with a playlist mixing lesser known trad jazz tunes with the standards, they reminded me of the sounds heard more in the Frenchman Street neighborhood than on Bourbon Street. I particularly enjoyed "Buddy Bolden Blues" interpreted by Lauryan Feijen, bass and vocal.
From France came another discovery, pianist Pablo Campos. He offered a swinging tribute to Nat King Cole with excellent support from Dave Blenkhorn, guitarist; Viktor Nyberg, bass; and Phil Maniez, drums. His other numbers, including a moving rendition of "Stardust" were very familiar to those growing up in the forties and fifties.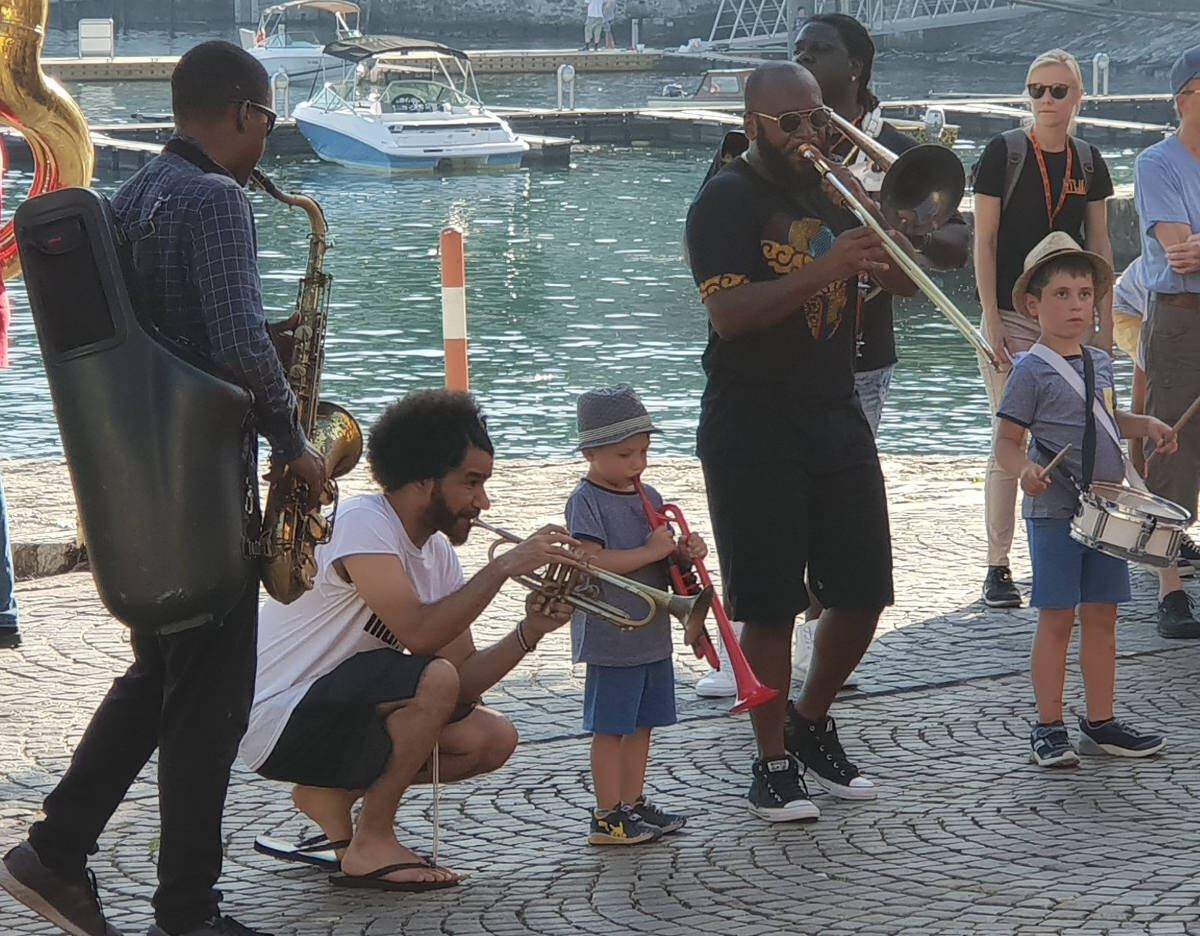 One of the most exciting experiences was the "Trumpet Mafia." The brainchild of talented N.O. trumpeter, Ashlin Parker, the project's goal is a collective of trumpeters practicing and growing together as musicians with participation open to anyone, at all levels. who want to practice and learn.
At Ascona, top level musicians joined youngsters and adults, who were just starting to play, for seven days of practice. Anyone who wanted to, could join the daily four-hour sessions. The only requirement was having a trumpet of some kind to blow. Ashlin's passion for the concept of collective learning, with players of all levels, comes across as he patiently leads all through basic techniques. Just listening increased our own appreciation.
We missed the first four days due to being at the Tel Aviv Festival. However, there were so many other talented musicians and sets for the last six days that it was impossible to cover all performances. That is the beauty of this Festival. Whenever you come, there is enough to satisfy all tastes. If it relates to New Orleans it has a place here. Personally, I was not drawn to "Jt & The Kanection Band" but lovers of Soul and R&B voted them the "Aet Audience Award" for last year ensuring their invitation to this year. They drew some of the largest crowds
There were some special individual musicians that must be mentioned. The recipient of the 2019 Swiss Jazz Award was vocalist, Othella Dallas. This unbelievable 93-year-old (not a typo!) was honored for her extraordinary artistic career and contribution to Switzerland's music scene. She performed two sets with an intensity and drive totally unexpected for her age. Born in Memphis in 1925, she has shared the stage with Duke Ellington, Sammy Davis Jr, Nat King Cole, Quincy Jones, and Sonny Stitt to mention a few. She has lived in Switzerland since the 1960s.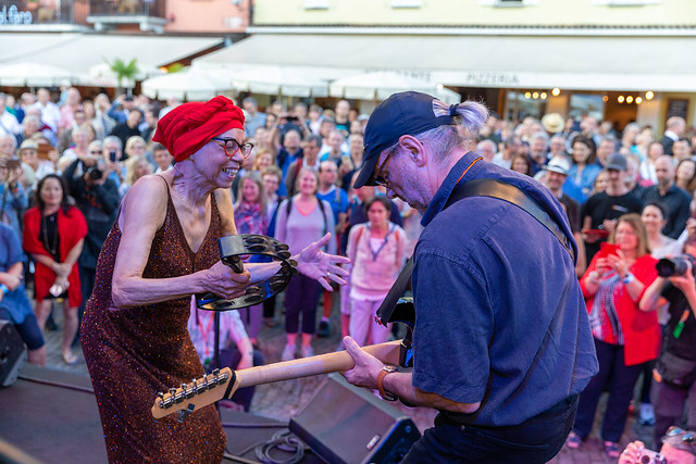 George Washingmachine ("I was agitated as a kid"), seemed to be everywhere. A charming, talented violinist and vocalist from Australia, he added his unique sound to many of the bands.
Swiss jazz trio, The Fat Boys, are really quite slim but very talented. Stride pianist Brenno Bocardo joined with Adriano Bassani, trumpet and vocal, and Thomas Winteler, clarinet, in a joyful and enthusiastically received tribute to Fats Waller, Morton, and Bechet.
In summary, it was a very satisfying six days both for the music and environment. The organizers are to be commended on their ability to keep the New Orleans experience fresh and exciting each year. 2020 dates are June 25 – July 4. Info at www.jazzascona.ch/en.