Just the fact that it even happened could be the lead story of this festival. Israel is a small country about the size of New Jersey. While music of all kinds is part and parcel of daily life, most Israeli jazz belongs to the modern variety. New Orleans and Trad Jazz have about five bands regularly playing in the genre. Creating a world-class New Orleans-themed happening means reaching out internationally for talent with all the associated cost. Yet this is exactly what happened. Ziv Ben, the man behind the Festival, belongs to a rare breed: an accomplished musician with an excellent entrepreneurial bent.
Following on the success of the first festival last year, he brought musicians drawn from Hungary, France, Cuba, Switzerland, Norway, the UK, New Orleans, New York, and Israel who combined to offer 27 separate sets.
His collaborator as Artistic Director was Eyal Vilner. Israeli born Vilner is, in his own right, a brilliant musician known for his outstanding arrangements. He plays a leading role in the New York Jazz scene with his own Eyal Vilner Big Band.
The result was three days of pulsating music from solo piano to swinging ensembles, gospel, blues, and big band. In addition to the official sets offered in the auditoriums of the Tel Aviv Museum of Art, every evening saw free open-air performances on the outside plaza with hundreds of people joining the swing dancing as well as simply listening under the stars. Conspicuous was the number of young people. Too often we are surrounded by grey hair.
It was impossible to attend all the performances. However, I managed to cover most of the musicians at least once.
Dr. Michael White's appearance at this Festival was my reason for missing the first weekend of Ascona. I was not disappointed. Dr. White is deservedly considered one of the finest clarinetists interpreting traditional New Orleans jazz today. White also lectures at Xavier University on African American Music.
Here he led three separate programs: "New Orleans bands of the 1920s," "Buddy Bolden, the Trumpet Poet," and "Duke Ellington in New Orleans." Greg Stafford, trumpet; Brooks Alexander, banjo; and Lewis Garland, bass, rounded out the quartet. For the Ellington set Dr. White invited trumpeter Eli Preminger, one of the most active local trad musicians, to augment the group.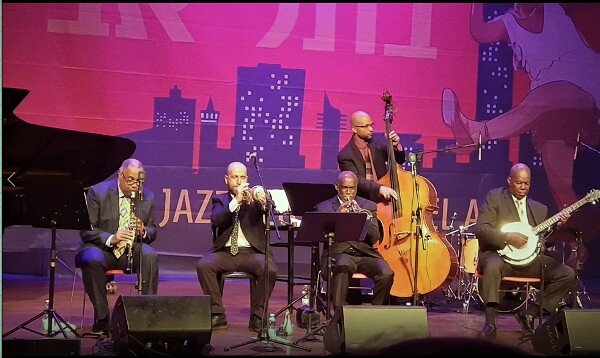 The music was wonderful. Adding to the whole experience was White's professorial explanations of each piece. In his quiet manner he puts all the music in context. My favorite was how "Mexican Blues" by Barney Bigard morphed into "Mood Indigo." His duets with Greg Stafford were delightful with each "talking" to the other through their instruments. The audience loved Stafford's "Basin Street Blues" with his contemporary wording delivered in his special talking, almost growling, style.
UK based Enrico Tomasso is a leading interpreter of Louis Armstrong. He comes as close as anyone I've heard in catching the essence of Satchmo. From him I understood for the first time the reason "West End Blues" is considered one of the pivotal moments in jazz. "After 'West End Blues' music was never the same" is an oft-heard quote. Musicians understand why. Lesser mortals, who only listen, never quite understood the nuance. Tomasso explained it in a very clear manner. "Louis took the cadenza and blew it as the opening unlike all others up to that time." Simple as that!
This explanation came in a set dedicated to Armstrong with Tomasso backed by Avram Felder's Isradixie Band, the foremost traditional New Orleans band of local musicians.
Tomasso was one of the busiest musicians at the festival. In addition to the Armstrong set, he appeared on stage four more times as part of the "Europa Social Club" with tributes to Buddy Bolden, Billie Holiday, and Danny Gottfried.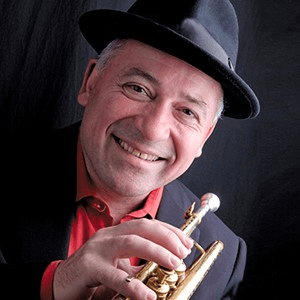 The tribute to Billie Holiday was a lively affair led by Tricia Boutte and later joined by Denise Gordon. These two ladies kept the place rocking with their singing and good humor backed by outstanding solos from Tomasso, Adrian Cox, clarinet, and Ian Bateman, trombone. Cox and Bateman along with Tomasso are among the most active UK trad musicians.
Soprano saxophonist Olivier Franc is the top living disciple of Sidney Bechet. Olivier is the son of René Franc, clarinetist who played with Sidney Bechet. Accompanied by Benoit de Flamesnil, trombone; Yann Bertrand, bass; Thomas Raine, drums and Olivier's son, Jean-Baptiste Franc on piano, he offered a fresh, personal approach to the music while remaining faithful to the spirit and style of Sidney Bechet. I particularly liked watching him when one of the others was soloing. His whole body is immersed in their playing, moving and bending in unison with the music. At the same time Yann Bertrand's scatting on bass was most enjoyable.
Jean-Baptiste Franc, on piano, has his own exciting style of playing. He begins the opening of a well-known classical piece in the regular style then suddenly breaks into a stride piano interpretation of the number. He was featured with his father as well as playing a separate, highly acclaimed solo set during the festival.
The Eyal Vilner Big Band from New York was augmented for the Festival with Ron Wilkins and Bruce Harris. Wilkins, based in New York, is arguably the leading jazz trombonist playing today in the USA. He is also a fine vocalist including some great "scatting." Additionally, in separate sets, he lectured on the "Birth of Jazz and Louis Armstrong" and partnered Swiss boogie piano virtuoso, Silvan Zingg, for a lively set.
Bruce Harris is a very talented young trumpeter who is also making his mark on the New York scene. In addition to his solos with the Vilner Big Band, he was featured with Enrico Tomasso for the Louis Armstrong set.
The other members of the Big Band were Asa Cook, trumpet; Yonatan Peled, trombone; Ofer Shapira, clarinet; Daniel Rotem, tenor sax; Kobi Solomon, tenor saxophone & clarinet; Eden Bareket, baritone sax; Yonatan Riklis, piano; Ram Erez, bass and Yonatan Rosen, drums. The Big Band played several sets including a session with the Swing dancers as well as a free performance on the outdoor plaza for close to a thousand people.
They also backed Denise Gordon, vocalist from the UK, in two sets, one dedicated to Gospel the other to soul. Denise not only has a great voice but is a very engaging personality who bonds with her audience and fellow musicians. In "Spirituals from the Mississippi River" Denise joined a trio of Israeli Opera singers in a program specially arranged by David Sebba one of Israel's most talented musical personalities Classical conductor, composer of musicals, vocalist, pianist, entertainer—Sebba does it all and always first class.
The closing session rivals the best I have seen at other festivals. Instead of bringing on all the musicians for a jam session, it opened with several numbers by the Eyal Vilner Big Band featuring solos by Ron Wilkins, Bruce Harris, and Vilner himself. They then retired to allow each of the other featured ensembles to play three numbers. It was a reprise of the entire festival packed into about two hours. As the last group finished, a fanfare rang out from the back of the hall as Tomasso and Eli Preminger trumpeted their way down the steps to the stage playing "Bourbon Street Parade." This was the signal for all to return to the stage and join in a rousing finale with the musicians marching through the hall and then back for a final bow to the delight of the audience.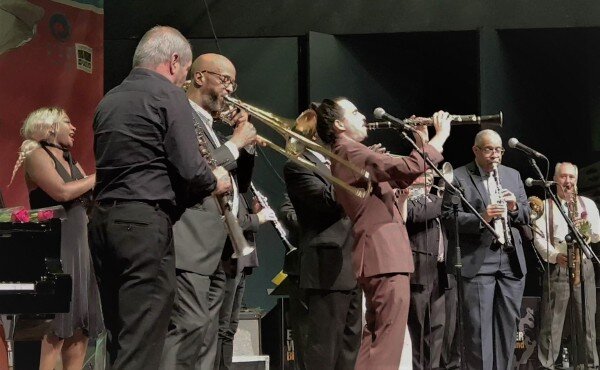 The reprise also gave me the chance to hear several musicians I did not manage to cover. Sylvan Zingg from Switzerland is a high-powered boogie-woogie pianist. His playing at the finale was a small taste of his talent.
The "Jazz Steps Band" is a Hungarian swing and jazz band with a repertoire ranging from New Orleans through the Basie, Dorsey, Miller, and Goodman bands. Based on the three numbers at the reprise I look forward to catching them either here or at another festival.
A Cuban band, Papote Jimennez & Los Hacheros, was another that I missed. From all reports they contributed a very exciting Latin element to the Festival.
There is little doubt that the success of this Festival was due in large part to Ziv Ben's development of his annual "Hot Jazz" subscription series over the past several years. Through these concerts Ben has built a strong core of Israelis who love Jazz. Building on this base we can look forward to more successful annual Festivals as well as continued concerts throughout the year. Full information is available at eng.hotjazz.co.il.