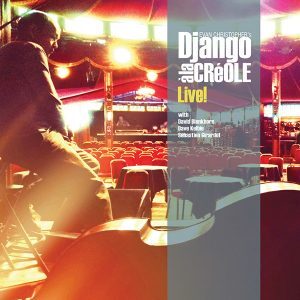 What would the music have sounded like if Sidney Bechet and Django Reinhardt (who were both in France in the early 1950s) had recorded together, or if Django had spent time playing in New Orleans? While clarinetist Evan Christopher and electric guitarist David Blenkhorn are not copies of Bechet and Django, they are certainly very aware of the historic figures who inspire their group Django à la Créole.
On Live, Christopher and Blenkhorn are joined by the Dime Notes' rhythm guitarist Dave Kelbie and bassist Sebastian Girardot. The music often sounds like a meeting between Bechet and Django circa 1950.
Some of the songs, such as "Douche Ambiance," "Feerie" and "Manoir de Mes Reves," are from the later repertoire of Reinhardt. Both Bechet and Reinhardt were strong admirers of Duke Ellington so there is Johnny Hodges' tribute to Ellington ("One For The Duke") and Rex Stewart's "Solid Old Man" plus "The Mooche." The band jams with spirit on "Riverboat Shuffle," Christopher plays a touching solo on a slow and emotional version of "Dear Old Southland," and a pair of Jelly Roll Morton piano solos ("Mamanita" and "The Crave") are adapted and expanded for the quartet.
Throughout Live, Evan Christopher and David Blenkhorn blend together very well, make strong individual statements, and inspire each other while Kelbie and Girardot are tasteful and swinging in support. The result is a highly enjoyable outing.
Live (Lejazzetal LJCD 14, 11 selections, TT = 77:39) www.lejazzetal.com