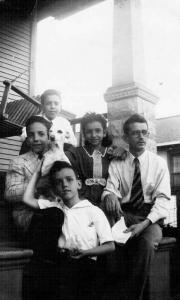 Don Suhor spent all but two of his 55 years as a jazz clarinetist and alto saxophonist in his native New Orleans, playing Dixieland and modern jazz in a remarkable variety of bands at scores of settings. As his brother, I'm both the most expert and most suspect of Don's admirers, so a sample of comments by fellow musicians will serve as quick introduction:
Clarinetist Tom Sancton: "Don Suhor remains a legend among musicians who knew and worked with him."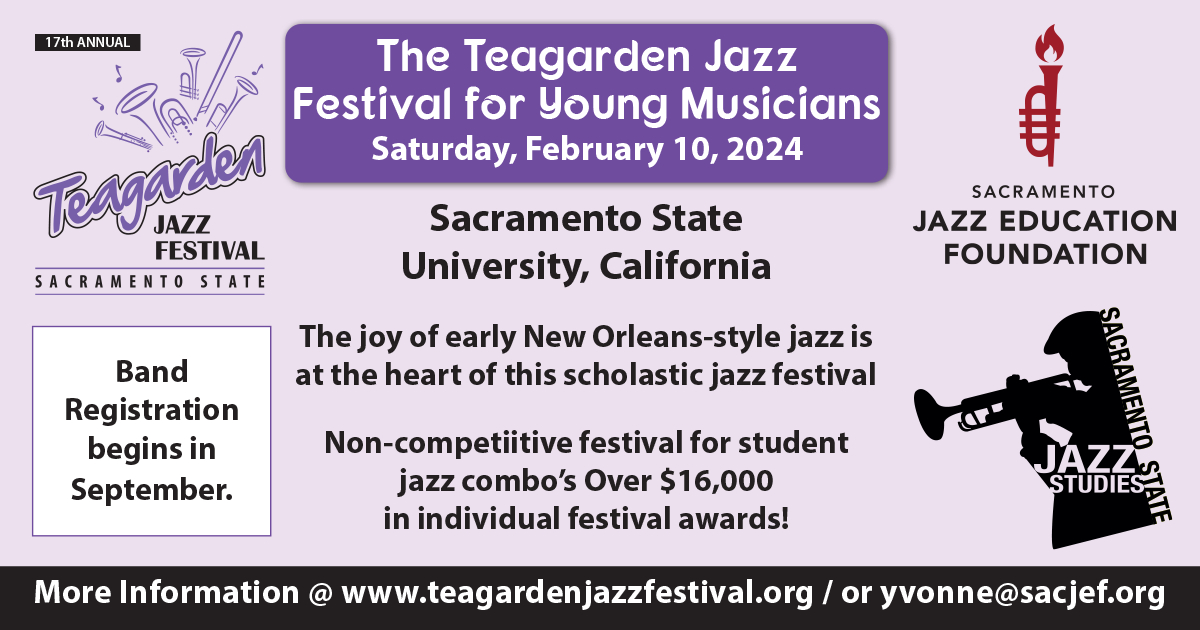 Amy Sharpe, banjoist: "Everyone—from the hard core traditional jazz player to the most far out bebop player—thought the world of him and his talent."
Tom Jacobsen, clarinetist and historian: "Don Suhor always distinguished himself with his inventiveness and musicianship. He worked with the city's best and in virtually all of the local venues."
Wendell Brunious, trumpeter: "Don is a player who never got his due. I admired the way he could go from style to style seamlessly and flawlessly."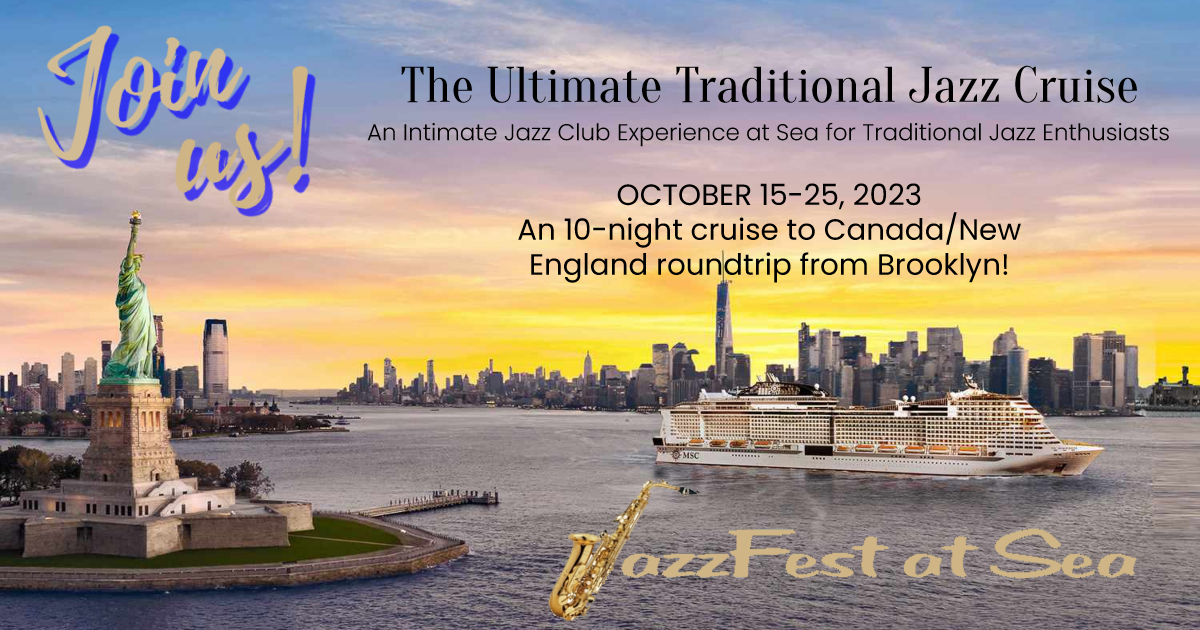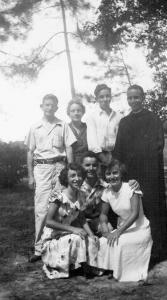 Thaiss Clark, vocalist: "Don Suhor, my man. Anything I wanted to do when it came to jazz, Don knew"
James Markway, bassist, Tulane Jazz Studies Program: "Don absorbed Parker, Goodman, Shaw, and many others—then went beyond. His pursuit was developing musical mastery, independent of public acclaim."
Delfayo Marsalis: "Don was incredible!"
Markway is spot on about Don's lack of interest in exposure. I was frustrated by this, yet I actually had a hand in it.
When writing for Down Beat in the 1960s I missed the chance to nudge Don into the national picture, mentioning him only sparingly to avoid the appearance of nepotism. But his untold story paralleled the complex history of jazz in New Orleans during the city's lively post-WWII revival and beyond. From his teen years until his death in 2003, Don was active in Dixieland combos. Leading a group of Nicholls High School students, he played jazz and popular favorites on weekends at teen venues like the W.O.W. (Woodmen of the World) Hall on Almonaster Avenue, a block from the legendary Luthjen's Dance Hall. He also played in the Irish Channel with youngsters like the Assunto brothers and Al McCrossen, and gigged with older bands led by trumpeters Stuart ("Red Hott") Bergen, Dutch Andrus, and others.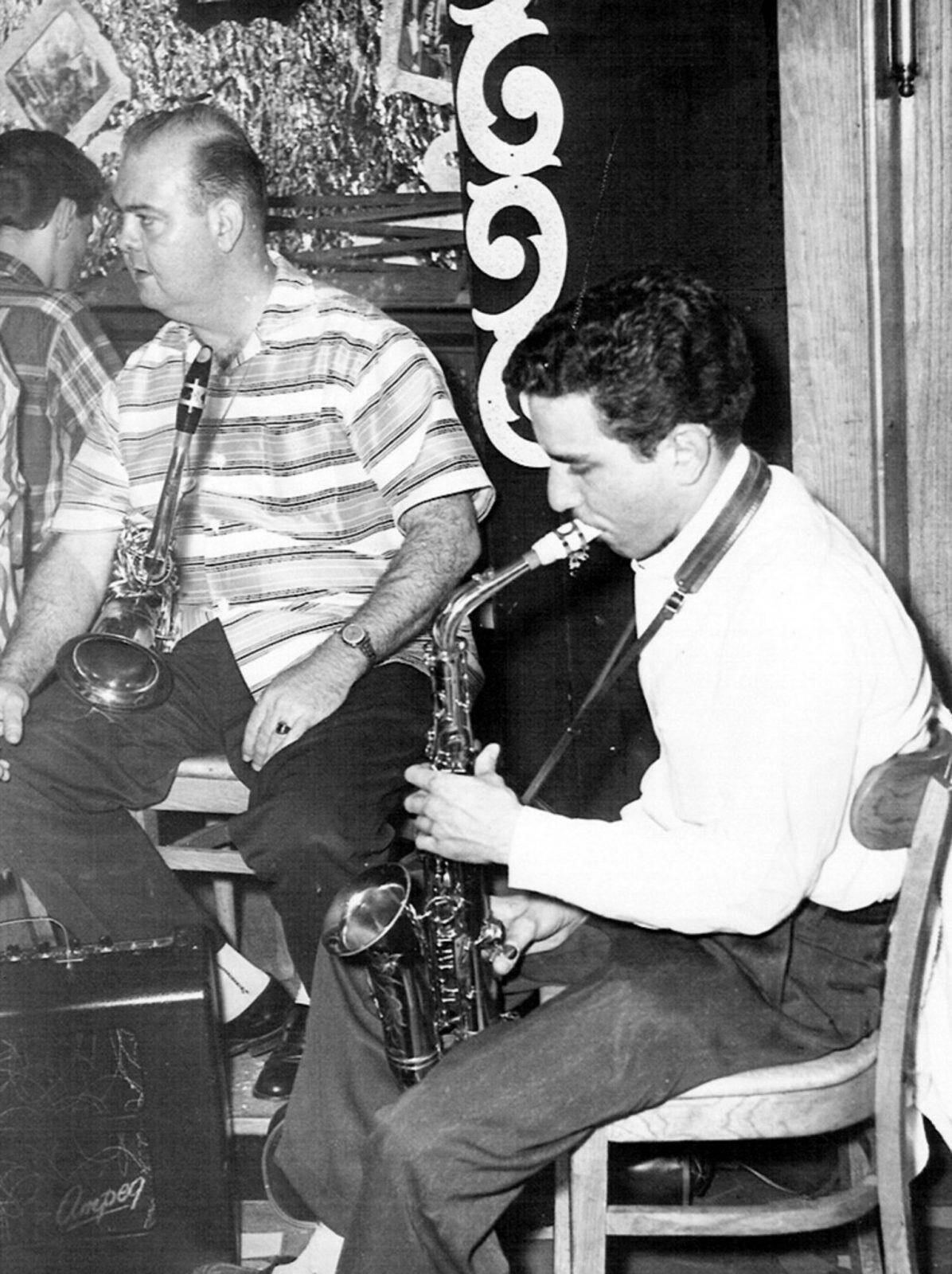 In Demand
Aware of the need to double on saxophone, he chose alto over tenor sax because he liked the bright sound of the instrument in big band sax sections. He was soon in demand as a section player, but more importantly, in the early fifties he became part of the underground cadre of be-boppers who jammed at after hours sessions at strip clubs in the French Quarter. Don initially brought to the sessions a fondness for Lee Konitz but he soon fell under the thrall of Charlie Parker and the brilliant Joseph "Mouse" Bonati, a native of Buffalo, New York, who had become the leader of the Quarter brotherhood. Don, fellow reedman Al Belletto, and trumpeters Benny Clement and Mike Serpas were among those who defied Louisiana's segregation laws by playing clandestine sessions with black modernists like pianist Ed Frank, bassist Richard Payne, and drummer Earl Palmer.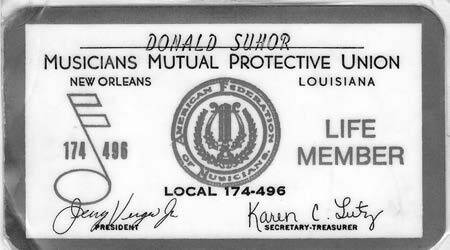 Style
This rich mixture of influences led to development of a highly personal expression. Don's unique "bopsieland" clarinet style combined a deep New Orleans sensibility with prodigious technique. On both instruments he frequently incorporated notes above the normal range of the horn into his solos—a dazzling effect that was, in Dan Morgenstern's words,"not a technical stunt, but an extension of his voice that feels natural, not contrived."
Influences
For all that, Don's earliest musical influences were swing era figures. Records by Artie Shaw and Benny Goodman were among the favorites that our older siblings, Mary Lou and Ben, kept on the Victrola turntable. When forced by our mother to take up music at age 12 in 1944, he chose clarinet because he thought Shaw looked handsome holding the instrument. After a brief time taking classes at Werlein's Music Store with Johnny Wiggs, the Bixian cornetist and later co-founder of the New Orleans Jazz Club, he started individual study at the Faubourg Marigny home of Emanuel Alessandra, oboist with the New Orleans Symphony. Idols like Goodman, Shaw, and local great Irving Fazola were compatible with Alessandra's "legit" instruction that included long tones, solfeggio, and reading skill.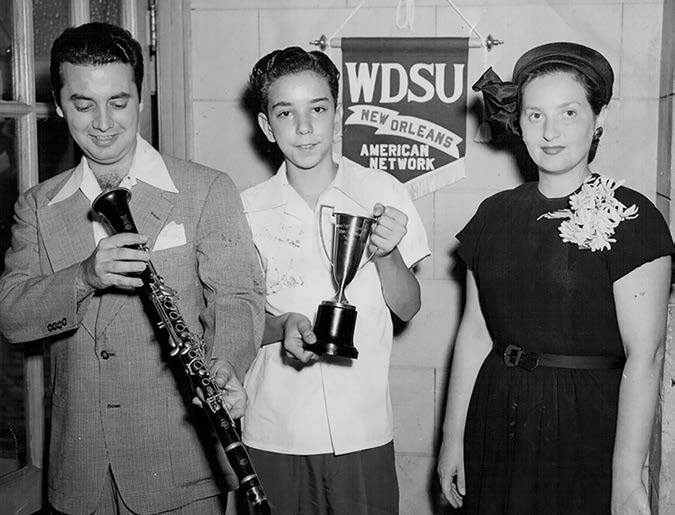 Pete Fountain was also an Alessandra student and admirer of Fazola, recently returned to the city after years of success with Bob Crosby's Bobcats and big band. Early in his career, Pete was known as "little Faz." When Benny Goodman came to town in search of the city's most promising young clarinetist in 1947, Don and Pete were among the entrants. The finalists were Don, age fifteen, and nineteen year-old Don Lasday, who was later a respected reedman and teacher in the city. Lasday jammed several blues choruses capably, but the trophy went to Don, ironically, with two memorized Artie Shaw solos rendered with flawless control of feeling and inflections.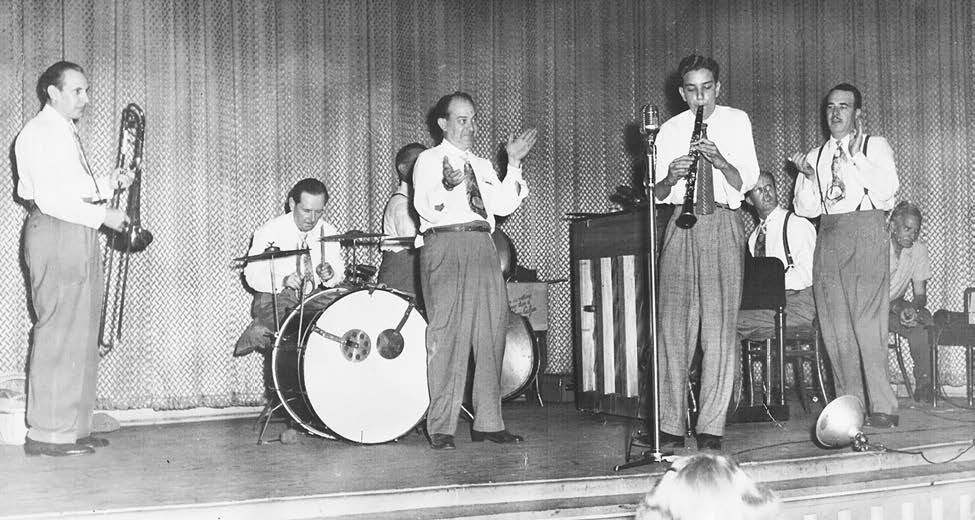 Starting Out
Shortly after, Don told me that he was determined to learn how to "fake" and "jam." In the heady atmosphere of the revival, he heard models like Fazola, Lester Bouchon, and Raymond Burke. His record collection was initially heavy on Shaw, Goodman, and Fazola but came to include Jimmy Noone, Peanuts Hucko, Barney Bigard, Hank D'Amico, Jimmy Hamilton, and Buddy DeFranco. I was three years his junior, with a collection that included George Lewis, Edmond Hall, George Lewis, Matty Matlock, and others.
Don persuaded me to accompany his daily jams in our Ninth Ward living room with an assembly of cardboard boxes, pot cover cymbals, and a small footstool for a woodblock. I bought a cheap drumset from Phil Zito, who would soon lead the combo with Fountain and trumpeter George Girard that morphed into the Basin Street Six at the peak of the revival. The woodshedding sessions were a lab for several years. Don challenged himself, and me, with home-made routines, breakneck tempos, and stylistic shifts as he switched from clarinet to alto sax and later, piano, which he took up on his own to gain a knowledge of chords. During that time he also engaged me in long conversations about jazz genres, styles, and the influences of major figures.
Loyola in the 50's
When Don entered the Loyola Music School in 1950, it was a strange environment—an elegant old three-story house at the corner of St. Charles Avenue and Calhoun streets, with a basement divided into practice rooms. The administration, justly proud of a voice department that was producing major operatic talents, had no use for jazz.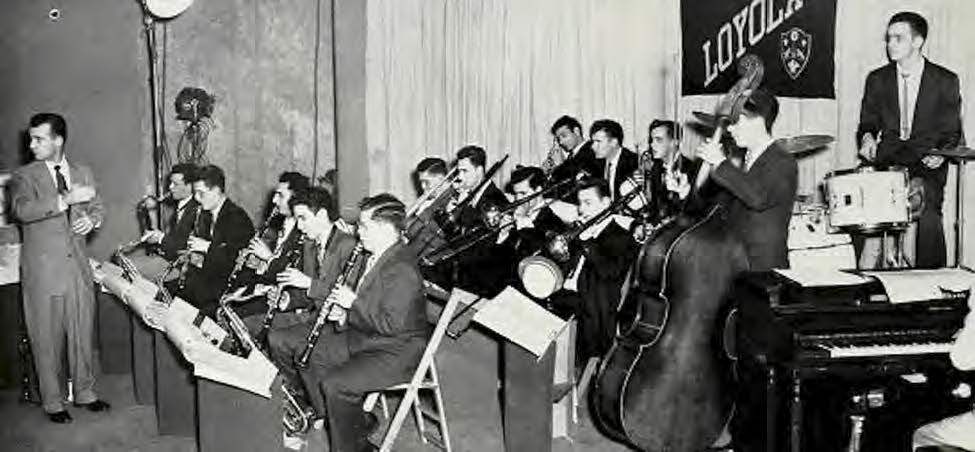 The concert band had deteriorated into an unlistenable embarrassment because the director, John Whitlock, gave attention to the big band that had been set up as the core of a Loyola recruitment troupe called "Campus Capers"—a lighthearted name that signaled a less than serious intent. But Whitlock and the students, many of them seasoned ex-servicemen studying under the GI Bill of Rights, took the band seriously.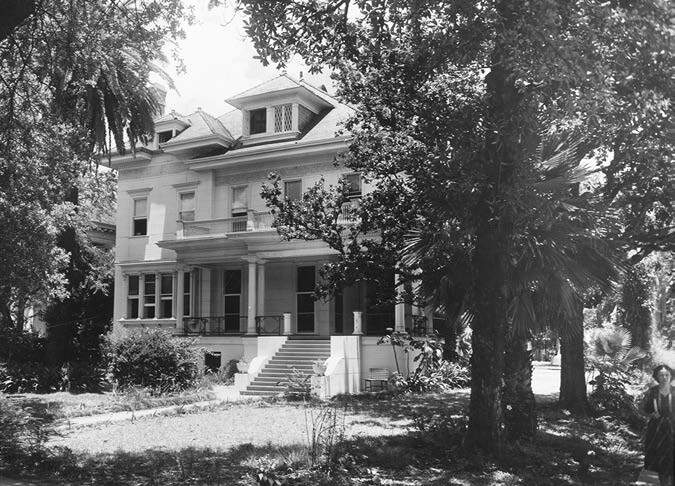 Whitlock was fired in 1952, partly from fear that the institution might become known as a "jazz school"—a dreaded title at that time in Academe. But the Campus Capers group continued, directed for one year by clarinet teacher Paul Guma, subsequently by students. Don and others youngsters admired the veteran swing era elders but found that the basement practice rooms were perfect for a series of stealthy modern jazz sessions, to the consternation of the old Belgian dean, who would storm down the stairs and shout, "I vill not have this Voogie Boogie in my school!" Fortunately, Paul Guma was well suited to developing Don's many-faceted skills. He was a first-rate concert, combo, and dance band musician on clarinet and alto sax, and an accomplished classical guitarist as well.
Don lost interest in academic courses and re-routed his degree program from music education to music performance to "certificate student." In the mid-fifties he was drafted for a two-year Army stint, his only sustained time away from New Orleans. He served as a bandsman at Fort Smith, Arkansas, and Fort Lee, Virginia, finding kindred spirits who played at off-base jam sessions. He moved for a short time to Washington, D.C., where he lived as the stereotypical starving artist, doing occasional gigs with young pianist/vocalist Shirley Horn, tenor saxist Buck Hill, and others.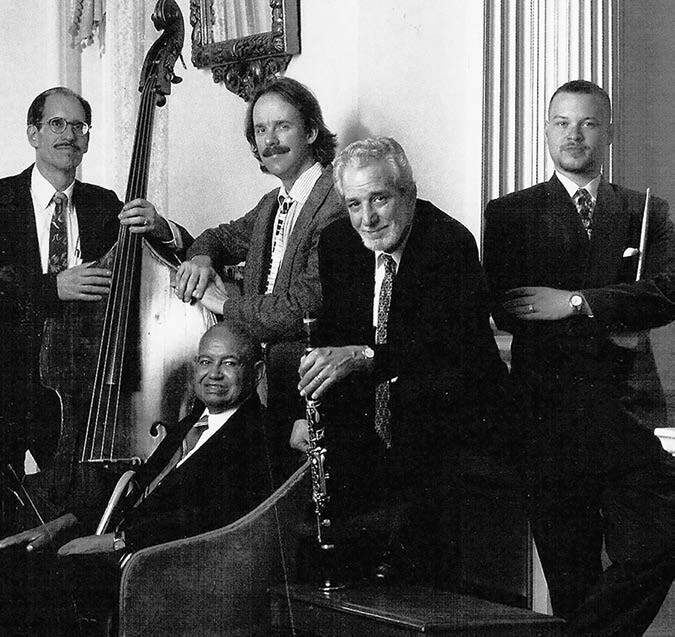 The Dream Room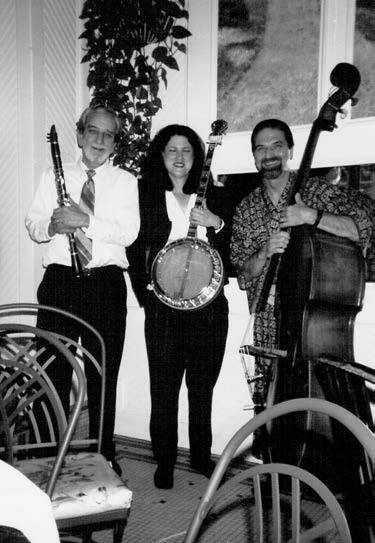 Don Suhor's innumerable experiences in the decades that followed would be impossible to trace in detail. The common denominator, though, was his passion for improvisation. He rarely took big band jobs, though he comfortably sightread Lionel Hampton's book at a 1980's Jazzfest concert. He praised the special arrangements in Lloyd Alexander's local big band but told me,"Yeah, it's really a good band. But you know, I didn't get much chance to play."
Returning from the Army, he found that the postwar jazz revival had given way to the rise of rhythm and blues. But he found a steady gig in 1956 at the Dream Room. It was a true Bourbon Street oddity—neither a jazz nor a strip club, but a dancing and listening emporium. The makeup combo was equally anomalous, bordering on bizarre. The leader was Zonia Dill, an attractive accordionist with a repertoire of pop tunes and standards. The bassist was the revered foundational jazz figure Chink Martin, then age 70. On drums was the versatile 19-year-old Reed Vaughan, who would soon join Stan Kenton. On piano was Loyolan F. A. Cassanova, a well-rounded classical musician with a light jazz touch. The trumpeter, a straight-ahead swing musician (possibly, Jack Bachman), joined Don and Zonia on the front line. Don had a feeling for all of their strengths and helped the unlikely aggregate bond into musical unity. With no trace of pedantry, he taught head arrangements, signaled solo sequences, and called out chords to the rhythm section on less familiar tunes. Bassist Bill Huntington once remarked, "His acceptance had a lot to do with his great knowledge of the music."
Making a Living
Now supporting his wife Betsy and daughter Donna Marie, he found limited options for steady work. The strip clubs? Seedy strip joints had long been a refuge where outlanders like Jim Hall, Brew Moore, and Mundell Lowe scratched out a living, enjoying more a freedom to explore new frontiers than swing bands allowed. Prima's 500 Club and the Sho'Bar were two clubs that aspired to a status above the sleazy Quarter joints and consistently provided employment for jazzmen. Don was featured on clarinet for seven years in the pit band at Prima's during sultry signature routines of Lily Christine (the Cat Girl), playing after hours sessions at hip enclaves like Danny's Inferno. In the late sixties, Don led the pit band at the faux-classy Sho'Bar, hiring gifted be-boppers and drummers who dutifully accented the bumps and grinds.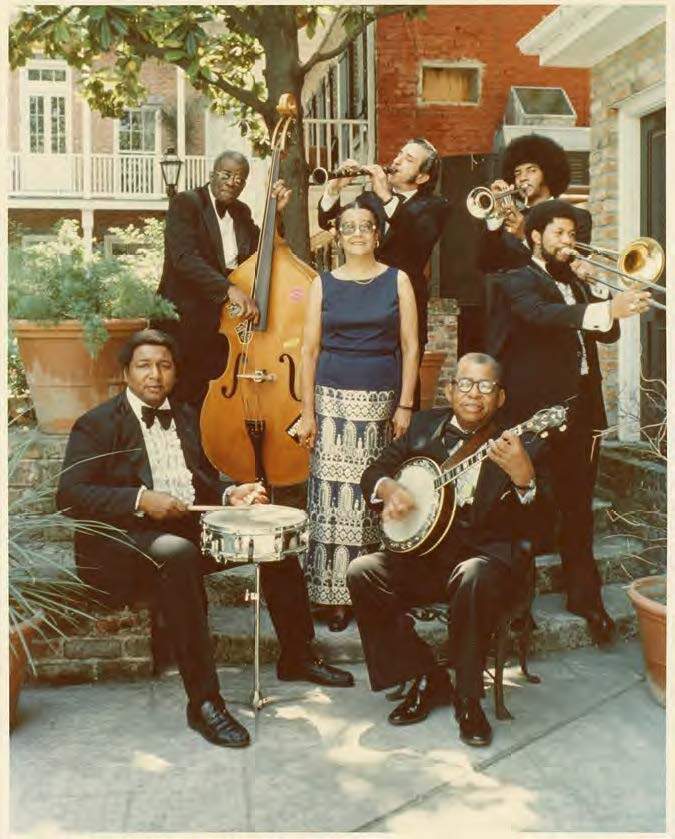 Revival New Orleans
The success of Preservation Hall in 1961 and widespread national publicity ushered in a revival that reestablished New Orleans' popular image to the present day as the definitive site for early jazz. Wider employment was ensured not only for surviving first generation players but also for any who could play in traditional styles, from foundational jazz to revivalist "trad" to Dixieland. Don's inventive Bopsieland clarinet was welcomed by musicians in this environment. He worked as a sideman in George French's fine Dixieland-cum-bop combo at Crazy Shirley's; in bands lead by Santo Pecora and Thomas Jefferson at the Famous Door; and in "Papa" Albert French's band at Tradition Hall. For a decade he played the jazz brunch at Court of Two Sisters with banjoist Amy Sharpe. In some years he worked more gigs than there were days on the calendar, thanks to luncheon work, weekends at the Palm Court Jazz Café, spot jobs with pickup bands, and pinch-hitting for regular reedmen in groups led by Al Hirt, Connie Jones, and others.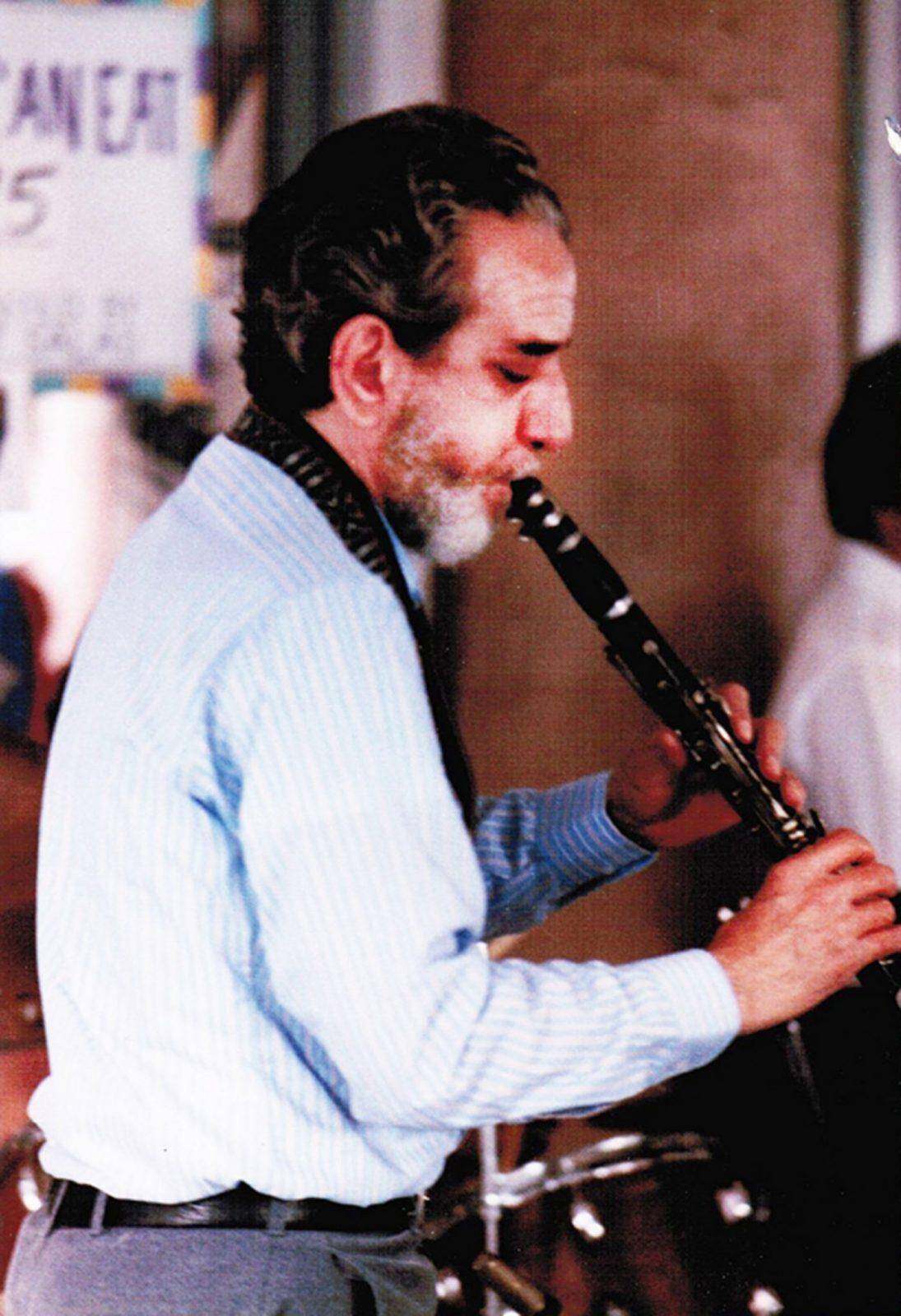 Legacy
Don Suhor died of lung cancer in January of 2003 at age 70. Two weeks earlier, a hastily organized benefit brought over 250 musicians and friends to Palm Court Cafe for a Monday night jam session. He was preceded in death by his wife Betsy Ferne Perry and was survived by their daughter, Donna Marie; his second wife, Bridget Babbs; and their sons, Nick and Christopher; and four siblings.
Don's imprint is strong in the memory of his colleagues, but his recorded output was slight. His recordings as a sideman didn't capture the depth and range of his talent. The perfectionist in him wasn't anxious to commit a particular performance to the record. Guitarist John Eubanks once commented, "You know how hard it is to get Don into a recording studio." But over the years I gathered privately recorded tapes of Don's extended work with Eubanks, Amy Sharpe, and multi-instrumentalist Don Vappie. In July 2018 Jazzology released a posthumous two-CD set, Don Suhor—New Orleans Clarinet and Sax Virtuoso, composed of tracks from the private sessions and the best of Don'a work with Dixieland combos.
In a review in the New Orleans OffBeat weekly, Geraldine Wycoff writes, "Don Suhor thoroughly embraced both traditional and modern jazz and often would infiltrate one of these kissin' cousins within the other….Suhor continually demonstrates his love of all jazz and the wholeness that remains the music's, as well as his, essence." In the British magazine Just Jazz Peter Lay says, "These CDs mean that Don Suhor's talents will not go unsung."
---
See Scott Yanow's album review: Don Suhor New Orleans Clarinet & Sax Virtuoso