"I've always preferred the New Orleans style. That's what real jazz is as far as I'm concerned."
— Earl Scheelar
This year's Cline Wine and Dixieland Jazz Festival, to be held on July 13th, will honor veteran musician and promotor Earl Scheer. Scheelar is a bandleader and multi-instrumentalist who has led Bay Area revival jazz ensembles since the 1950s. A dedicated proponent of New Orleans Jazz, few transmit the Blues on cornet or clarinet with greater conviction and eloquence.
A self-taught musician, Scheelar's technique and personal style are distinctive. His Johnny Dodds-inflected clarinet style provides steady support for any ensemble. His cornet tone is passionate and he's always ready with a piquant solo or moving chorus of the Blues on either instrument. Earl also plays or has played banjo, soprano and alto saxophones, baritone horn and tuba. He sings and formerly played guitar and country fiddle.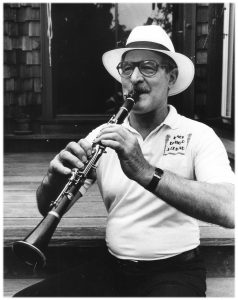 Though never a full-time professional musician, Scheelar has maintained an unbroken series of jazz bands since the mid-1960s. He moved to the Bay Area from the Northwest in 1950 drawn by the thriving Traditional Jazz scene and is proud to have heard the Watters' Yerba Buena Jazz Band at Hambone Kelly's. Surprisingly, despite his broad musical proficiency Earl was never a "reading musician."
Scheelar launched Earl's New Orleans House in Berkeley in 1966, a spacious restaurant and dance hall with a high ceiling and large wooden dance floor. It served Louisiana music and food, featuring Earl's New Orleans House Band featuring Bob Helm, though the venue only lasted about six months.
He deeply admired and loved reed player Bob Helm — the man and his music. For a half century they partnered in long stretches. Helm was integral to all of Scheelar's bands including Funky New Orleans Jazz Band (the Herwin LP) and Zenith Jazz Band in the 1990s.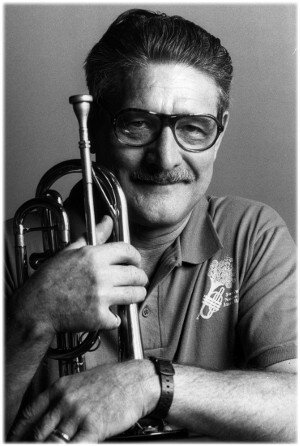 Earl was a key player in the Bay Area ensembles of Frank Goulette (Original Inferior, Monterey Bay Classic JB), Ted Shafer (Jelly Roll JB), P.T. Stanton (Stone Age JB), Joe Bithell (Silicon Gulch), George Knoblauch (Black Diamond JB), Jerry Kaehele (Good Time Levee Stompers), Bruce Hilton (Joyful Noise JB) and Dick Oxtot (Golden Age JB). And Earl played clarinet and banjo on the legendary Janis Joplin-Dick Oxtot sessions recorded years before her Rock fame.
Scheelar and wife Alice bought a six unit apartment building in the French Quarter of New Orleans in 1989. Living there a few weeks per year until 2005 they were often joined by their friend Bob Helm, becoming good friends with Jacques Gauthe and sitting in at his jam sessions and gigs. Earl started a small foundation distributing musical instruments to local youngsters. His ensembles have always featured noteworthy New Orleans Jazz elements and style.
Those who have known Earl over the years will attest to his personal helpfulness, always eager to lend his talents as a craftsman, mechanic, businessman, musician or friend. Few have shown such fierce independence, leadership and dedication exploring classic Jazz music than Earl Scheelar, the Earl of Jazz.
To get the complete story read "Earl Scheelar Will Surprise You", and hear some great audio clips of his bands. To see a great collection of pictures related to Earl look HERE.
A Chronology of Earl Scheelar's Life in Jazz
1929
Born Tillamook, Oregon.
1950
Moved to Berkeley.
Late 1950s-early 1960
Played with the bands of Frank Goulette in SF at The Honeybucket and in Original Inferior Jazz Band at Burp Hollow.
1957-67
Played in Berkeley clubs, Monkey Inn and casuals with Oxtot, Bob Mielke, Pete Allen, Walter Yost and Bill Erickson.
1964-75
Scheelar led informal ensembles and organized bands in Berkeley at LaVal's and The Albatross with Ray Ronnei (cornet), Bob Helm (reeds), Bob Jackson (cornet), jam sessions, casuals and NOJC events.
1966-67
Earl's New Orleans House and Jazz Band restaurant and dance hall; the jazz band was extant into the early 1970s.
Early 1970s
Formation of Funky New Orleans Jazz Band and Herwin album (1971-72). Oxtot bands and jams at The Ordinary, The Point and casuals.
1974-78
Played clarinet in P.T. Stanton's Stone Age JB.
1982-87
Monterey Bay Classic Jazz Band of Frank Goulette.
1980s
Funky New Orleans JB, Mielke's Oakland A's Swingers (reeds alternate). Zenith Jazz Band and Zenith New Orleans Parade Band, festivals and casuals.
1989-2005
Lived part time in New Orleans French Quarter. Jams and gigs with Jacques Gauthe. Formed Jazz Education Foundation.
1990s
Good Time Levee Stompers, Black Diamond JB, jazz festivals and casuals. President, New Orleans Jazz Club of Northern California in 1992-93.
2000s
Zenith band, casuals and reunions. Ted Shafer Jelly Roll JB (1999-2014), Mission Gold JB (2010-14).