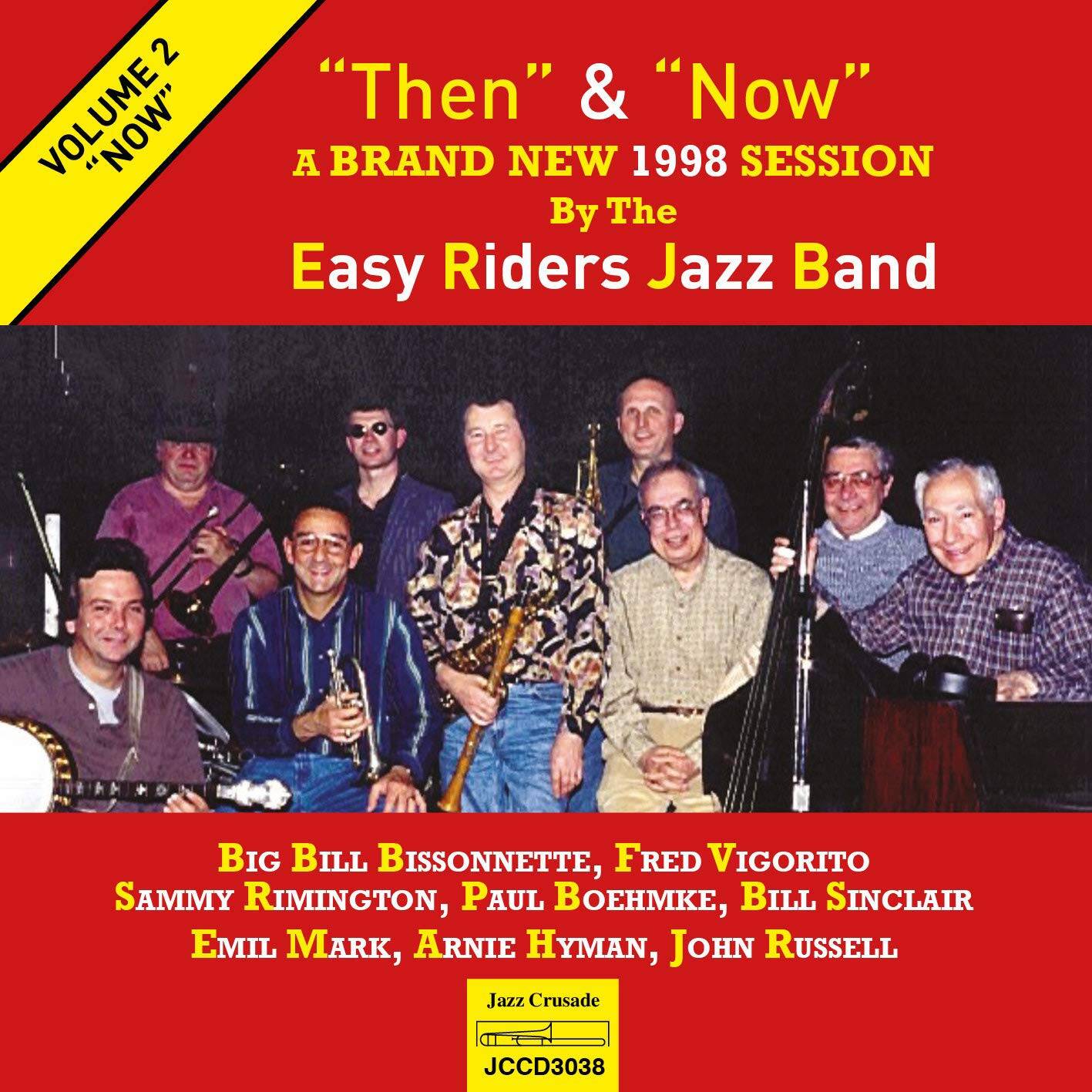 This album is vol. 2, "Now," of a two-volume set of the Easy Riders Jazz Band, "Then" and "Now," on the Jazz Crusade label. ("Then" – vol.1 – is on JCCD3037.) The band personnel on vol. 1 was that of the 1965/66 band, and the late Big Bill Bissonnette (as he liked to be called) tried a reunion of sorts of that group for vol. 2 in 1998. Two of the original line-up were deceased by 1998 and were replaced by Russell and Mark, and McCarthy, who was not enjoying the best of health, was replaced on most tracks by Hyman.
Bissonnette, as many traditional jazz fans know, was dedicated to the preservation of New Orleans-style jazz, and three of his projects toward that end were first the formation in Connecticut of the Easy Riders Jazz Band in the early 1960s and second the creation of the record label Jazz Crusade to record local groups and musicians. After a period of inactivity of some fifteen years during the 1970s and 1980s, Bissonnette resumed his musical ventures and the third project was setting down in 1990 his record of the 1960s revival of traditional jazz in the book The Jazz Crusade: The Inside Story of the Great New Orleans Jazz Revival of the 1960's (the book's publishing date was given as 1992) and beginning to play again.
In addition he arranged tours and recordings with New Orleans jazz veterans, most of whom he brought up from New Orleans. He assiduously engaged in that "crusade," still carrying the banner after his retirement in 2006 until his death a year ago.
The band on vol. 1 "Then" is young and relatively inexperienced, compared to that on the disc under consideration. It displays much vigor and a somewhat primitive quality, but it is quite exciting. The band on "Now" is some 20 years older and with considerably more experience—not as "primitive" but in its way exciting, too. This is immediately obvious on the first track, "Panama," where the reeds have a friendly competitive trading of sax choruses, building by the end of the cut to a rousing climax. It is equally apparent in "Walk through the Streets of the City," which is not played as a 2/4 march but as a straight 4/4, mainly ensemble all through, and at the end, through several choruses, each building on the one before, rising to an exhilarating finale.
The tune list is an inspired one—no tired war horses here, but instead many tunes that are never, or seldom ever, heard on traditional jazz CDs. I don't recall hearing "Someday My Prince Will Come" done by any other New Orleans-style band, but for me it doesn't quite come off as jazz.
"Now Is the Hour," taken as a waltz, 3/4 time all the way through, does and it is not often included in traditional jazz bands' books, nor is "Marchin' and Swingin'," so reminiscent of the Wilbur de Paris and his New New Orleans Jazz version. Initially I thought "Kiss My Little Brown Ass" was to be another such "unknown," but as it turns out it is just "Do What Ory Say" under another title—lyrics supplied by Bissonnette, I presume.
This album provides a little over an hour of well-played, entertaining traditional jazz, performed by fine musicians, most of whom are still playing some 20 years later. It also documents an important part of traditional jazz history, and by reissuing this Jazz Crusade CD, Upbeat keeps it available.
Jazz Crusade CDs are available on the Upbeat web site www.upbeat.co.uk as well as from on-line sites such as Amazon.
EASY RIDERS JAZZ BAND—"Then" and "Now," Vol. 2 (Jazz Crusade JCCD3038)
Playing time: 62m. 31s.
Panama; Over the Waves; Apple Blossom Time; Marchin' and Swingin'; Kiss My Little Brown Ass; Solitude; West Indies Blues; Someday My Prince Will Come; Tipi-Tin; Storyville Blues; Walk through the Streets of the City; Now Is the Hour.
Big Bill Bissonnette, trombone, vocal*; Sammy Rimington, reeds; Fred Vigorito, cornet; Paul Boehmke, reeds†; Bill Sinclair, piano; Emil Mark, banjo; Arnie Hyman, string bass‡; Mouldy Dick McCarthy, string bassº; John Russell, drums,
Recorded Wallingford, Connecticut, on Apr. 7, 1998.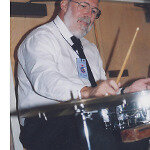 Born in Dundee, Scotland, Bert Thompson came to the U.S. in 1956. After a two-year stint playing drums with the 101 st Airborne Division Band and making a number of parachute drops, he returned to civilian life in San Francisco, matriculating at San Francisco State University where he earned a B.A. and an M.A. He went on to matriculate at University of Oregon, where he earned a D.A. and a Ph.D., all of his degrees in English. Now retired, he is a professor emeritus of English at City College of San Francisco. He is also a retired traditional jazz drummer, having played with a number of San Francisco Bay Area bands, including And That's Jazz, Professor Plum's Jazz, the Jelly Roll Jazz Band, Mission Gold Jazz Band, and the Zenith New Orleans Parade band; he also played with some further afield, including Gremoli (Long Beach, CA) and the Phoenix Jazzers (Vancouver, B.C.) Today he reviews traditional jazz CDs and writes occasional articles for several publications.