In the 1950s, trombonist Wilbur DeParis led his New New Orleans Jazz Band, one of the most exciting groups of the era. Accomplishing his stated goal "to play as the early New Orleans masters would if they were alive today," DeParis and his brother trumpeter Sidney DeParis invigorated hot jazz with their "New New" group. Yet, despite most of their recordings being readily available, very little has been written about the siblings since their passing.
Wilbur DeParis (whose last name has been variously spelled as De Paris, de Paris and deParis) was born January 11, 1900, in Crawfordsville, Indiana. Sidney followed him, probably on May 30, 1903, although he has been listed in some places as being born in 1905. Their father (Sidney DeParis Sr.) was a schoolteacher who led a carnival band that performed in vaudeville. One of his employees with the band was Mabel Bertrand, who would be immortalized by Jelly Roll Morton years later in his composition "Fussy Mabel." It was the first of several connections to Morton that would take place in the lives of the DeParis brothers. The older DeParis taught both of his sons music. Wilbur not only learned trombone but alto and C-melody saxophone while Sidney soon became skilled as a trumpeter who also occasionally played tuba.
Until the mid-1940s, Wilbur and Sidney DeParis had separate careers that only overlapped on rare occasions. While never thought of as a major soloist, Wilbur developed into a superior musician who blended well into ensembles and could take fine solos when called upon.
He began playing professionally in 1919 in Philadelphia and worked with Armand J. Piron's band in 1922 as a C-melody saxophonist before switching his focus permanently to trombone. He worked with the Original Blue Rhythm Band, made his recording debut in 1928 with Leroy Smith and in 1929 was on a session apiece with Clarence Williams and Edith Wilson.
In 1930 Wilbur participated on three recording dates with Jelly Roll Morton that resulted in eight songs including "Fussy Mabel." Bubber Miley, who had left Duke Ellington the previous year, was one of the trumpeters and he must have been impressed by the trombonist because he used DeParis on his own sessions with his Mileage Makers, resulting in four songs including "I Lost My Gal From Memphis" and "Black Maria." Wilbur DeParis also popped up on a 1931 date by trumpeter Dave Nelson, King Oliver's nephew.
Wilbur DeParis stayed busy during the swing era without achieving any fame. As a member of Noble Sissle's orchestra, he appeared in the film short That's The Spirit and toured Europe. He was on record dates in 1933 with Benny Carter and Spike Hughes and in 1935 with Clarence Williams, and worked with the big bands of Edgar Hayes, Teddy Hill, the Mills Blue Rhythm Band, and Louis Armstrong (1937-40).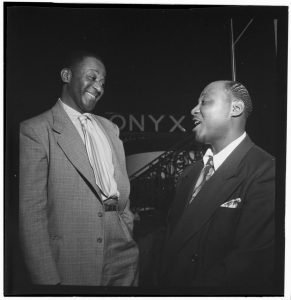 In contrast to Wilbur's anonymity in the 1930s, Sidney DeParis became fairly well known as a solid soloist who could generate a lot of heat. He was particularly distinctive when using a mute to alter his sound. He started to record in 1925, first with Andrew Preer's Cotton Club Orchestra and Lemuel Fowler's Washboard Wonders, and then as a member of Charlie Johnson's Paradise Ten (1926-31), taking an impressive solo on "The Boy In The Boat." Already rated high in 1929, Sidney was recruited for a few all-star dates (along with Fats Waller, Benny Carter and Coleman Hawkins) released as by the McKinney's Cotton Pickers. He was a member of the Don Redman Orchestra during 1932-36, rejoining Redman for a period in 1939.
But other than relatively brief stints with the Benny Carter Orchestra (1940-41), Charlie Barnet and the Roy Eldridge big band (1944), Sidney DeParis would spend the rest of his career as a hot soloist with combos. Among his recordings of the era were outings with Victoria Spivey (1937), Mezz Mezzrow (1938) as part of what became known as the Panassie Sessions (although Hughes Panassie and Tommy Ladnier considered DeParis' swing playing to be "too modern" for their concept), Jelly Roll Morton (nine years after his brother as part of Morton's classic 1939 band dates), Willie "The Lion" Smith, and a particularly memorable date with Sidney Bechet in 1940 that resulted in such songs as "Shake It And Break It," "Old Man Blues," and "Wild Man Blues."
Sidney DeParis became a fixture on 52nd Street in the early 1940s, working often in small clubs with groups led by either drummer Zutty Singleton or pianist Art Hodes. He also recorded regularly for the Blue Note label during 1944-45 including on sessions led by Bechet, clarinetist Edmond Hall and pianist James P. Johnson, Sidney had his first chance to record as a leader in 1944, heading a group with Hall, Johnson, and trombonist Vic Dickenson that performed three standards (including "Who's Sorry Now") and his "The Call Of The Blues."
Other than a year in the 1920s when they worked together in Wilbur's house band at Philadelphia's Pearl Theater, Sidney and Wilbur did not cross paths often during their first 20 years as professional musicians. That began to change during 1944. For the first time they recorded together, cutting four titles as "The DeParis Brothers" for the Commodore label. The rise of traditional jazz helped "liberate" Wilbur DeParis from big bands; he worked with Eddie Condon during part of 1944 and recorded with George Wettling, also appearing next to his brother on record dates with pianist Cliff Jackson (which also included Sidney Bechet) and the short-lived Roy Eldridge big band. Wibur DeParis next took a detour, joining the Duke Ellington Orchestra, but during that period (November 1945-June 1947) Lawrence Brown and Tricky Sam Nanton got all of the trombone solos.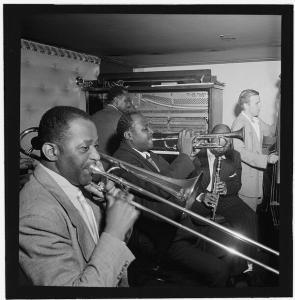 After Wilbur DeParis left Ellington, he and brother Sidney finally started to play together on a regular basis. At first they were co-leaders of a combo but, since Wilbur had devised the main concept and was the harder worker, he was soon considered its leader while Sidney was featured as the star soloist. It took a little time for their group to solidify and get regular work so there were a few departures. Wilbur performed often with Bechet during 1949-50 while Sidney led another Blue Note record date in 1951 and recorded with Bechet that year (without Wilbur). But after they became the house band at Jimmy Ryan's in 1951, a gig that lasted for 11 years, what became known as Wilbur DeParis' New New Orleans Jazz Band was a reality.
Using Jelly Roll Morton as a role model, Wilbur DeParis sought to build upon the popularity of New Orleans jazz by adding new originals, forgotten old songs, and offbeat tunes to his group's repertoire along with a healthy bit of wit, creativity, and surprises. He did not want his brand of New Orleans jazz to be predictable and he sought to give new life to the style so it would not die out prematurely. While he retained the freewheeling spirit of other New Orleans and Dixieland-oriented bands, DeParis' arrangements and unusual frameworks that he devised along with the material ensured that his music would be as fresh and, in its own way, as inventive as modern jazz.
The earliest documentation of what at the time was known as Wilbur DeParis & His Rampart Street Ramblers are from the broadcasts of the trad jazz radio series Dr. Jazz. The original group consisted of the DeParis Brothers, the great clarinetist Omer Simeon (a favorite of Jelly Roll Morton's), pianist Don Kirkpatrick, Danny Barker on banjo and guitar (soon succeeded by banjoist Eddie Gibbs), and another Morton alumnus, drummer Freddie Moore. The band had a jubilant spirit from the start and, in addition to playing New Orleans standards, included such unusual material as their theme "Marchin' and Swingin'," "Change Of Key Boogie," "Too Much Mustard," "Florida Rag," "Under The Double Eagle," "Underneath Hawaiian Skies," "Martinique," and "Fiddle Up Your Ragtime Violin" (despite not having a violinist). Fortunately their spirited broadcasts can be heard on five CDs; Dr. Jazz Vol. 7 (Storyville), I've Found A New Baby (Jazz Crusade) which also includes the DeParis Brothers and Cliff Jackson sessions of 1944, An Evening At Jimmy Ryan's, Another Evening At Jimmy Ryan's, and One More Evening At Jimmy Ryan's (the latter three for Jazz Crusade).
Starting in 1952, the Wilbur DeParis band (which now had Harold Jackson added on bass) recorded on a regular basis for the high-profile Atlantic label. 1952's Marchin' And Swingin' includes some of their strongest material including "Martinique," Rachmaninoff's "Prelude In C-Sharp Minor," two Morton pieces ("Shreveport Stomp" and "The Pearls") and, during its latter part (after a conventional treatment and some dramatic semi-classical flourishes on trombone), a few choruses of what must be the most rapid-ever version of "The Saints."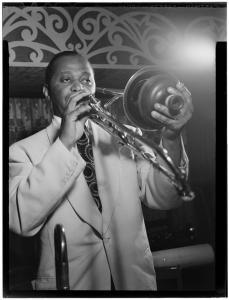 Other recommended albums by the group include Wilbur DeParis & His New New Orleans Jazz (highlighted by Simeon's wonderful clarinet solo on "Milenberg Joys"), At Symphony Hall (what other band performed "Majorca," "Juba Dance," "Wrought Iron Rag" and "Cielito Lindo?") and Plays Cole Porter. In addition, the band also joined in on New Orleans Blues, an album led by the bluesy jazz singer Jimmy Witherspoon, and is featured on Live In Canada 1956 (Jazz Crusade) which includes Jimmy Rushing and Willie "The Lion" Smith.
Along with the DeParis-DeParis-Simeon frontline, the group also included pianist Sonny White, banjoist Lee Blair, Hayes Alvis, Benny Moten, Wendell Marshall or Leonard Gaskin on bass, Zutty Singleton or Wilbert Kirk on drums, and, starting in 1955, trumpeter Doc Cheatham.
Sidney DeParis was beginning to have occasional problems with his health, so to relieve some of the pressure on him, Cheatham was hired as a substitute who eventually joined the band as second trumpeter. Up until then Doc Cheatham had worked primarily as a lead trumpeter with big bands (most notably with Cab Calloway) so this was one of his earliest opportunities to take occasional solos although his real breakthrough would not be for another 20 years.
One of the highpoints for the DeParis group was getting to tour Africa for 14 weeks in 1957. Other excellent albums by the band include Old, New, Gay, Blue (which has banjoist John Smith replacing Blair and drummer Wilbert Kirk doubling on harmonica), That's A Plenty, and Over & Over Again which was not released until 1970. In addition to some performances from 1958, the latter has the band split between its usual lineup and the way the group was after the unexpected death of Omer Simeon on Sept. 17, 1959. While Simeon could never be fully replaced, Garvin Bushell did his best in his spot, not only playing clarinet but bassoon.
The 1960 version of the group certainly displayed unlimited potential for, in addition to both Sidney DeParis (who occasionally played tuba) and Doc Cheatham on trumpets, Wilbur DeParis, and Bushell, it included pianist Sonny White occasionally playing organ, John Smith on banjo and guitar, bassist Hayes Alvis, and Wilbert Kirk on drums and harmonica with guest vocals by Louis Bacon. If the leader wanted, he could have featured a quartet comprised of bassoon, organ, harmonica and tuba!
The recordings of the last version of the group (The Wild Jazz Age, On The Riviera, and Jazz Crusades' DeParis In Europe) find the band sounding as spirited and joyful as ever. In 1961 the New New Orleans Jazz Band made an appearance on the television special Those Ragtime Years and recorded "Wrought Iron Rag" for the soundtrack of a French film, Les Nuits d'Amerique.
Musically, there was no reason that the group could not have continued for several more years for its musicians had not lost their enthusiasm or run out of ideas, but two factors led to its quick demise. In 1962 their 11-year engagement at Jimmy Ryan's ended abruptly when the legendary club was torn down in the name of redevelopment. And Sidney DeParis' health was failing. While he recorded with Chris Barber in 1960 and he appeared on sessions in 1961 with Alberta Hunter and Victoria Spivey, his heart was gradually failing. Sidney DeParis had one more last hurrah, leading an oddly successful album in 1962 called Dixieland Hits Country & Western in which he led a fine septet with clarinetist Kenny Davern on swinging versions of eight songs associated with country music.
But after that, Sidney DeParis retired from playing as did his brother who spent Sidney's last years helping to take care of him. The trumpeter passed away on September 13, 1967, at the age of 64. Wilbur DeParis joined him on January 3, 1973, when he was 72.
Most of the DeParis' recordings are currently available with some of the Atlantics repackaged (two albums on a CD) by the inexpensive Collectable label while the Jazz Crusades are being put out by Upbeat, so there is simply no excuse to not discover the highly enjoyable music of Wilbur and Sidney DeParis.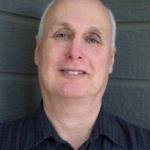 Since 1975 Scott Yanow has been a regular reviewer of albums in many jazz styles. He has written for many jazz and arts magazines, including JazzTimes, Jazziz, Down Beat, Cadence, CODA, and the Los Angeles Jazz Scene, and was the jazz editor for Record Review. He has written an in-depth biography on Dizzy Gillespie for AllMusic.com. He has authored 11 books on jazz, over 900 liner notes for CDs and over 20,000 reviews of jazz recordings.
Yanow was a contributor to and co-editor of the third edition of the All Music Guide to Jazz. He continues to write for Downbeat, Jazziz, the Los Angeles Jazz Scene, the Jazz Rag, the New York City Jazz Record and other publications.