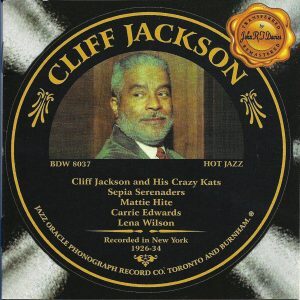 Cliff Jackson (1902-70) was one of the great stride pianists to emerge from the 1920s. Despite that, Jackson recorded exclusively during 1924-27 as an accompanist to blues singers including Rosa Henderson, Helen Gross, Josie Miles, Maggie Jones, Rosetta Crawford, Martha Crawford, Jane Howard, Viola McCoy, and Martha Copeland plus Lizzie Miles in 1928. Other than two songs apiece during 1928-29 in a trio with clarinetist Bob Fuller and with the Musical Stevedores, he did not appear on any instrumental recordings until 1930.
Cliff Jackson 1926-1934, a very good release from the Jazz Oracle label that is now being made available by Upbeat, features his main recordings from this early period. Jackson cut two piano rolls in 1926 and "Hock Shop Blues" leads off this set, giving listeners a good idea what the pianist sounded like near the beginning of his career. Also included are five songs from 1930 and 1932 on which Jackson accompanies singers Mattie Hite (the enjoyable "Texas Twist"), Lena Wilson and Carrie Edwards.
The bulk of this release has all 15 of the recordings by Cliff Jackson's Crazy Kats, a very spirited ten-piece band in 1930. Best known among the sidemen are trumpeter Henry Goodwin and clarinetist-altoist Rudy Powell. Although based in New York, the group sounds very much like a territory band, not playing flawlessly and occasionally drifting a little out-of-tune but displaying a great deal of spirit and enthusiasm. They are particularly exciting on their classic "Horse Feathers" (the arrangement is quite impressive), "Torrid Rhythm," and two versions of "The Terror" but the other mostly ensemble-oriented selections are also fun and filled with the joy of the era; the Depression had not really hit by the time of these Jan.-Feb. 1930 recordings.
Cliff Jackson only took occasional solos with his Crazy Kats, although he is featured a bit more on the session that closes this CD, six goodtime numbers with the Sepia Serenaders, a trio with clarinetist Clarence Grimes, banjoist Elmer Snowden, and, on three of the songs, singer George Gray. To finally hear Cliff Jackson stretching out on record as a solo pianist, one had to wait until 1944, but the Jazz Oracle release has plenty of highpoints from his early days.
Cliff Jackson 1926-1934
(Jazz Oracle BDW 8037, 27 selections, TT = 76:33)
www.upbeatmailorder.co.uk