A spokesman for the National Independent Venue Association (NIVA) was quoted in a story carried by National Public Radio last month stating that without federal intervention, as many as 90% of independent music venues could disappear in the not-too-distant future if the COVID-19 pandemic continues for an extended period of time.
This newly-formed advocacy group is lobbying hard for legislation like the Restart Act or Save Our Stages, which would provide large-scale financial assistance for these endangered facilities, but warn that time may be running out.
"Culturally devastating" 
The NPR story continued, "The impact of such a collapse could be culturally devastating. Unlike restaurants or shops, a small or medium-sized music venue is more than just a business serving its customers. They are living, breathing mini-institutions in their own right, each one with its own unique capacity to incubate local bands and artists, host touring ones, and connect them all to the communities of like-minded show attendees that these spaces attract.
"As the live music industry awaits an economic lifeline and an eventual vaccine, some are using the standstill to creatively rethink the functionality and economics of live music. While nobody expects new formats like socially-distanced, limited-capacity shows to address the industry's bigger, more systemic threat, the experimentation may yield clues as to how to safely experience live shows before a full reopening is possible. Crucially, it's also a chance to build more future-proof models for live entertainment."
Not a happy thought, but my hope is that the more-established festivals and jazz parties will be able to recover once a proven vaccine and effective testing procedures are broadly available, and fans are again comfortable attending public gatherings. These are once-a-year events that do not have to maintain a physical facility and large paid staff 365 days a year. Attendance will be smaller—in the hundreds, not thousands. Like everything else, things will be different.
Long-time Jazz Clubs Survive
Moving in a more positive vein, the foregoing discussion got me thinking about some of the jazz clubs around the country that have survived good times and bad and been able to meet the challenge of keeping their doors open over time to present live music. A couple days research culled the list down to seven clubs that deserve to be recognized for their longevity.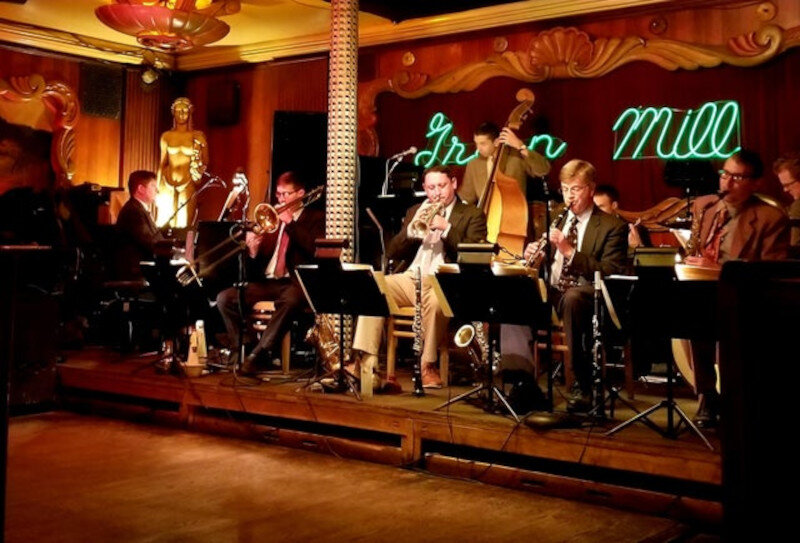 Green Mill, Chicago – Opening in 1907, the Green Mill probably deserves the title of the "longest continuously-running jazz club" in the United States. Originally known as Pop Morse's Roadhouse, the careers of top talent such as Ruth Etting, Billie Holiday, and Anita O'Day launched their careers by appearing at the Green Mill.
During Prohibition, the club was leased to the mob, and a large stake in its ownership went to Jack "Machine Gun" McGurn, one of Al Capone's henchmen, who reportedly was the principal gunman in the St. Valentine's Day Massacre. Though Capone owned a speakeasy across the street, his chosen hangout was the Green Mill where bribes to the Chicago police allowed the bar to operate freely.
It was during Prohibition that singer-comedian Joe E. Lewis failed to renew his contract with the club after a competing mob-run club offered him a more lucrative contract. The infamous mobster, Sam Giancana and two Capone associates visited Lewis and slit his throat and tongue, leaving him for dead. Lewis, a crony of Frank Sinatra who portrayed the comedian in The Joker is Wild movie, recovered eventually and re-signed with the Green Mill, while McGurn, who ordered the hit, was himself, gunned down not long afterwards.
Baker's Keyboard Lounge, Detroit – Baker's originally opened as a lunchtime sandwich shop, but in 1934 began booking jazz pianists like Art Tatum, Dave Brubeck, and Fats Waller along with Gerry Mulligan, Gene Krupa, and Miles Davis. Noted for its excellent acoustics and intimacy, the Lounge, which only seats 99 and has a piano-shaped bar, was remodeled in 1952 to take on the Art Deco look it has today. Tilted mirrors over the Steinway piano (that was selected and purchased for the owners by Art Tatum) enable patrons to view the pianist's hands. The club, which is now part of a Historic District, still displays its original liquor price list from 1934, showing the price of beer at 26 cents.
Village Vanguard, New York City – Many well-known jazz clubs call New York City home, reflective of its historic reputation as a jazz hotbed. But only the Village Vanguard can currently claim to be the city's oldest. Referred to by some as the "Carnegie Hall of Cool," the Vanguard was founded by Max Gordon in 1935 on the site of a former speakeasy in Greenwich Village and was run by his wife Lorraine for 30 years following her husband's death in 1989.
Luminaries such as Miles Davis, Charles Mingus, and John Coltrane all spent time as part of the club's roster of regular performers, and both Judy Holliday and Harry Belafonte first made names for themselves within its walls. The Vanguard has also hosted performances by folk artists such as Huddie "Lead Belly" Ledbetter and Woody Guthrie.
Arthur's Tavern, New York City – Described as "a quirky jazz bar" in Manhattan's West Village that has been offering up a choice of jazz, rhythm & blues and Dixieland seven nights a week since 1937, "Arthur's is one of the last places in the city where you can find good live music without sustaining hearing damage, melodic insult or a cover charge. The decor is befitting of an old jazz club that has been around since the '40s: dark, smoky, cramped and sporting a comical mix of holiday decorations that stay up year-round.
"Arthur's is not a club for the claustrophobic; they pack them in tighter than canned oysters and expect a two-drink minimum while you enjoy two nightly sets. What would normally be considered an odd mix of customers—old jazz cats, tourists, frat boys, and drag queens—is somehow status quo at Arthur's. Perhaps it is because everyone here appreciates a friendly jazz club that provides phenomenal live music without burning a hole in your pocket." The Grove Street Stompers have been holding forth Monday nights for the past 39 years.
Wally's Café, Boston – Established in 1947 in Boston's South End, Wally's is the first African-American owned nightclub in New England. Wally's features live music 365 days a year, and most nights turn into a jam session. Being just a few minutes from three of the world's premiere jazz schools, it lends itself to being one of the best places to hear the next generation of talented musicians.
The current owners have plans to expand what the club has been doing for 73 years by raising funds to purchase an adjacent building to become a multi-purposes production facility called "Student-to-Student Music Café" that would serve as a resource for Boston's next generation of aspiring musicians.
The Lighthouse Café, Hermosa Beach, CA – "What do you mean, you hate jazz?" Ryan Gosling, who plays a passionate jazz pianist, asks Emma Stone in the Oscar-winning film, La La Land. Stone's character, an up-and-coming actress, has just confessed her distaste for the mellow, unexciting style of jazz with which she is familiar. To convince her otherwise, Gosling takes her to The Lighthouse Cafe, situated at the foot of the Hermosa Pier in Hermosa Beach, California.
The Lighthouse first showcased jazz musicians in 1949, and it became one of the West Coast's most famous jazz clubs from the 1950s through the 1970s. While it has since branched out and now welcomes musicians from many other genres, the cozy venue remains an iconic part of the jazz scene in Southern California.
Andy's Jazz Club, Chicago – Originally a saloon that catered to Chicago's booming newspaper publishing population, Andy's opened in 1951 north of the Loop. Entrepreneur Andy Rizzuto sold the property to an investment group in 1975 along with the rights to the name. The new owners introduced an extensive program of live jazz performances that featured a three-times-daily schedule of "Jazz at Noon," "Jazz at Five," and "Jazz at Nine." With its convenient location and a late afternoon show for commuters, Andy's became a Chicago institution. The striking visual, upon entering Andy's, is its vast size. With rich-wood, classic-club lighting and exceptional acoustics, it is an ideal setting for the local talent that takes the stage seven days a week.
Not Continuously-Operating 
Four longtime clubs that failed to make our list of "longest continuously-operating" jazz clubs include:
The Little Gem Saloon, established in 1903 and originally located on Rampart Street not far from New Orleans' infamous Storyville red-light district, was considered by many historians to be jazz's true birthplace. It served as the main hangout and performance venue for the legendary Buddy Bolden, Jelly Roll Morton, and Freddy Keppard from 1904 to 1909. Between 1926 and 1949, the building was used for commercial purposes before being boarded up for 20 years. It reopened in 2012 as a restaurant and jazz club, but was closed and the building sold in 2019. A note on its still-existing website states, "That ain't dere no mo."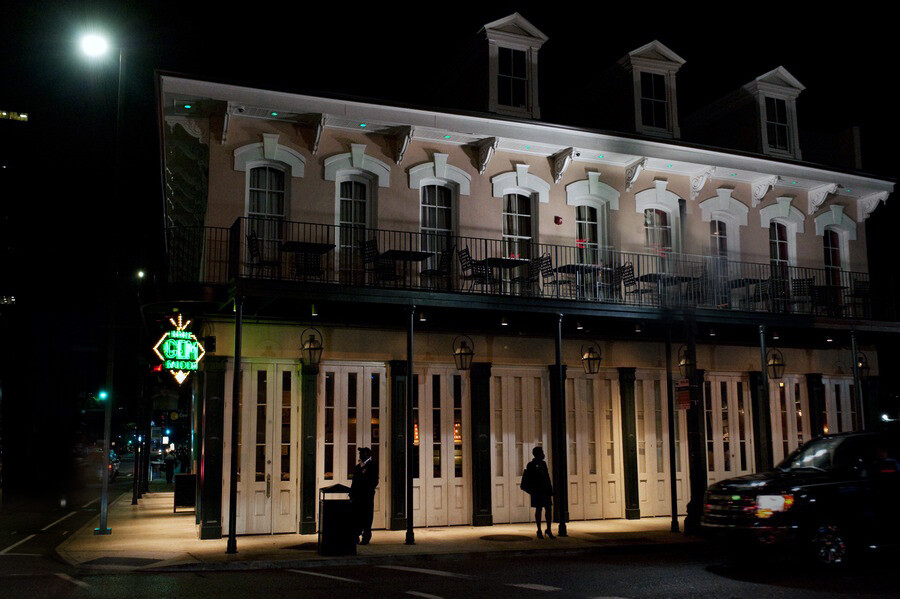 Minton's Playhouse first opened its doors in 1938 in Harlem and is known for being the birthplace of bebop. Thelonious Monk and Dizzy Gillespie, two of bebop's foremost pioneers, made regular appearances throughout its rise in the 1940s, along with more traditional musicians such as Louis Armstrong and Duke Ellington.
Minton's was forced to close in 1974 due to a fire, but after a few failed attempts at restoration and revival, its current owners successfully brought it back to life in 2013. Today, visitors to the historic club enjoy Afro-Asian-American cuisine with a healthy heaping of live jazz while catching a glimpse of its mid-century heyday.
The famed Birdland, named for saxophonist Charlie "Bird" Parker, opened in 1949, but declared bankruptcy in 1965 and did not reopen for 21 years until 1986 in a midtown New York City location.
Another New Orleans institution, Preservation Hall, originated as an art gallery in the 1950s, but did not become a full-fledged jazz club until 1961 when Allan Jaffe took over management of the property on St. Peter's Street.
Please let us know if there are other jazz clubs throughout the country that have been operating continuously for over 70 years with interesting stories to tell.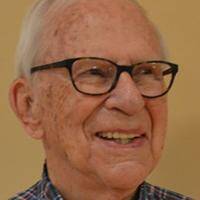 Lew Shaw started writing about music as the publicist for the famous Berkshire Music Barn in the 1960s. He joined the West Coast Rag almost thirty years ago and has been a guiding light to this paper through the two name changes since then as we became The Syncopated Times.  47 of his profiles are collected in Jazz Beat: Notes on Classic Jazz. Volume two, containing profiles from 2013-2016 will be available on Amazon soon. He taps his extensive network of connections and friends throughout the traditional jazz world to bring us his Jazz Jottings column every month.