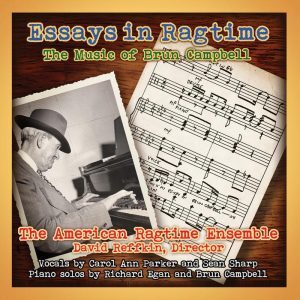 Pianist Brun Campbell (1884-1952), a student of Scott Joplin, is the recent subject of a book written by Larry Karp called Brun Campbell: The Original Ragtime Kid (McFarland Press). In conjunction with the book, Campbell's music is fully explored on Essays In Ragtime.
After a brief career as a ragtime pianist and composer, Campbell became a barber and only played music part-time throughout much of his life. In the 1940s he became more musically active and went out of his way to pay tribute to Scott Joplin's legacy during a period when Joplin was often overlooked if not completely forgotten. Campbell was documented in the later part of his life performing around 30 solos. Since apparently none of his compositions were published, all that is known about his music stems from those recordings.
On Essays In Ragtime, violinist David Reffkin and his American Ragtime Ensemble (which in this versions is a quintet comprised of violin, clarinet, string bass, drums and either Brenda Tom or Bob Wall on piano) are featured on some of the selections, a few of which have period singing by Sean Sharp and the operatic Carol Ann Parker. This is the first time that any of Brun Campbell's songs and rags have been recorded by an ensemble. Other selections are taken as piano solos by Richard Egan.
The performances on this rewarding CD not only include Campbell's better originals and a medley of five of his more fragmented pieces, but versions of "Maple Leaf Rag" and "Frankie And Johnny" that are based on his recordings. Because he was a somewhat eccentric folk ragtime composer, and an erratic pianist during his last years, these renditions display both the imperfection of his music and the originality of his ideas. A special bonus is the inclusion of four Brun Campbell solos from the mid-to-late 1940s that had not been previously reissued. This very generous release (how did they fit more than 82 minutes of music on this CD?) is a superior introduction to the music of Brun Campbell.
Essays In Ragtime (Rivermont BSW-2236, 29 selections, TT – 82.36)
www.rivermontrecords.com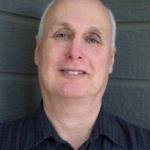 Since 1975 Scott Yanow has been a regular reviewer of albums in many jazz styles. He has written for many jazz and arts magazines, including JazzTimes, Jazziz, Down Beat, Cadence, CODA, and the Los Angeles Jazz Scene, and was the jazz editor for Record Review. He has written an in-depth biography on Dizzy Gillespie for AllMusic.com. He has authored 11 books on jazz, over 900 liner notes for CDs and over 20,000 reviews of jazz recordings.
Yanow was a contributor to and co-editor of the third edition of the All Music Guide to Jazz. He continues to write for Downbeat, Jazziz, the Los Angeles Jazz Scene, the Jazz Rag, the New York City Jazz Record and other publications.