Only events that are officially a go, or that have officially cancelled, rescheduled, or switched to a live stream format are included below. Do not interpret an event not being on this list as a cancellation, it means only that they have yet to announce any information about the upcoming year. Certain events may happen later than normal in 2021.
EAGLES AND IVORIES (Live Stream) Jan. 30th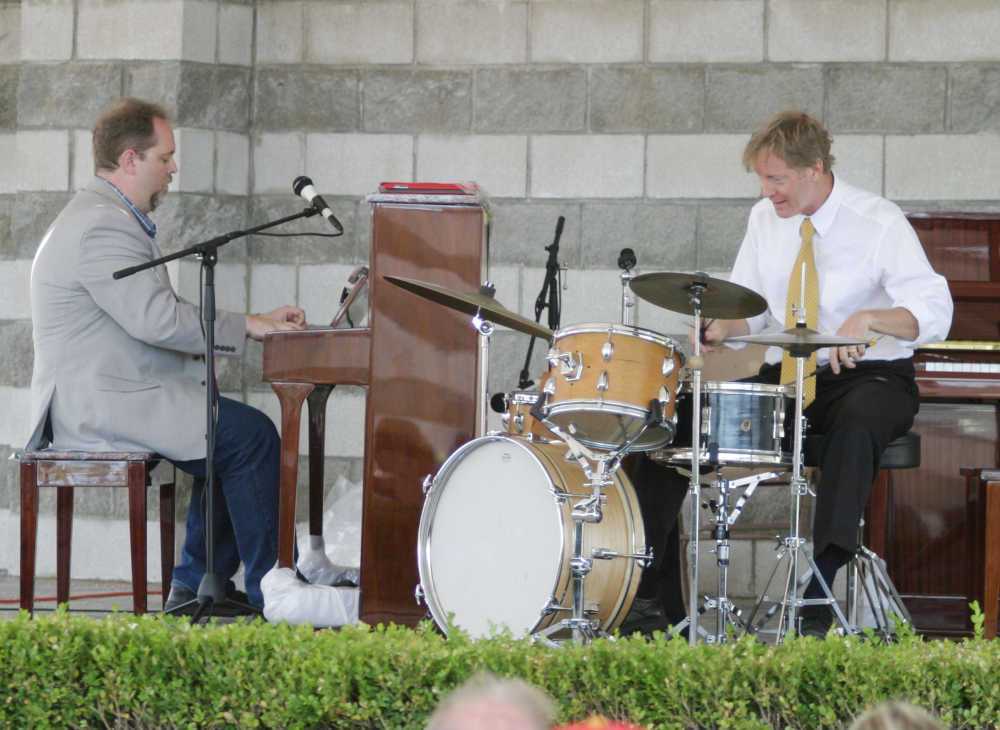 Performers: GROOVUS (Brian Holland, Danny Coots, Steve Pikal); Chase Garrett; Ivory&Gold®; Holland/Coots duo; Jeff Barnhart. Time: 7 pm CST. Show will run approx. 2 hours. Donations will be split by the performers.
Eagles&Ivories will go virtual in 2021 with a two hour festival on Saturday, January 30 at 7 pm CST featuring the greatest American music from Ragtime and Blues to Jazz and Boogie and many surprises! Performers include the celebrated musical duo of Brian Holland and Danny Coots, who will also be joined by bassist Steve Pikal in their trio GROOVUS. Boogie/Blues phenom, pianist Chase Garrett, will be making a welcome return, as will festival stalwarts Anne and Jeff Barnhart as Ivory&Gold®. Jeff will also be providing some solo piano tunes. This fast-paced event will accept donations and "tips," all of which will be shared among the performers. Attendees will be able to access the party live on Facebook and YouTube. visit www.muscatineartscouncil.org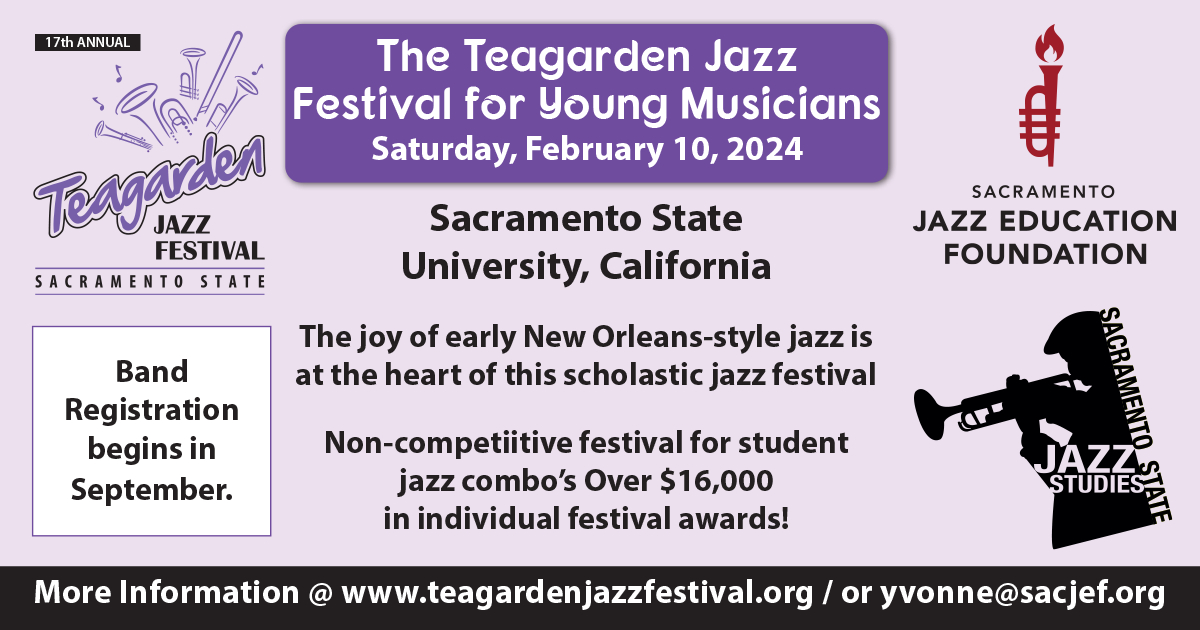 NORTH CAROLINA JAZZ FESTIVAL (Wilmington, NC) Feb 4-6 (CANCELLED)
Following the guidelines of our governor, and for the sake of the health of our attendees and musicians, we are postponing our 41st 
North
Carolina
Jazz Festival from February 2021 to
February 3rd – 5th, 2022.
We have our musicians for 2021 under contract and they have all agreed to the new dates.
For more information visit ncjazzfestival.org, e-mail [email protected], or call 910-793-1111.
TEAGARDEN JAZZ FESTIVAL (Sacramento, CA) Feb. 8 (CANCELLED)
The joy of New Orleans-style jazz is at the heart of this scholastic combo festival, which is dedicated to fostering a better appreciation of this classic American art form. Each year, scores of young musicians gather at the annual Teagarden Jazz Festival (formerly named Traditional Jazz Youth Band Festival) for experiences that take their musical skills to the next level.
SOUNDS OF MARDI GRAS (Fresno, CA) – July?
Keep your fingers crossed, we may have our Festival in July, or some other time, instead of February this year. Keep checking in at  www.fresnodixie.com for any new details.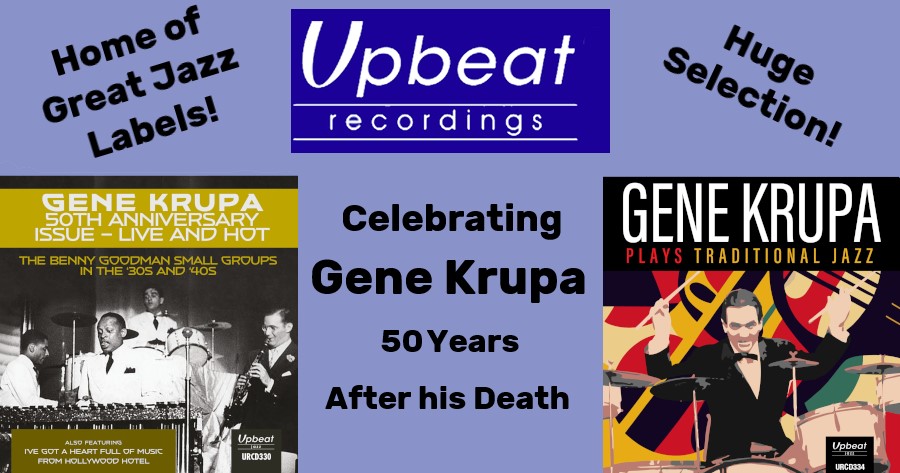 SAN DIEGO JAZZ PARTY (Del Mar, CA) – Feb. 19-21 (CANCELLED)
We have had to make the difficult decision to reschedule the 2021 San Diego Jazz Party to February 25-27, 2022. Unfortunately, under the current Covid 19 guidelines set up by the State of California, and the operating guidelines for the Del Mar Hilton, we are unable to hold the Jazz Party in February of 2021.
‍
We look forward to continuing the tradition of the San Diego Jazz party in 2022 and beyond. Please check the website regularly for more updates. www.sdjp.org
LIONEL HAMPTON JAZZ FESTIVAL – Feb. 25-27, 2021 (ONLINE)
Since the 1960s, the University of Idaho Lionel Hampton Jazz Festival has been honoring the music, dance and history of jazz music and one of its most cherished artists Lionel Hampton.
By providing a virtual experience for students, artists and educators across the globe, the 2021 Festival will continue to honor these traditions while breaking new ground. Music enthusiasts will have the opportunity to attend artist and educational workshops, perform and receive feedback from world-class artist educators, and view phenomenal concerts featuring live performances of present jazz stars and archival footage of past greats including Hamp himself. You won't want to miss this incredible event! www.uidaho.edu/class/jazzfest
TRIBUTE TO BIX FEST (Racine, WI) – (Postponed)
As you all have probably guessed, we have decided to POSTPONE the 32nd Tribute to Bix Fest due to ongoing Coronavirus concerns. We will definitely be having it a little later in the year once things open up and people feel safe to travel again.
A future date in 2021 will be determined, so check out our website periodically for updates. Please stay well so that we can all celebrate together at least one more time!
Phil & his whistling dog, Little Hoots www.bixfest.com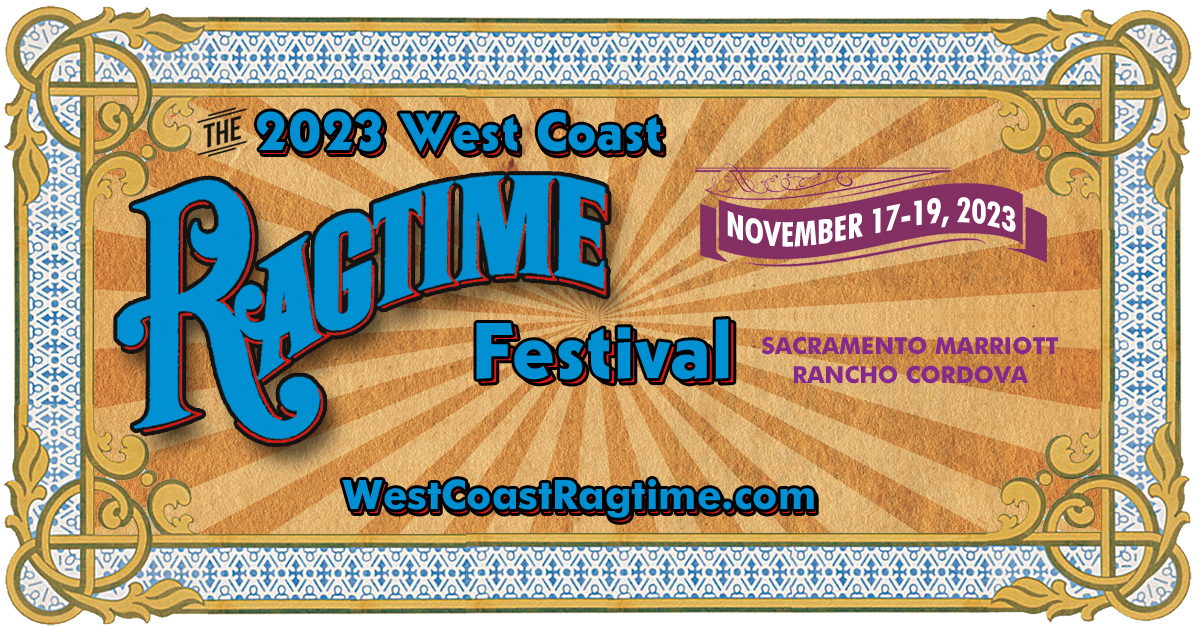 JAZZ BASH BY THE BAY (Monterey, CA) (CANCELLED)
The Board of Directors of Dixieland Monterey, after much consideration, has voted to cancel Jazz Bash by the Bay 2021.  So, with that said, please put March 4-6, 2022 on your calendar for the best Jazz Bash by the Bay ever. We plan to invite the bands and musicians who had verbally committed to 2021 plus many more. More information will be on our website as plans develop. Stay safe! We care about each and every one of you. Keep posted at jazzbashmonterey.com.
CHARLES TEMPLETON RAGTIME JAZZ FESTIVAL (Online Event) March 26 & 27
We are pleased to announce that the 2021 Templeton Festival will proceed as a free, virtual event. The event will be broadcast March 26 and March 27. Details will follow soon. https://www.library.msstate.edu/ragtimefestival
FRENCH QUARTER FESTIVAL (New Orleans) Rescheduled
French Quarter Fest 2021 has been rescheduled from it's normal April week. It will now be September 30 – October 3. The French Quarter Festival  is a free event with several stages around the French Quarter and dozens of local bands, many of which play traditional jazz. No bands have yet been advertised. frenchquarterfest.org
ZEHNDER'S RAGTIME FESTIVAL (

Frankenmuth

,

 MI ) April 21-24, 2021
Zehnder's Annual Ragtime Festival Zehnder's has been host to ragtime performers from around the United States and Canada for over 25 years. Come and enjoy ragtime music performed by our featured pianist, Bob Milne and other world renowned musicians.
Ticket prices for individual events range from $16 to $60. Reservations are required for lunch, brunch, and all dinner concerts. For more info or reservations call (844) 288-1484; or visit zehnders.com.
SARASOTA JAZZ FESTIVAL (Sarasota, FL) May?
Tentative plans are being made to hold the Sarasota Jazz Festival, which usually takes place in March, sometime in May. jazzclubsarasota.org
REDWOOD COAST MUSIC FESTIVAL (Eureka, CA) September 30th – October 3rd
The Redwood Coast Music Festival, which normally takes place in the spring, has been moved to the fall for this year. 4 days, 8 Stages, 40 Bands, and 100 Live Sets are planned. www.rcmfest.org
JAZZ FEST AT SEA (Caribbean) October 3rd-10th 2021
If you're a fan of Traditional Jazz, Classic Jazz, Chicago Jazz, Swing, in fact just about any style which emerged during the first half of the 20th century, plan to attend JazzFest at Sea – one of the premier jazz cruises of the year. We will be departing from Port Canaveral, Florida for an amazing jazz cruise to the Bahamas and Western Caribbean on the MSC Divina for 7-nights. Not only will you have your choice of amazing evening performances on our jazz cruise, but you are also invited to the afternoon sessions as well. All presented in an intimate jazz club atmosphere limited to 250 guests!
With pricing starting at only $999 per person including taxes and fees, this makes the perfect vacation getaway for all jazz lovers. Contact us today at 1-800-654-8090. www.jazzfestatsea.com