FRED HELLERMAN, 89, on Sept. 1 at his home in Weston, Conn., following a lengthy illness. The last surviving member of the original Weavers formed in 1948 with Pete Seeger, Ronnie Gilbert and Lee Hays.
The group helped spark a national folk revival, churning out such hits as "Goodnight Irene," "On Top of Old Smoky," "If I Had a Hammer," and "Kisses Sweeter than Wine." The Weavers was blacklisted during the McCarthy anti-communist era, but resumed performing in 1955. Hellerman later operated a recording studio in his home and produced Alice's Restaurant for Woody Guthrie's son, Arlo.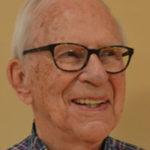 Lew Shaw started writing about music as the publicist for the famous Berkshire Music Barn in the 1960s. He joined the West Coast Rag almost thirty years ago and has been a guiding light to this paper through the two name changes since then as we became The Syncopated Times.  47 of his profiles are collected in Jazz Beat: Notes on Classic Jazz. Volume two, containing profiles from 2013-2016 will be available on Amazon soon. He taps his extensive network of connections and friends throughout the traditional jazz world to bring us his Jazz Jottings column every month.