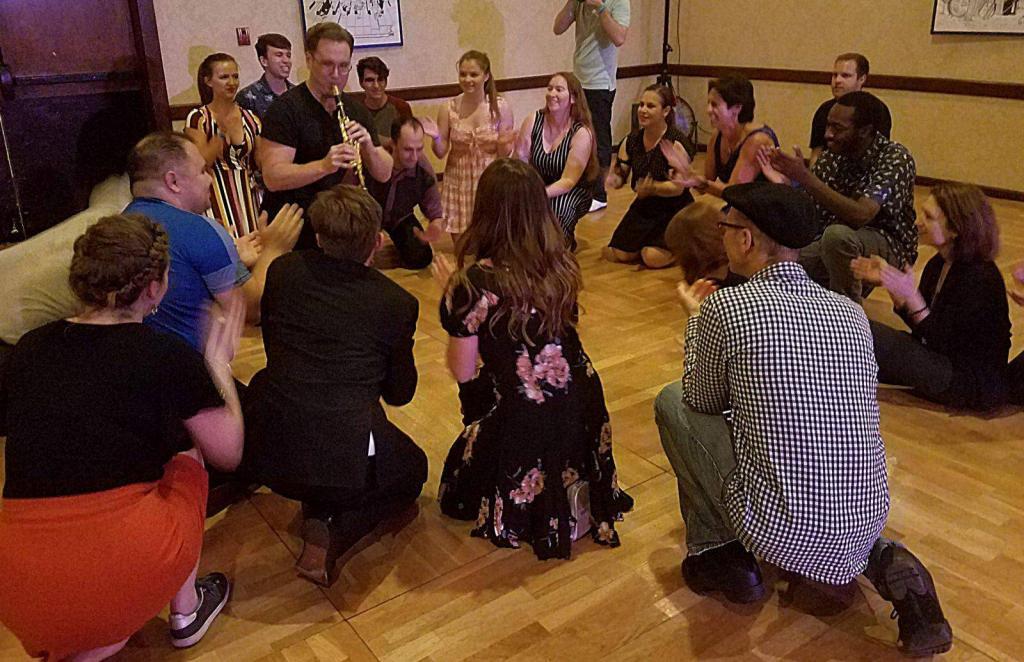 From The 29th Annual Arizona Classic Jazz Festival
The 29th Annual Arizona Classic Jazz Festival, held in Chandler, Arizona, was an outstanding event. The perfect early November weather allowed for easy wandering between the four venues on site at the San Marcos Hotel. Musicians we often see in the French Quarter included Kris Tokarski (p) and Hal Smith (dr).
Bands from Boston to San Francisco were well represented during the three-plus day event which hosted attendees from Washington to Florida. It is so much fun to see some of the same music lovers and dancers each year. Many of them attend more than one festival during the season and there is such an essence of camaraderie and joyfulness, it is irresistible.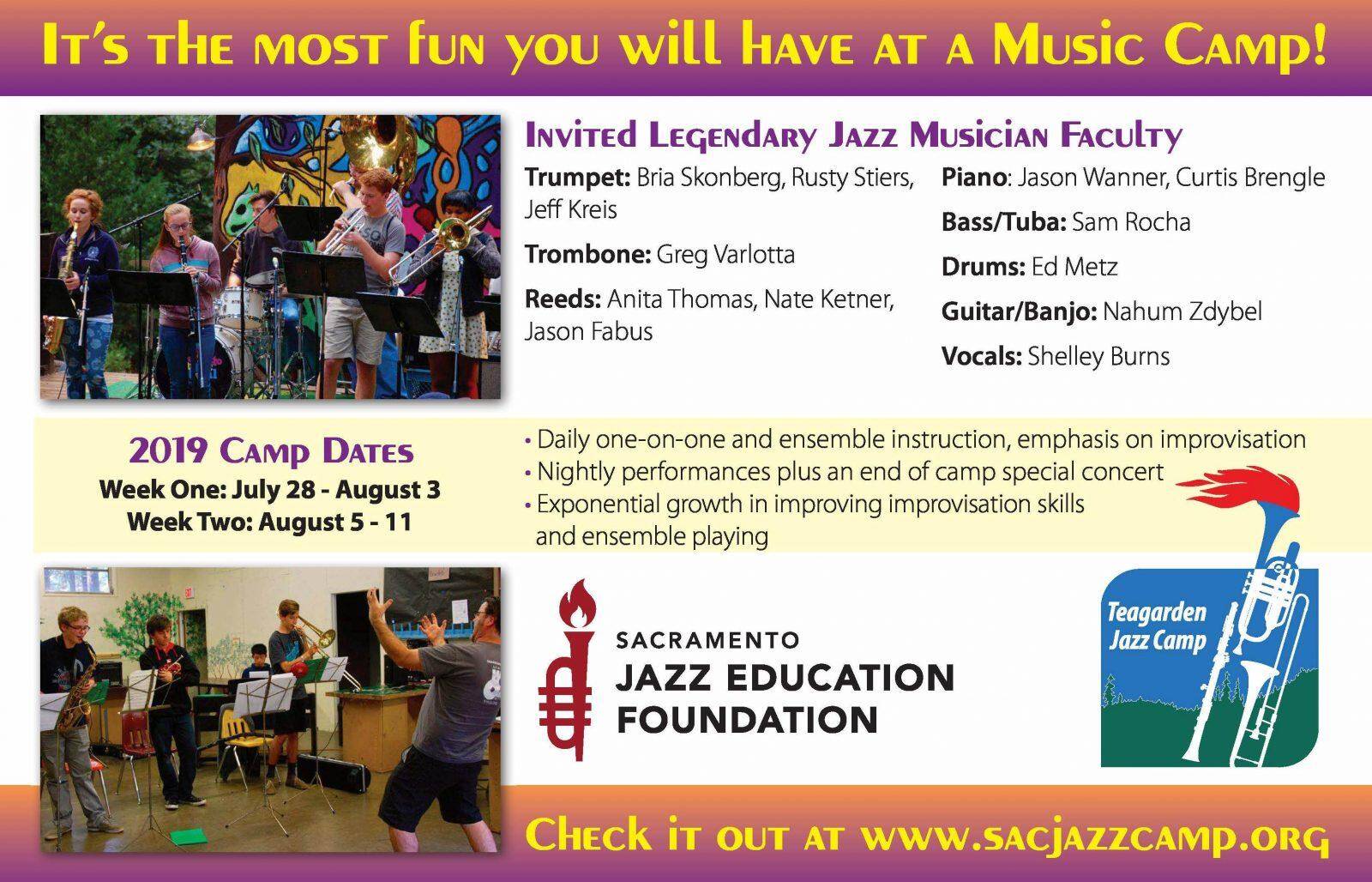 Helen Daley (Festival Director Extraordinaire) and her husband Bill are always on the run, making sure any behind-the-scene glitches stay right there. Helen recruits her entire family and all her friends to participate, attend, volunteer. and generally involve themselves in this meticuously organized annual event.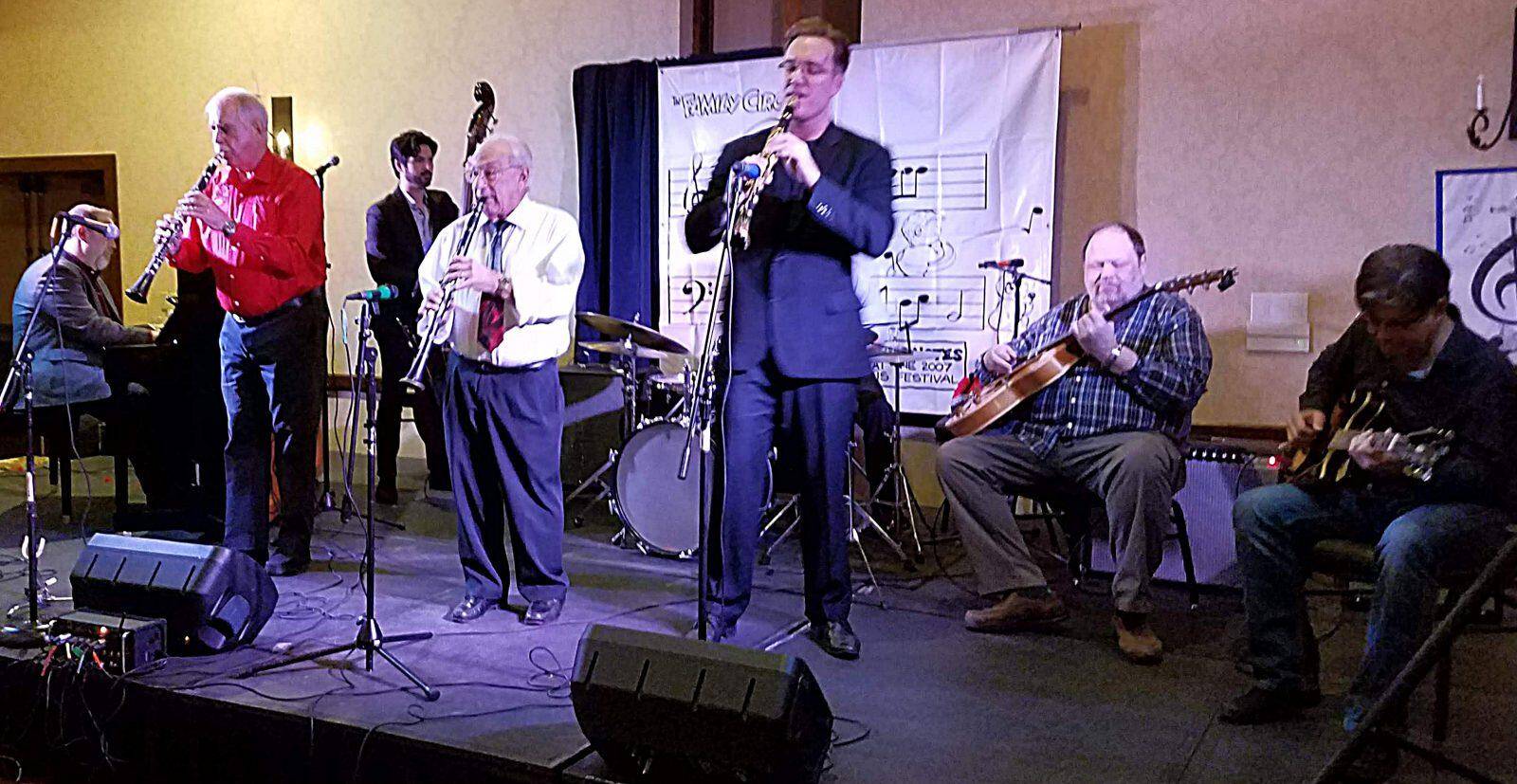 We also enjoy introducing our friends to these weekend wonders filled with good music, good food, good friends, and lots of smiles. For us it is only a 90 minute trip up the highway and this year we had 18 guests including a half dozen festival goers who were not consistent attendees—they loved it and plan to go again.
These festivals give musicians a chance to perform in other styles of music featuring more than the New Orleans sound: West Coast, Chicago, Swing, Blues, Rock 'n' Roll, Big Band, Stride, Ragtime, Boogie-Woogie, Cajun, and Zydeco.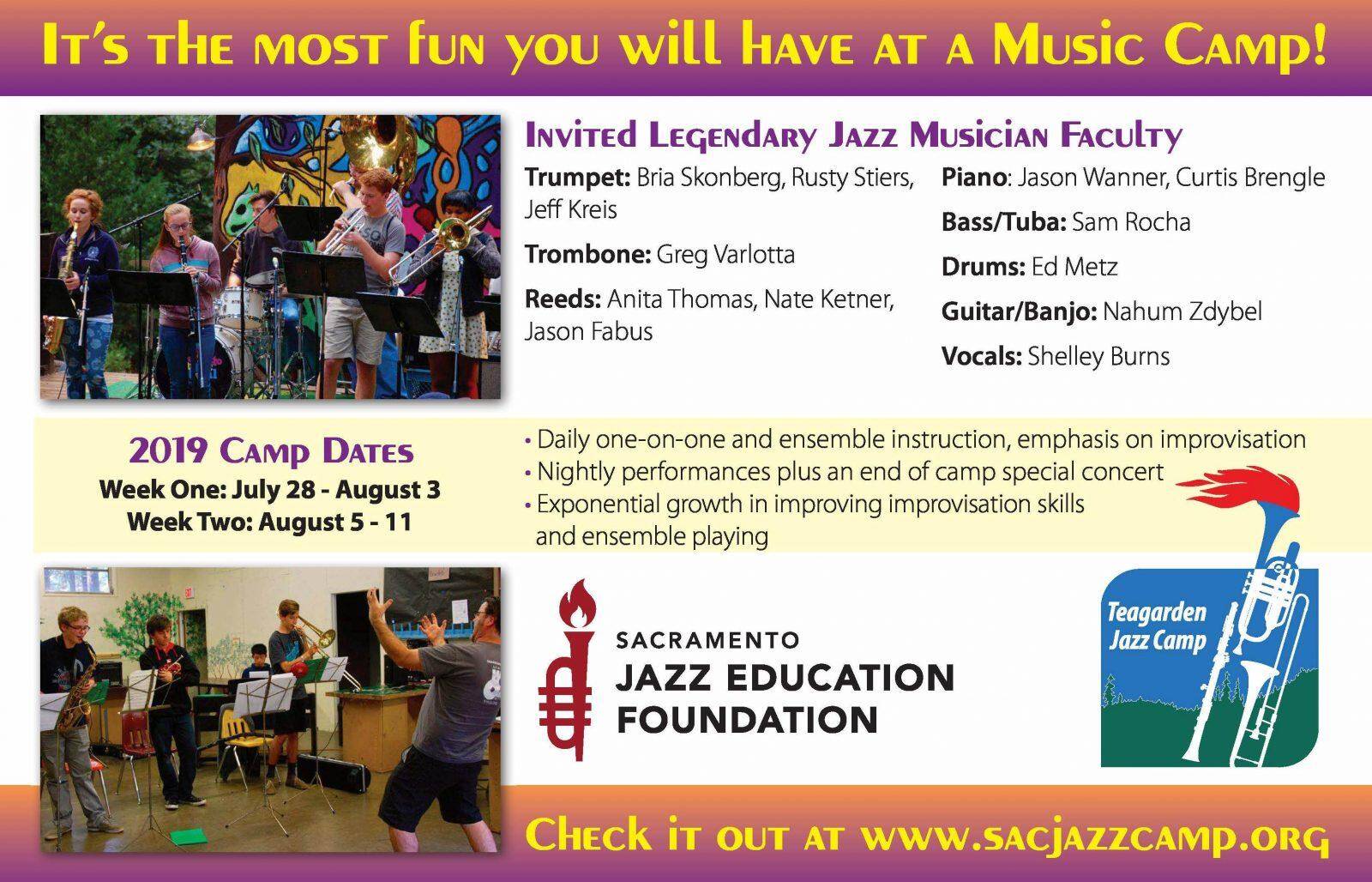 Very popular cross-country entertainers on the traditional jazz festival circuit included Cornet Chop Suey (St. Louis, MO), Dave Bennett Quartet (Michigan), High Sierra (Three Rivers, CA), Queen City (Denver, CO), Tom Rigney & Flambeau (San Francisco, CA), St. Louis Rivermen, and Wolverine Jazz (Boston, MA).
Howard Alden, one of today's greatest jazz instrumentalists, joined various groups during the weekend with his seven string guitar. Dan Reed's Dixieland Hotshots, 52nd Street, Sentimental Breeze, Sun City Stompers, and Wildcat Jazz are Arizona based groups while B.A.D. Rhythm (members from Nashville and San Francisco), had a few guest artists.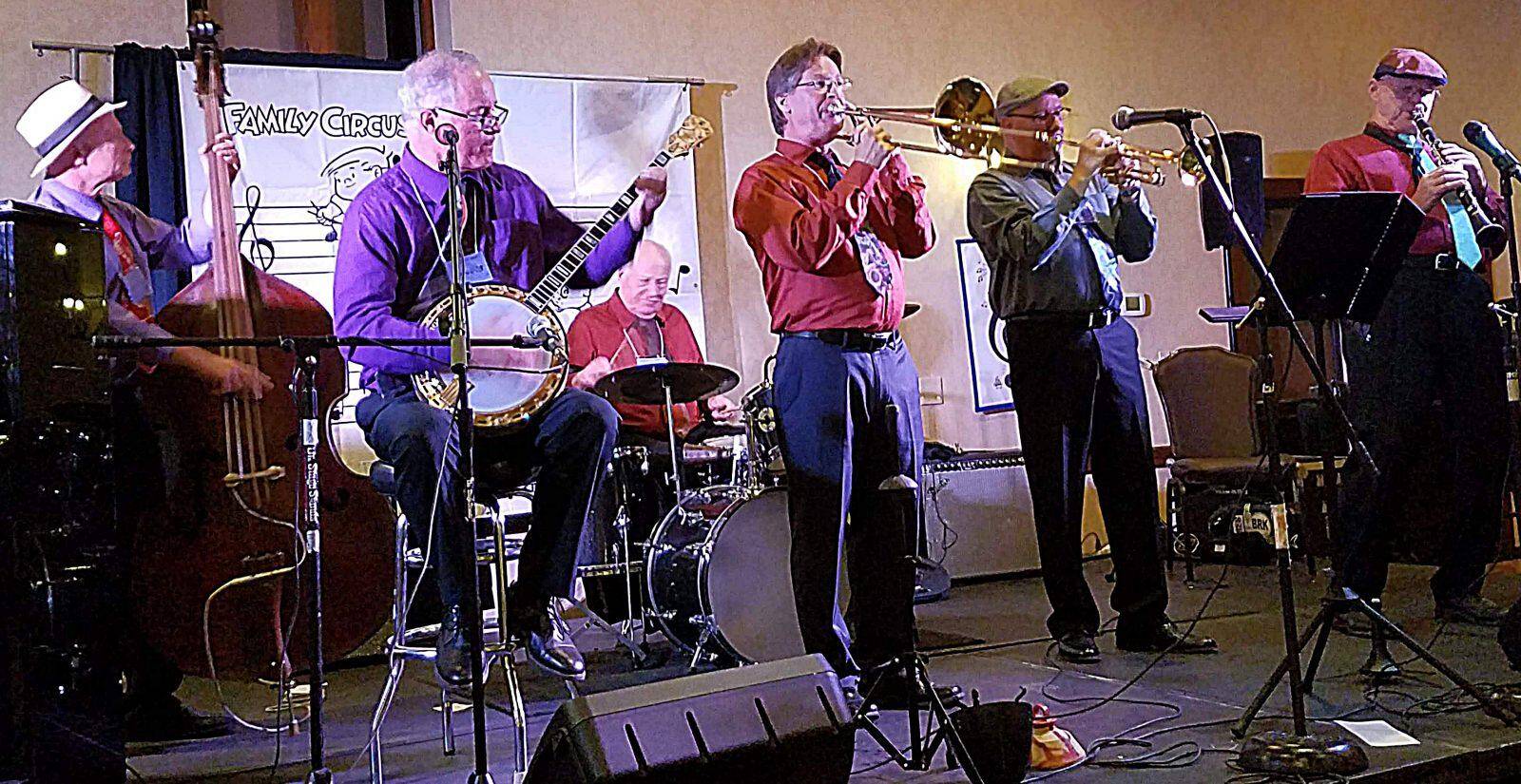 Stephanie Trick & Paolo Alderighi give new meaning to the concept of a "piano duo"—this married couple plays four hand ragtime, stride, swing, and boogie-woogie sets that are astounding to watch. Incredibly talented and delightfully adorable, they are exuberant performers on both sides of the Atlantic. They regularly perform in Europe and the United States several times annually.
We 3 + 1 was a new addition to this festival line-up—four local female musicians have teamed up and taken their name from the famous Ink Spots tune ("We Three") with an added drummer. Vocalist Renee Grant Patrick's father was one of the famous four in a subsequent group and her voice and emotionally charged renditions reveal her heritage. Suzanne Lansford (vl) sang the Edith Piaf classic "La Vie en Rose" in perfect French with all the significant trills and warbles.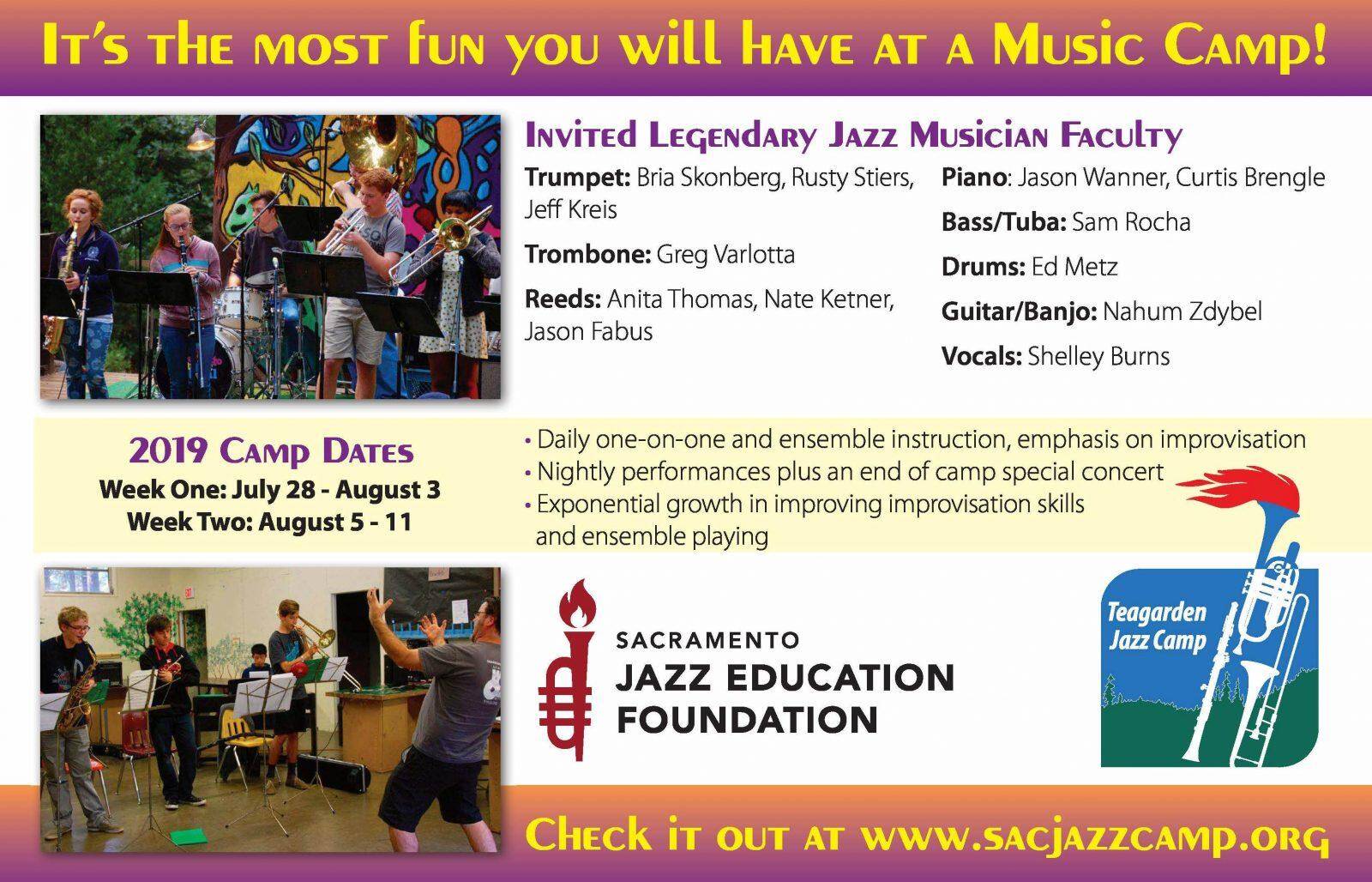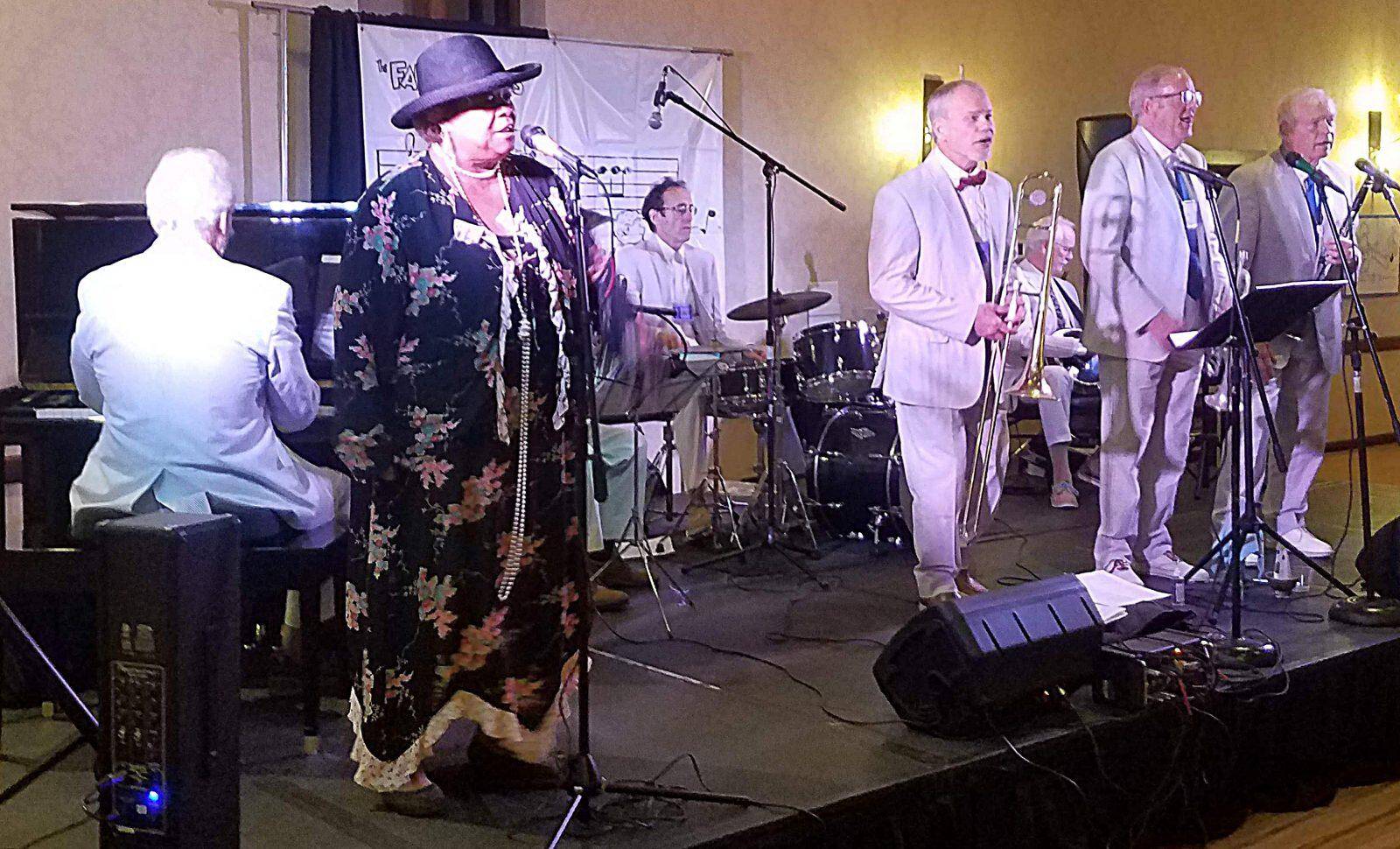 Special sets with an educational component included B.A.D. Rhythm on the Evolution of American Popular Music; Cornet Chop Suey with a two hour tribute to Louis Armstrong; 52nd Street on Aussie Jazz; High Sierra on Jelly Roll Morton; Kris Tokarski Trio on Chicago Jazz; Queen City's Wende Harston on the Great American Female Blues Singer and the Sunday morning Gospel hour; Sentimental Breeze celebrated the '40s; Stephanie & Paolo on James P. Johnson & Erroll Garner; Sun City Stompers on Composers We Have Loved; Tom Rigney on Cajun & Zydeco; We 3 +1 with a tribute to the Ink Spots; Wildcat Jazz with a multi-member Banjo Blast and Banjorama; and Wolverine Jazz on Duke Ellington Through The Years.
Separate sets involving musicians from various bands included the Clarinet Trio (with Pieter Meijers, Dave Bennett, and Noel Kaletsky) and a Parasol Parade throughout the four venues. Some performers visit the other bands throughout the weekend allowing for very interesting sessions with multiple instruments—i.e., pianos, clarinets, guitars, etc.
High Sierra has been a band for 42 years and this was their last performance in Chandler. Their official retirement will be in April at Jazzaffair in Three Rivers, California. Some of the band members will continue to perform with other groups and their presence will be extremely welcome.
[Read: High Sierra Jazz Band Going out on a High Note- Final Shows Scheduled]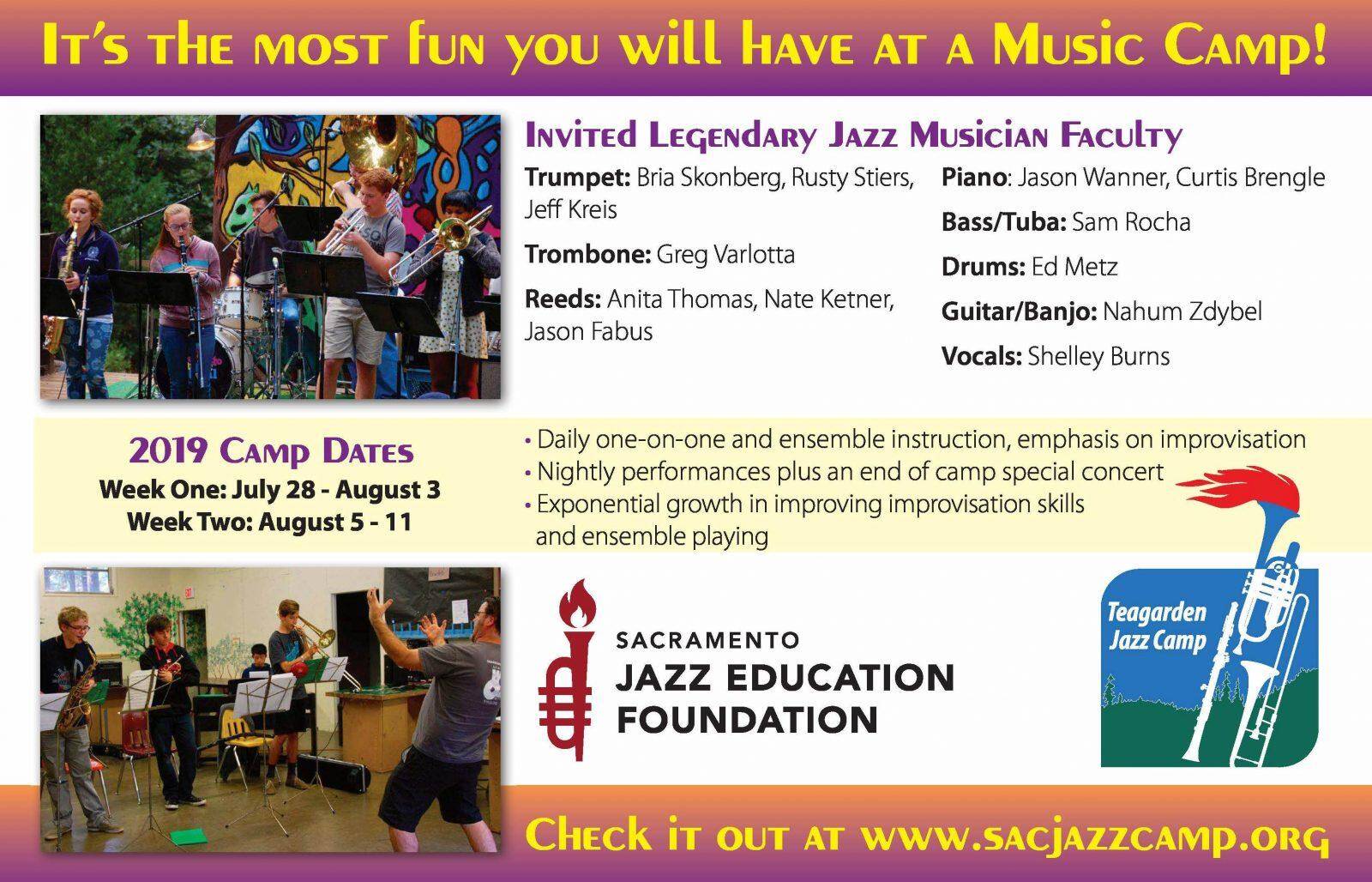 52nd Street is also retiring as a band and this performance in Chandler was their last public event. This festival officially ends Sunday late afternoon but there is a small, intimate Afterglow, with dinner and some impromptu "jamming" by musicians staying over the extra day. The delicious dinner attended by the "diehards" is a highlight of the weekend. This is when 52nd Street's Joe Hopkins (cl) ended the evening with a truly beautiful "swan song"—a sentimental rendition of "Show Me The Way To Go Home"—it was a sweet, delightful end to a wonderful weekend.
---
After 48-1/2 years, Shelly Gallichio is a retired Real Estate Associate Broker in Tucson, Arizona and despite growing up in Chicago, fell in love with the clarinet and the New Orleans sound at the age of three—she intends to spend the next 48-1/2 years seeking that sound!