Rhonda and Jeff Cardinal did it, they pulled off the 2020 virtual Jazz Jubilee by the Sea. When Covid hit in March we really thought by the end of summer everything would be fine. We had no idea it would last this long, we held out hope that our festival would be a "Go", but as we got closer to the end of summer, we watched festival after festival get canceled.
Rhonda and Jeff kept our Sunday Sessions going in their backyard. Each month we went bigger and advanced our technology. Dean Krikorian had the idea to go virtual, Rhonda presented it to us, that little seed grew into an amazing festival. It was decided Carl Sonny Leyland would be our Master of Ceremonies. Rhonda started signing up musicians to perform both live and virtual. She recorded Zoom interviews with bands that could not get together.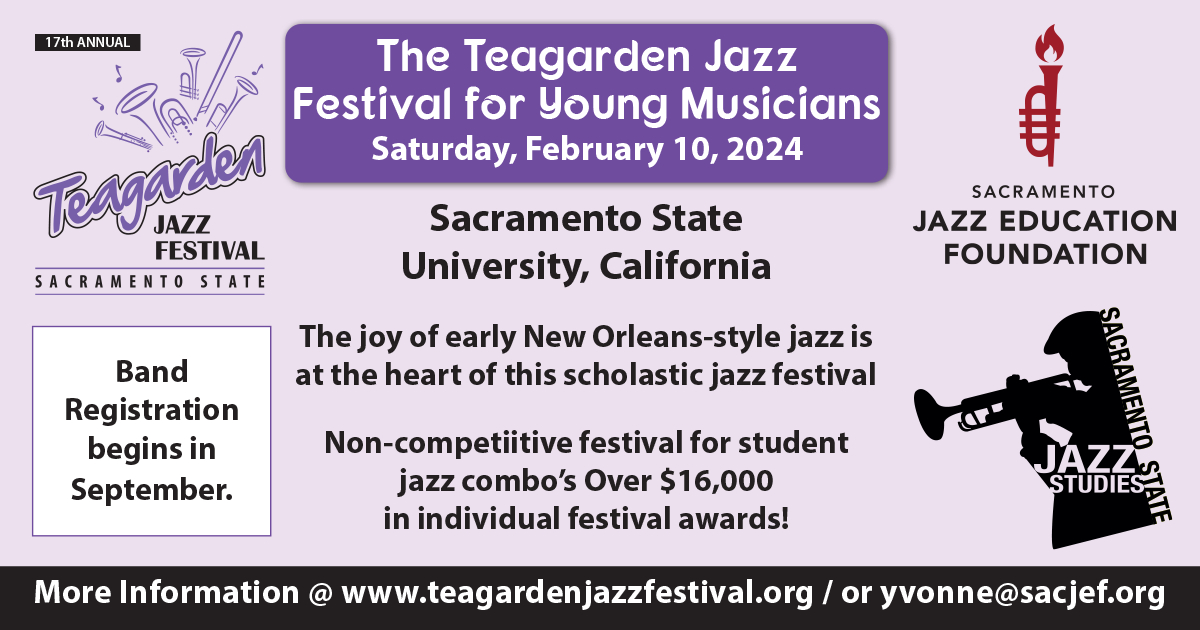 When word got out what are plans were, musicians started contacting her about being part of the festival. When the festival grew close, we had more than enough stuff to fill the festival. The videos that were not shown in October will be shown at the November 15th Sunday Session. Rhonda's team of volunteers put together an online program, sent out letters for donations, mailed pins and masks, cleaned up the venue and helped with the set up.
Friday, October 23rd, we had a Sneak Peek to start the festival. MarciJean and the Belmont Kings with Carl Sonny Leyland on piano, what a great start. They play the juke box songs from the 40s. The swing dancers the Rugcutters danced to "Let the Good Times Roll". Sonny sang "If You Don't Like My Peaches" and "Flip Flop and Fly". Armando Perez and MarciJean did a duet, "Baby Come Back to Me". Many great tunes, "Kansas City", "Tweddle Dee", and "Hey, Bartender".
The band was amazing so we asked for an extra 30 minutes. Time was not an issue on Friday night. MarciJean ended by singing to "Sonny, Your Heart is as Black as Night". Gator Nation sent us a wonderful video. We were rocking to the "Madri Gras Song", "Dance All Night" and "Squeeze Box". One set of Gator Nation is never enough. Who could sleep after a great first night?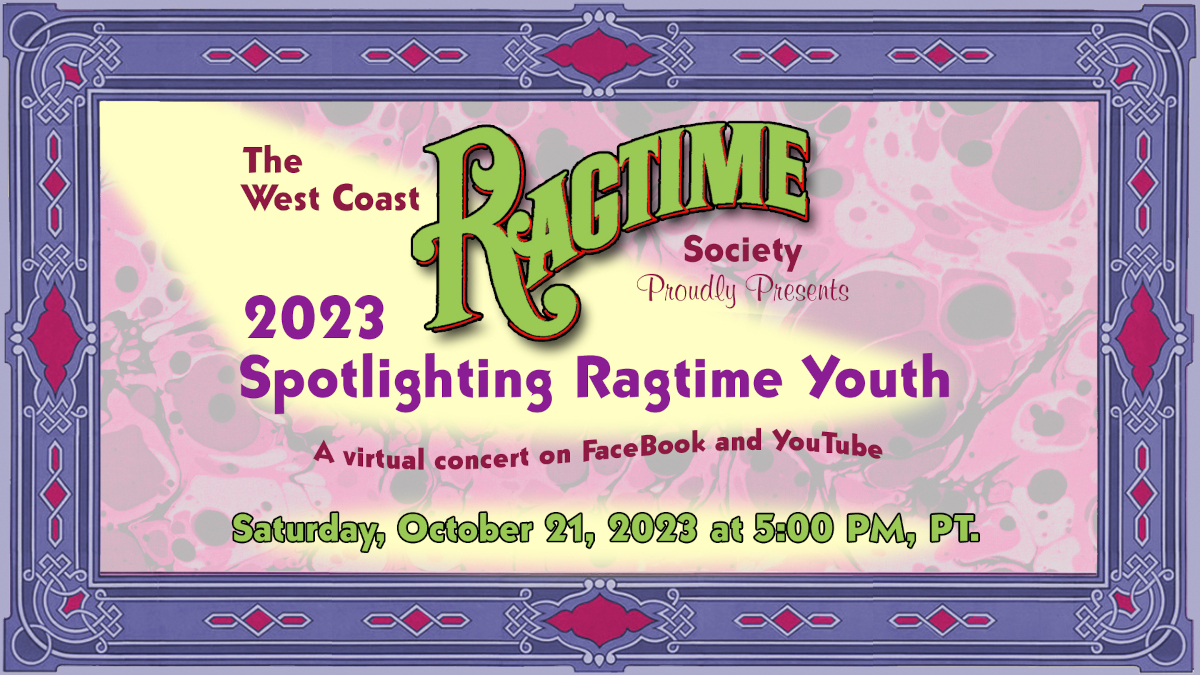 Saturday, October 24th the Creole Syncopators, played two live sets. Who needs coffee when the stage is rockin'? Great tunes, "My Heart", "Mamas Gone Goodbye", and "Some of These Days". Sonny's Boogie Woogie had us dancing. Cornet Chop Suey did a Zoom interview and had a recording of "Midnight in Moscow". They look forward to playing together again. Creole Syncopators took the stage for the next set. It started with "Lady Love". Valerie sang "Hesitation Blues" and "Mama Don't Give All the Lard Away". Holy Crow from Los Angeles sent a video with "Blue Kentucky Moon", "I'll See You in My Dreams", and "Some of These Days". Don't you just love Jessie's voice and when she whistles?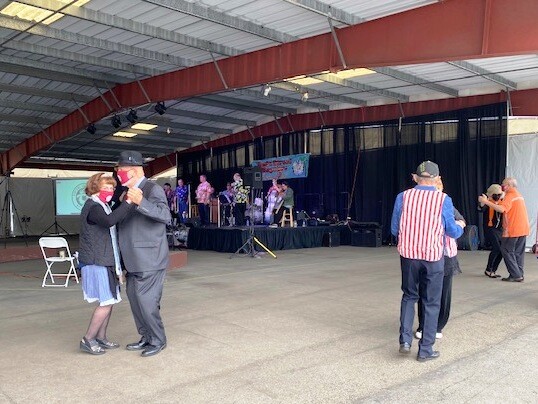 The Little Riptide Big Band performed live. They played "Basin Street Blues" our theme song. Ok, maybe it isn't ours, but we did adopt it. They play songs from the 20s to 80's and are incredibly talented. "My One and Only Love", "Frim Fran Sauce" and "Love Matters to Most", was just a sample of their music. Bob Nations, their vocalist, sang "Beyond the Sea" and our dancers enjoyed dancing to L.O.V.E. The band amazed us with so many great songs.
Paul Ingle did an interview with Rhonda all the way from Australia. He was at last year's festival with the Australian Jazz Connection. The restrictions in Melbourne are a complete lockdown. Paul is excited about a project called, the Australian Jazz Museum. It will have the history of Australian and international jazz. A link to check it out will be posted. Paul longs to see all his Pismo friends, buddies and mates, he did watch all 3 days of the festival.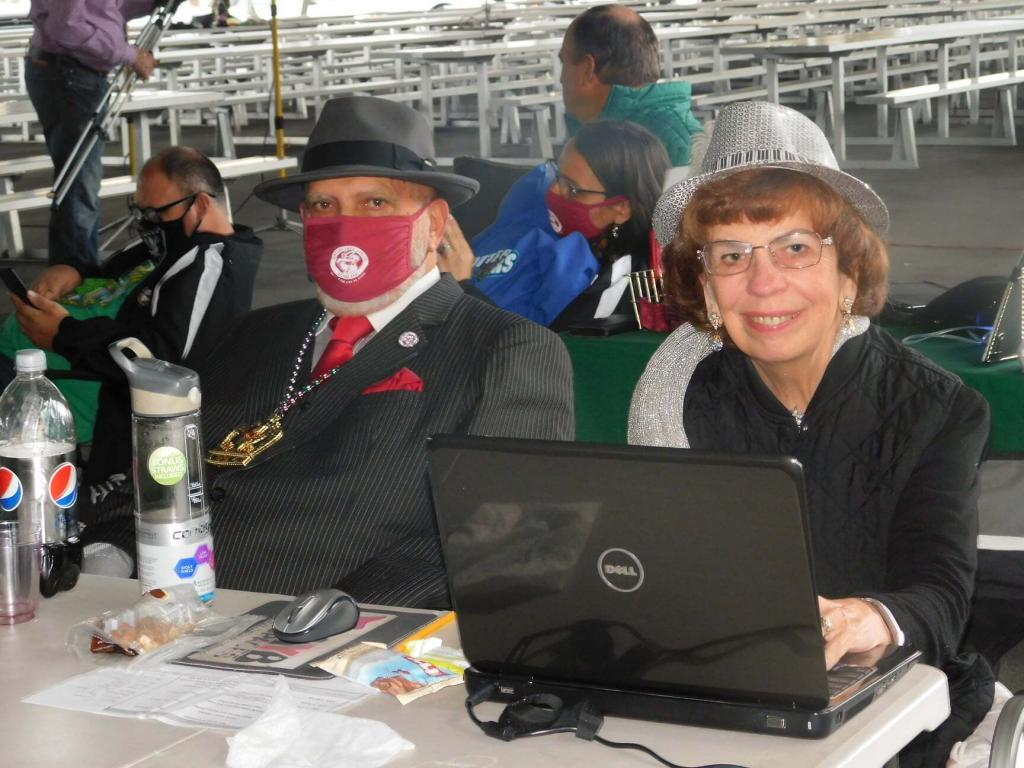 Gino and the Lone Gunmen came to us from an outdoor setting in Southern California. A great party band that plays blues, swing, rockabilly and rock and roll. They started out with "That Will be the Day", our hips were shaking to "Matchbox". The swing dancers had a great time to "Johnny be Good". He took us to "Blue Bayou", we are planning to bring him to Pismo for a Sunday concert.
Tom Rigney and Flambeau always rocks the house. Great news Sam Rocha is now with the band. They specialize in fiery Cajun and Zydeco two-steps, low-down blues, funky New Orleans grooves, and heartbreakingly beautiful ballads and waltzes. We loved "Drivein' That Thing," "Guinness and Gumbo," and Caroline blessed us with some Boogie Woogie, the stage was on fire. Of course, they did "House of the Rising Sun" and "Jambalaya".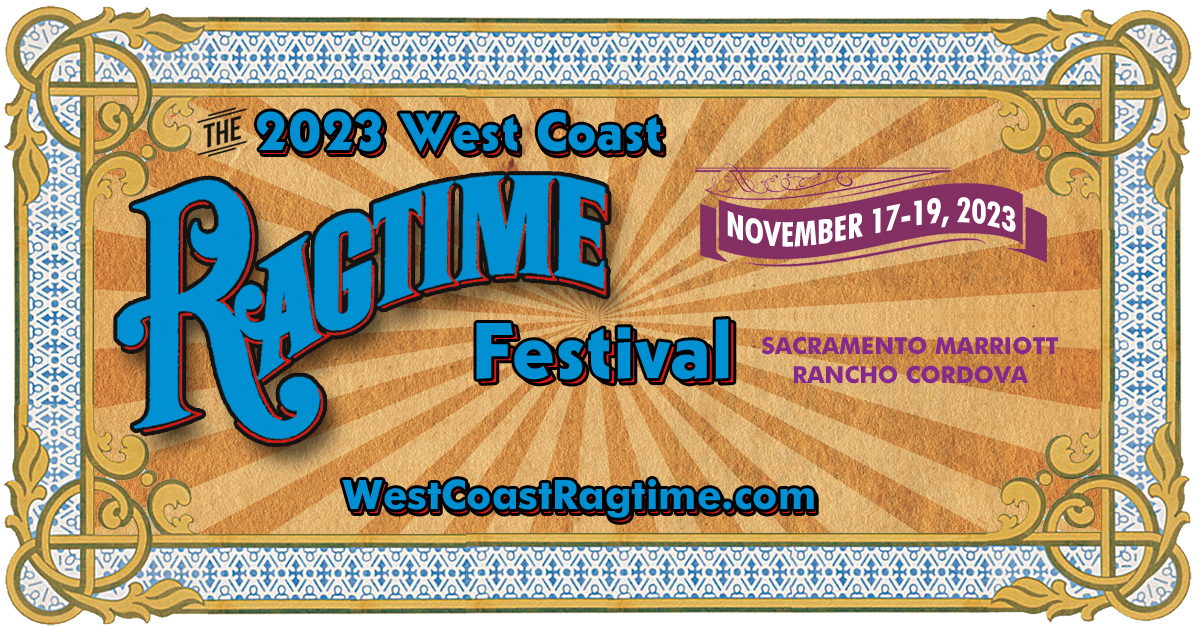 Carl Sonny Leyland, our MC, took the stage and did several Boogie Woogie solos, including "Eight to the Bar". He finished off with "Avalon". One of the comments while Sonny was playing was his fingers are rubber. He is so amazing when he works those keys. Tom Rigney and Flambeau had a 2nd live set, they were hot with Mama Roseanne, they even set off a car alarm. Tom laughed it off saying that is, our horn section. What fun we were all having. They finished the set with "Patty on the Bayou", if that didn't make you do a jig, I do not know what will?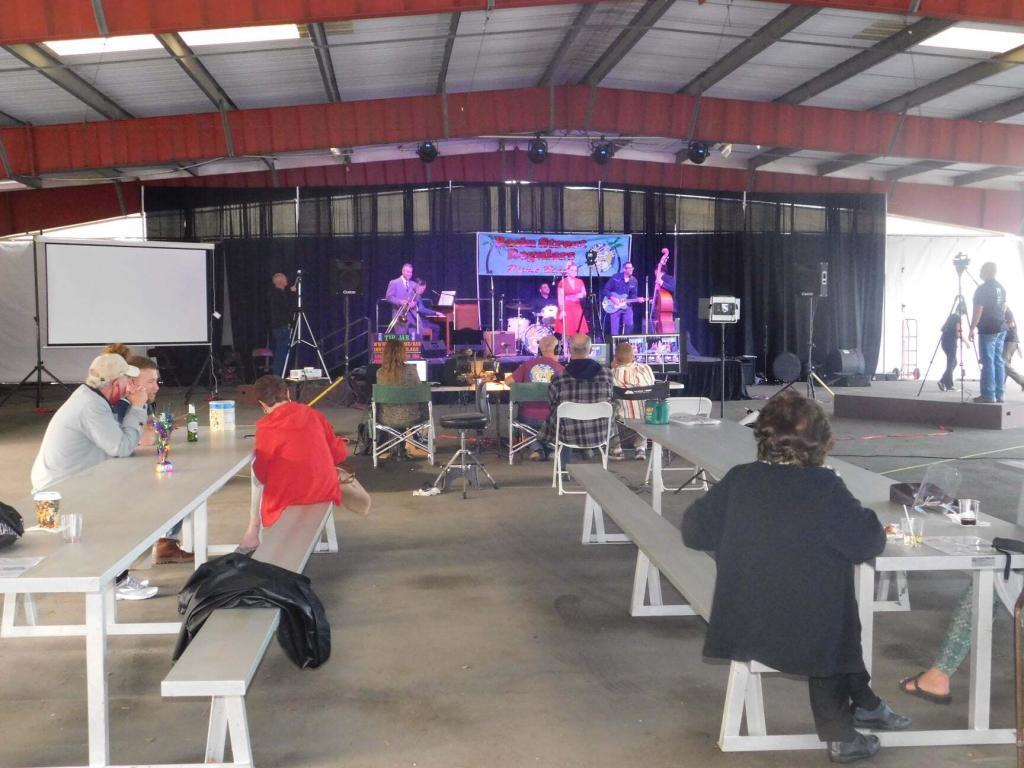 A video from Crescent Katz, started off with "Panama". Did you see Don Neely play the saw, in "Whisper", yes it was a saw for cutting wood? They gave a delicious original song called "Apple Hill". Brandon Au sang "Gypsy".
Carl Sonny Leyland and friends would finish out the evening. What a stage full of talent, Dawn Lambert, Marc Caparone, Karl Welz, Lakshmi Ramirez, Clint and Riley Baker. They started off with a really rockn' Boogie, everyone delivered something. We were swaying to "Tea for Two". Dawn sang "It has Been so Long" and "Exactly Like You". The band played the "Joint is Jumpin'".
Due to time restrictions, for live streaming, after 8 hours the day had to come to an end. We would go home with joy in our heart and many tunes from all the amazing bands of the day dancing in our heads.
Sunday, October 25th had an incredibly unique set from Bob Schultz and Friends. They played in Bob's backyard by his camping trailer, they had a crowd of Halloween ghouls in the audience. What a great way to start another day; "I'm Gonna Love You as Long as I Live", "Diga Diga Doo", and Bob sang "The Blues my Naughty Sweetie Gives to Me". What a great group Bob Schulz, Don Neely, Jeff Hamilton, Clint Baker and Steve Apple.
Mariachi Autlence took the stage. They did an instrumental of "Cherry Blossom Time". The youngest member took the stage to sing, "Stand by Me" and "Have You Ever Seen the Rain". They did "Guantanamera" and "Pretty Baby".
There was a Zoom Interview with Sierra Seven, it was a great update of the band.
Molly Reeves and Nahum Zdybel sent in a video with an arrangement of "Nobody's Sweetheart Now", done for two guitars. They did a cute duet of "What Makes You Act Like That".
The Barrel House Wailers took the stage with a bang starting out with "When I get Low, I Get High". They are from Ventura and play music from prohibition era; percussions are played on pots and pans. The band is super energetic and can rock any stage with tunes like "Gimme Some", and "Louisiana Fairytale".
Check out the interview with Ivory & Gold®, Anne has the cutest, pixie cut, and Jeff is starting to look like Santa Clause. The interview is followed by a recording from the house concert they did for us as Covid was just hitting the news, within days everything shut down.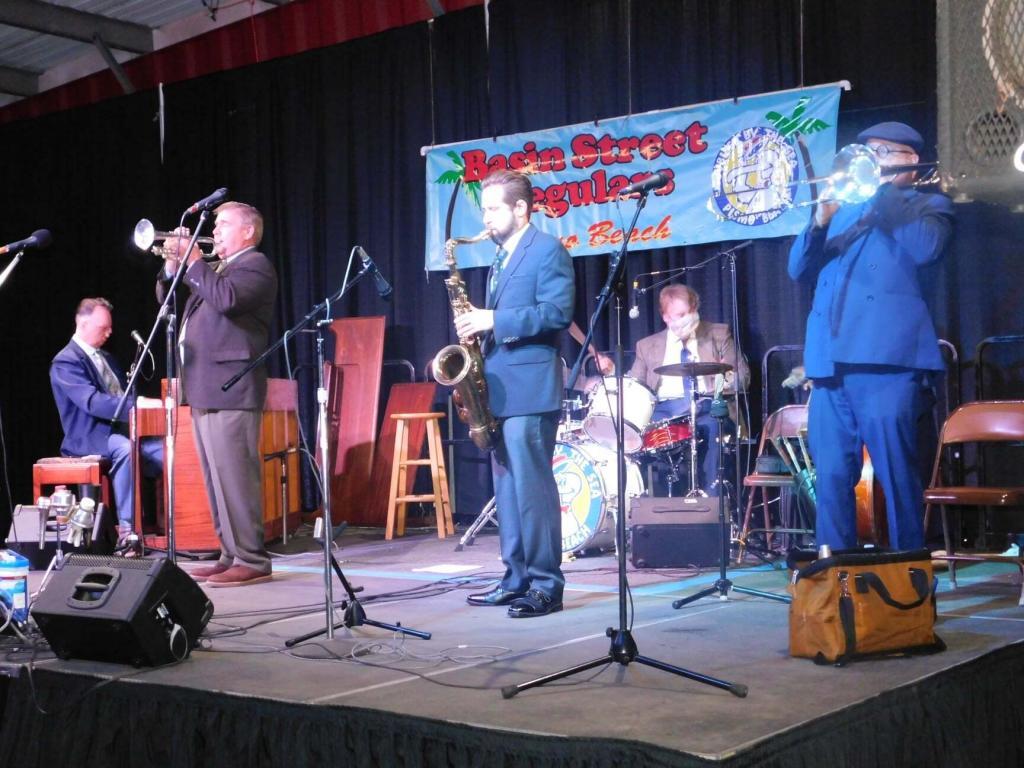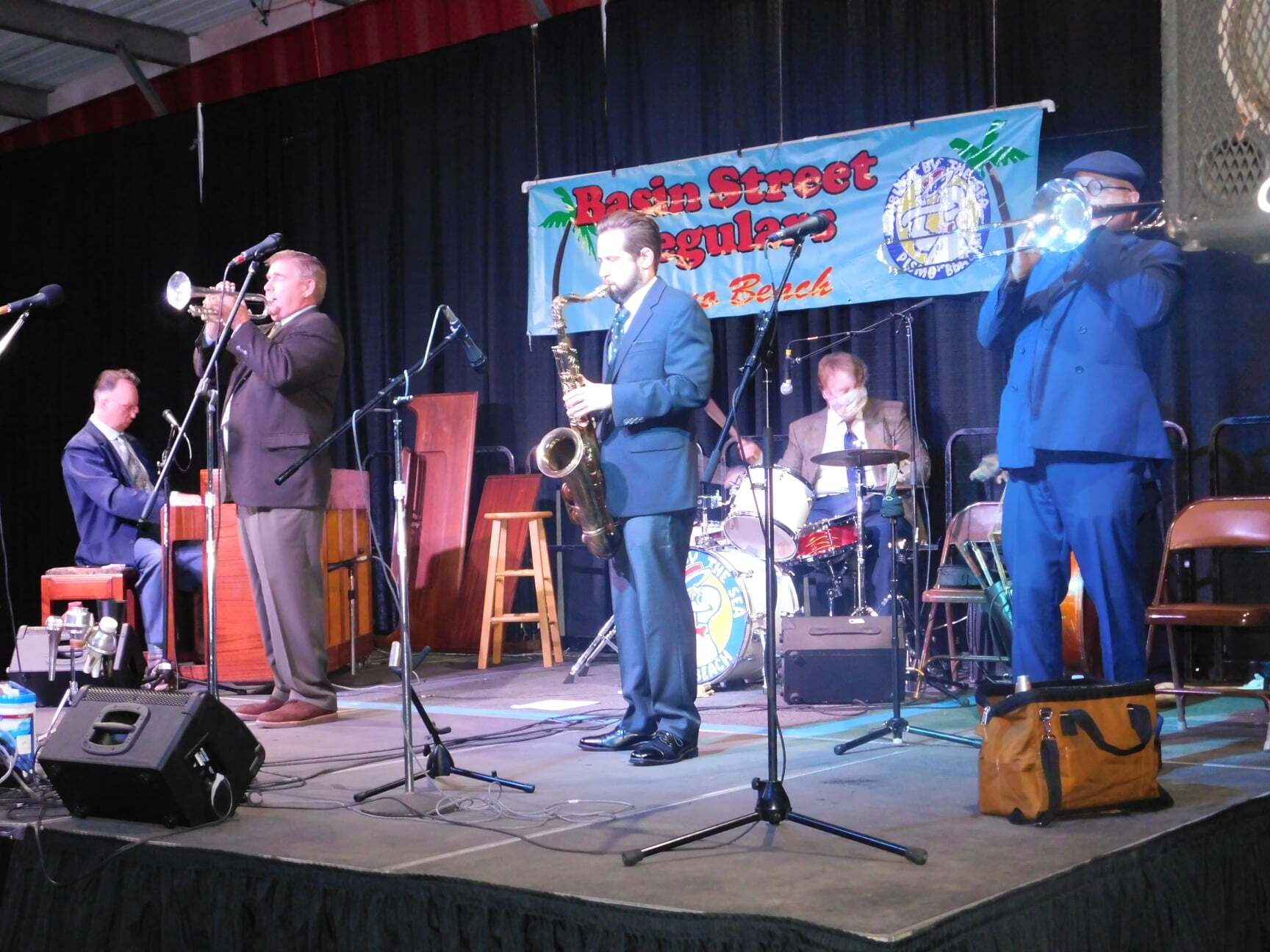 High Street another favorite sent a video with many clips of all the rockin' music they do. Hope we can party with them soon. Barrel House Wailers rocked their second set with all original tunes, "I've Got That Something That You Need", "Black Cat", and "Day In and Day Out Rag".
Sonny did an interesting Zoom interview with the Midiri Brothers, the virus has kept them from working or being together. They did play for a few minutes. Great to hear them, but we sure miss the whole band.
A video from 30 years ago with Gary Ryan and Liz Douglas played, then they took the stage live to jam. Liz left the stage, Dave Ruffner, Sonny Leyland, and special guest Igor Glenn joined Gary on stage. This was their first time to play together on the same stage. They were amazing to watch. "They Ain't Misbehavin'" on "Bourbon Street". They did go crazy on "I Have No Bananas" but straightened up for "Bye-Bye Blackbird". Sonny played "The House of Blue Lights".
Adrian Cunningham did an interview from Barcelona, Spain. Adrian did a set, he sang "Down in New Orleans", and "Yes, Sir That's my Baby". Rhonda and Jeff were presented a plaque, wine basket, and roses at the end of the festival by the volunteers on behalf of the Basin Street Regulars. Virtual 2020 Jubilee by the Sea will go down in history, as the Miracle Festival.