This event with a hopelessly long but descriptive name occurs annually on Memorial Day weekend on the beautiful University of Mississippi campus in Oxford. This was the 45th installment but my first. I combined this event with the Scott Joplin Ragtime Festival in Sedalia, Missouri which began three days after the first ended. I'll report on the latter next month.
The World Championship Old Time Piano Playing Contest and Festival begins informally on Thursday evening with the equivalent of an open mic, but with two grand pianos in the bar of the Chancellor's House, an upscale hotel in downtown Oxford. Most of the tables were removed to provide additional seating, and about 50 people were on hand. As a newbie, the only people I knew were pianists Adam Swanson, and Bill Edwards. Several others who are known to the regular attendees played, but I didn't catch any of their names. At this early stage, I did not know if any of the performers, save for a teenage lad, would be competing over the weekend. If they were, some could have used some more practice. This tune-up party appeared to be exactly that.
Friday afternoon brought one-hour seminars by Bill McNally and Terry Waldo, and the New Rag contest, which had ten contestants. It, along with all the competitions, was judged by a panel of three pianists—Terry Waldo, Julie McCleary, and Bill Perry, Jr. Terry's reputation speaks for itself. Julie is a three-year National Ragtime Piano Playing Award winner, and Bill is a local blues and jazz teacher and is from a musical family. I saw him play at dinner Sunday evening; his style tends toward the modern.
There was a third seminar Sunday morning—by Adam on ragtime in the movies.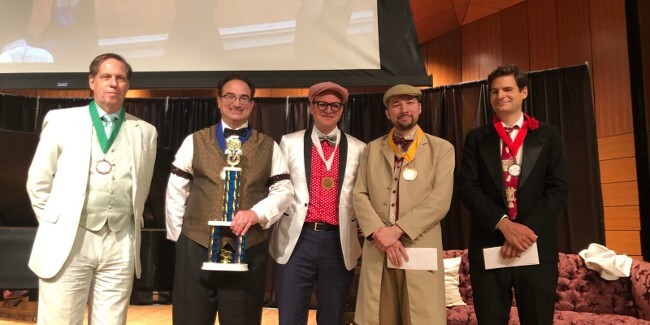 Friday evening's program at the Chancellor's House had a duet contest, which I found underwhelming. There were only four teams, and the audience got to select the winner—by paying $5 for a ballot, which helped pay for the prize. Only eight ballots were counted. Saturday morning saw the junior competition, and twelve candidates ranging in age from 9 to 17 participated. Kelton Bobits, a 15-year-old from West Virginia, took first place, as he did last year. He also entered the New Rag contest. Two other contestants were participating for the second year, and there was one brother (age 12) and sister (age 9) competing.
A box lunch followed with Adam Swanson accompanying several silent movies. Then the afternoon session had the preliminaries for the adult and senior divisions, which were combined. Sixteen pianists vied to reach the semi-finals and return Sunday. I enjoyed this more than I expected to. Although there were frequent interruptions in the flow of music, most of them necessary, the contest was anything but boring. The quality of musicianship was very good. Obviously, in any contest some participants are going to be better than others. Other than "Perfesser" Bill Edwards, and Jean-Baptiste Franc from Paris, I had never heard of any contestants.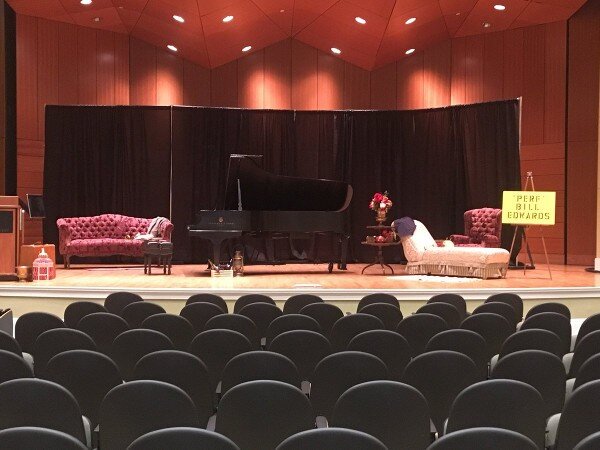 I won't bore you with a recitation of all the contest rules. In brief, each entrant must prepare six songs, two of which are played in the first round, two more in the semifinals if they get that far, and the last two in the finals. Thirteen contestants advanced to the semifinals, and the order in which they were to perform was announced at the end of the preliminaries. In the finals, there is a requirement (this year, at least) of tunes with a food or beverage theme.
Interestingly, in the first round (including the junior competition), Jelly Roll Morton's "The Crave" was played no fewer than three times. Inexplicably, I had never heard it before. The songs performed at the contest ranged much more widely than at festivals; several adaptations of classical pieces were played.
No songs written after 1939 were allowed, which suited me fine. The five finalists, in reverse order, were Bill Edwards, David Cavalari, Michael Drexler, Jean-Baptiste Franc, and Paul Orsi. In the junior division, the top five were John Beggs (age 12), Olivia Zhou (9), Richie Bliesener (14), Kevin Zhou (12), and Kelton. The audience choice award, given for the first time this year, went to Don Jacobs, a/k/a Four Arrows in recognition of his Lakota heritage.
Festival director Ian Hominick told me that total attendance was around 350 to 400, although it seemed as if there were never more than about 75 people in the auditorium at any one time. I saw only one or two people I recognized from other festivals. Advance sales of all-event tickets increased sharply over last year, but it was still not a large number. Quite a few people bought only one- or two-day tickets. The only venue that might be taxed with a larger attendance is the Chancellor's House, where additional tables had to be brought in for Saturday's dinner and sing-along. Many people, including myself, found the room's air conditioning on steroids, to the point where many put on jackets and even covered themselves with blankets. I asked, twice, for the blower to be turned down, to no avail. So I did not stay for the sing-along.
Sunday evening's dinner and entertainment in the same room were noticeably much more sparsely attended, which I attributed, perhaps incorrectly, to the previous evening's great chill. Would I attend this event again? Yes, but only if I can combine it with something else (which would not necessarily have to be music-related), due to the distance. But I would make the same comment about the Scott Joplin festival; on my two previous trips there, I had another purpose for going.