Presents Lizzy & The Triggermen from Los Angeles. San Diego's, Mad Hat Hucksters, Opens.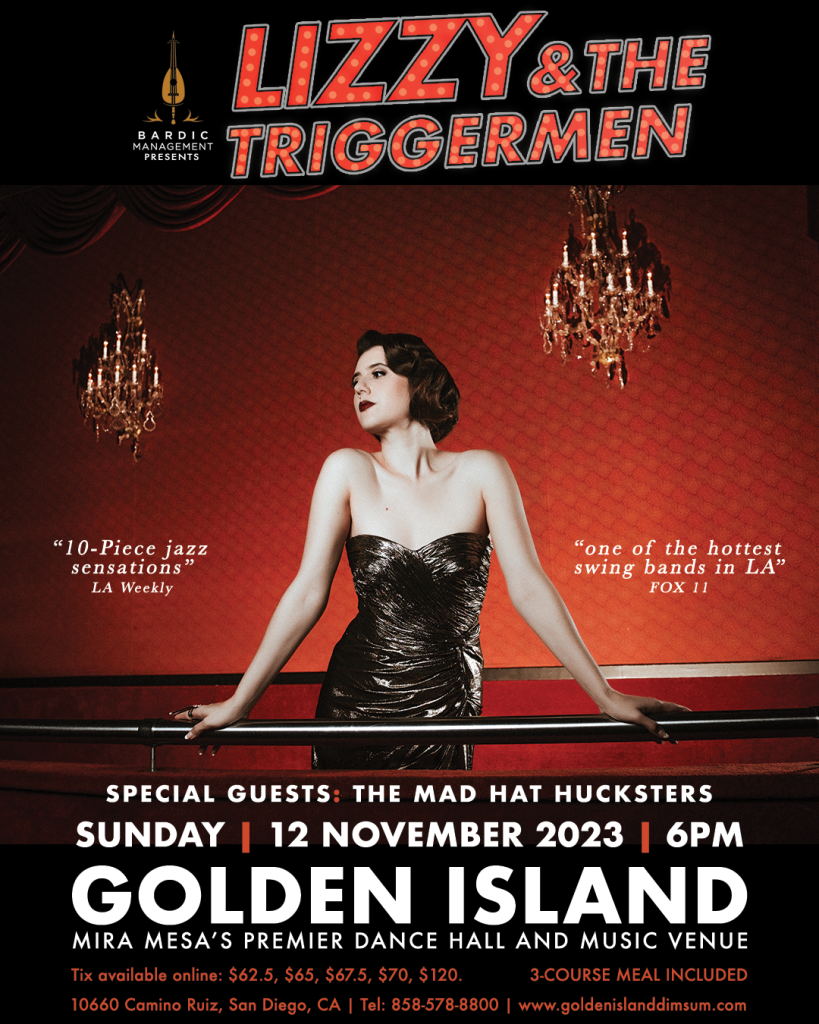 Mira Mesa – November 12th, 2023 – Golden Island Dim Sum will be hosting its first premier show featuring rising star in jazz, Elizabeth Shapiro, of Lizzy & The Triggermen, from Los Angeles, California. San Diego's very own 6-piece swing band, the Mad Hat Hucksters, led by Morgan Day, will be the featured opener for this event. Ticket prices will range from $62.5 – $120 dependent on seat choice, and will include a 3-course prix-fixe meal. Drinks and cocktails will be sold separately, and additional food can be purchased during the show.
Guests who purchase the $120 Stage Premier ticket tier will receive premium seating up close to the stage, a signed Lizzy & The Triggermen CD: Good Songs for Bad Times (not at retail), an 11×17 color poster, and a 3-course meal with choice of a glass of wine, a pint of beer, or a sake/soju cocktail. The venue is located at 10660 Camino Ruiz, San Diego, CA 92126. Doors will open at 6PM with the opener starting at 7:45PM and headliner starting at 9PM. Tickets for the event may be bought at this link.
November 12th will be Shapiro's second appearance in San Diego since her debut at the 2022 San Diego Jazz Party, which was a 3-day jazz event held at The Hilton San Diego/Del Mar. Shapiro and her 10-Piece swing band have been dubbed "10-piece jazz sensations" by LA Weekly, and "one of the hottest swing bands in LA" by FOX 11. Lizzy & The Triggermen's album, Good Songs for Bad Times, peaked at #3 on the iTunes Jazz Charts in May of 2020 and her associated video, Dance Song (for the End of The World), which featured artists across 6 continents and 15 countries, has achieved over 150K views on YouTube.
Last February, Lizzy & The Triggermen performed for a packed house at the Annenberg Theater as co-headliner for Modernism Week – an 11-day Jazz Festival in Palm Springs, that featured 2023 Grammy Award Winner for Best New Artist, Samara Joy, as headliner. Next year, Lizzy & The Triggermen will be performing at Hotel Congress in Tucson, Arizona, as co-headliners for the 2024 Tucson Jazz Festival – a 3-day jazz festival that will include a lineup of jazz superstars such Grammy Award Winners Cecile McLorin Salvant, Arturo Sandoval, and Trombone shorty to name a few.
Opening for Lizzy & The Triggermen will be San Diego Jazz Festival Board Member, Morgan Day, and his 6-piece swing band, The Mad Hat Hucksters. The Mad Hat Hucksters are a beloved San Diego swing group, whose events are regularly attended by swing dancers hailing from Ramona to Chula Vista. The group performs regularly at venues such as Panama 66, Madame Bonnies, The Firehouse Swing Dance, and Golden Island Dim Sum. Recently, The Mad Hat Hucksters were nominated Best Jazz Artist for the 2023 San Diego Music Awards.
Golden Island Dim Sum & Asian Cuisine is a 365-425 seat Dim Sum Hall and is Mira Mesa's premier dance hall, music venue, and wedding venue. Golden Island is the first of its kind to break away from traditional Chinese restaurants and hold regular weekly live jazz through its program Dim Sum & Jazz, which the restaurant has been hosting on Fridays for the last 2 and a half years. Golden Island serves authentic Cantonese dim sum all day, alongside a fantastic selection of authentic Asian cuisine and a lineup of sake/soju cocktails. Golden Island is the sister venue to Diamond Palace, the newest dim sum hall in City Heights.