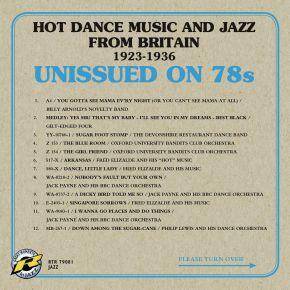 While jazz was born in the United States, it has been an international music ever since the recordings of the ODJB were heard overseas. While one could argue that there were few innovative jazz artists from Europe prior to the rise of Django Reinhardt and Stephane Grappelli in the early 1930s, American jazz was having a strong impact on the European music scene, starting a decade earlier. For proof, one should check out Hot Dance Music And Jazz From Britain 1923-1936, part of the Retrieval label's "Unissued On 78s" series.
The 24 selections on this CD were, with one exception, previously unissued test pressings. Combining together alternate takes and unknown material, the set makes a strong case for the credibility of British jazz in the 1920s and early '30s. Starting with an unknown group from 1923 (probably Billy Arnold's Novelty Band) that could easily pass for a forward-looking American band from the time, and progressing to the beginning of the swing era, there is a great deal of enjoyable and surprisingly well recorded music on this collection.
Among the groups featured are the Gilt-Edged Four, the Devonshire Restaurant Dance Band (a fine version of "Sugar Foot Stomp" from 1927 with American trumpeter Frank Guarente), the Oxford University Bandits Club Orchestra, Jack Payne's BBC Dance Orchestra, Ambrose, Spike Hughes' Decca-Dents, Roy Fox, Ray Noble's Orchestra (with Nat Gonella), Billy Mason, Jack Hylton ("Chinatown, My Chinatown"), and Claude Hampton's Bandits. Pianist Fred Elizalde, probably the first British-based jazz musician to have his own style, is heard leading three songs with appearances by such Americans as cornetist Chelsea Quealey, Bobby Davis on clarinet and alto, and the great bass saxophonist Adrian Rollini. Phillip Lewis' Dance Orchestra benefits greatly from the inclusion of American trumpeter Sylvester Ahola who displays the influence of Bix Beiderbecke.
While most British dance bands of the 1920s and early 1930s emphasized polite, melodic, and conservative music, the performances on this CD, with the exception of a few throwaway vocal choruses, is hot and swinging. 1920s jazz collectors will certainly want this disc, along with the others in the valuable series.
Hot Dance Music And Jazz From Britain 1923-1936 (Retrieval 79081, 24 selections, TT = 68:54) www.challengerecords.com