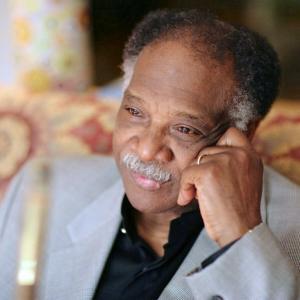 Tenor saxophonist Houston Person is one of the most soulful jazz players on the scene today. He is a musician who pays close attention to melody and has a deep sense of the blues. "I look for a great melody and great lyrics," he said in a recent interview at the San Diego Jazz Party. He is known today as a master of popular songs played in a relaxed, highly-accessible style reminiscent of the great Ben Webster.
Person grew up in Florence, South Carolina and remembers his parents listening to a lot of music at home. First playing the piano, he received a tenor sax for Christmas and decided to be a jazz musician when he was in high school.
He went on to study music at South Carolina State College (he has since been inducted into the college's Hall of Fame), joined a service band while serving in the United States Air Force in West Germany, and later pursued advance studies at the Hartt College of Music in Hartford, Connecticut where he gained experience playing in clubs around New England. For a period, he worked as a sideman for organist Johnny "Hammond" Smith.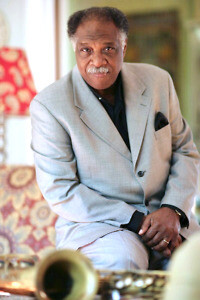 Person built his reputation as a leader with a series of soulful recordings for Prestige in the 1960s. For a large part of his career, he is best known for his partnership with vocalist Etta Jones, which lasted for 35 years until her death in 2001. "I had a band without a singer, and she was a singer without a band is how we got together," he recalled. He also served as her manager and produced her albums.
Having recorded over 100 albums under his own name, he says, "I've played with everyone I've wanted to." He knows the music business inside out, from booking his own tours to producing his own albums. "I believe in personal relationships," he said. He has recorded everything from disco and gospel to pop and rhythm & blues, in addition to his trademark soulful hard bop. He received the Eubie Blake Jazz Award in 1982.
Person says that Illinois Jacquet was a major influence on his style, as were Stan Getz, Joe Holiday, and Ben Webster. He spends seven months on the road, although he acknowledges his wife feels he should cut back at the age of 86. His advice to young musicians is "Know your craft. It's hard work. Get an education, but don't sacrifice one for the other. Learn to speak for yourself. Blow your horn."
When asked for his philosophy of jazz in a previous interview, he reflected, "It's uplifting and important. It's a release and a relief. To me, it's important that it is relaxing . . . something at the end of a frustrating day that relieves you . . . relaxes you and makes you feel good. All I want to do is give people good solid melodies with some improvisation and plenty of blues feel." He smiled and added, "You always want that dance feeling there . . . that happy, happy feeling."
He concluded: "Everything I ever did, I stand by. For me, it's been a wonderful journey."