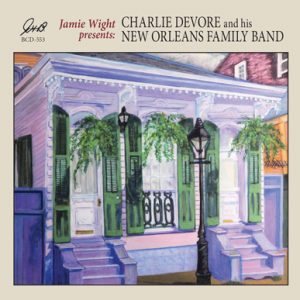 In 2014, during the festival season in New Orleans, cornetist Jamie Wight invited some of his favorite musicians who were in town to do some recording. The spontaneous music came out so well that the result was the release of Jamie Wight Presents Charlie Devore and the New Orleans Family Band.
While eleven musicians participated in the sessions, the groups performing the thirteen selections range from a sextet to an octet. The music is reminiscent of the New Orleans jazz recorded by Joe Mares for his Southland label in the 1950s.
The ensembles are uncluttered and build up gradually, the musicianship is first-rate, the solos are melodic and swinging, the musicians each display their own personalities while blending together well, and there are plenty of ensembles along with the solos.
Such songs as "Over The Waves," "Girl Of My Dreams," "Bogalusa Strut," "You Can Depend On Me" and "I'm Forever Blowing Bubbles" are given memorable treatments. Featured are cornetist DeVore, Wight on cornet and piano, trombonists Bill Evans and Pete Clancy, clarinetists Brian O'Connell and Ryan Burrage, pianists Marcello Bana and Lars Edegran, Jojjo Wight on guitar and drums, bassist Bernie Attridge and drummer Frank Oxley. Anyone who enjoys New Orleans jazz will certainly find much to savor on this spirited CD.
Jamie Wight Presents Charlie Devore and his New Orleans Family Band (GHB BCD-553, 13 selections, TT = 60:59)
www.jazzology.com