Jazz Jottings January 2019
For the past 20 years, Dave Robinson has been the leading advocate in promoting the concept that traditional jazz should be a vital part of jazz studies curricula in middle schools through college. Explaining his purpose, he said, "I've studied traditional jazz in great depth and felt I could do something about it because of my background as a musician, teacher, and lecturer. Traditional jazz is not merely a historical footnote. It is a living breathing art form that has a history of over 100 years, yet has slipped off the radar screens of many jazz educators."
According to Robinson, "While scholastic jazz education programs are widespread, there has not been a formalized curriculum for the teaching of New Orleans-derived styles. The Traditional Jazz Curriculum Kit we have developed acquaints students nationwide with the music of Louis Armstrong, King Oliver, Jelly Roll Morton, Sidney Bechet, Bix Beiderbecke, Jack Teagarden, Bunk Johnson, George Lewis, Lu Waters, Turk Murphy, Eddie Condon, and later exponents of traditional styles, including the top traditional jazz artists of today."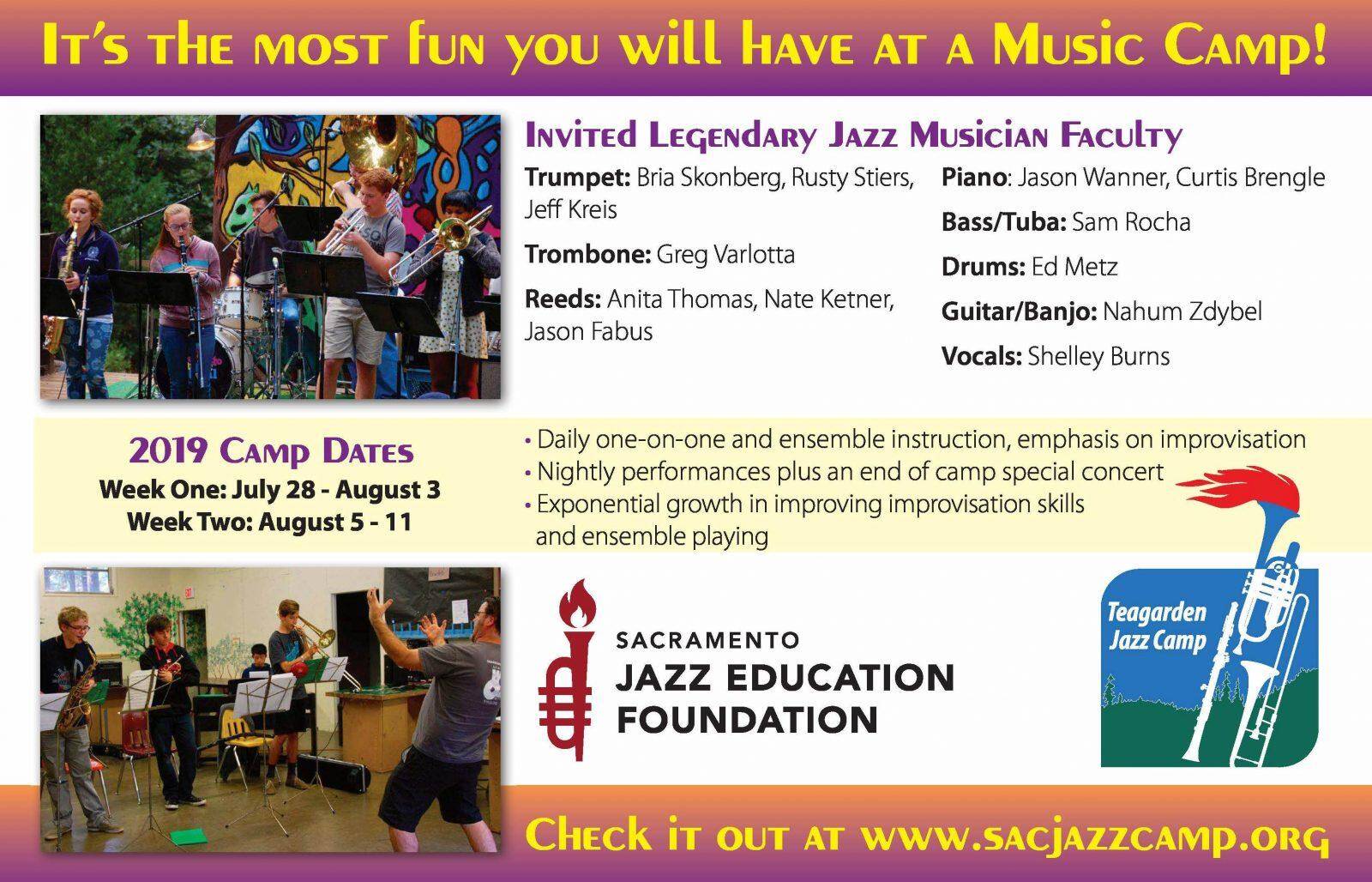 – TJEN, JEN, and JENTJS –
Dave formed the Traditional Jazz Educators Network (TJEN) in 1997, a loose network of 125 jazz educators whose purpose was to collectively promote the teaching and performance of traditional jazz. The Traditional Jazz Curriculum was formalized in 2015 and was designed to augment existing scholastic music programs as well as support the National Standards for Music Education and select Common Core Standards.
A $40,000 grant from the National Endowment for the Arts obtained through the Jazz Education Network (JEN) provided the impetus needed to facilitate production and distribution of the Traditional Jazz Curriculum Kit to 10,000 schools and colleges.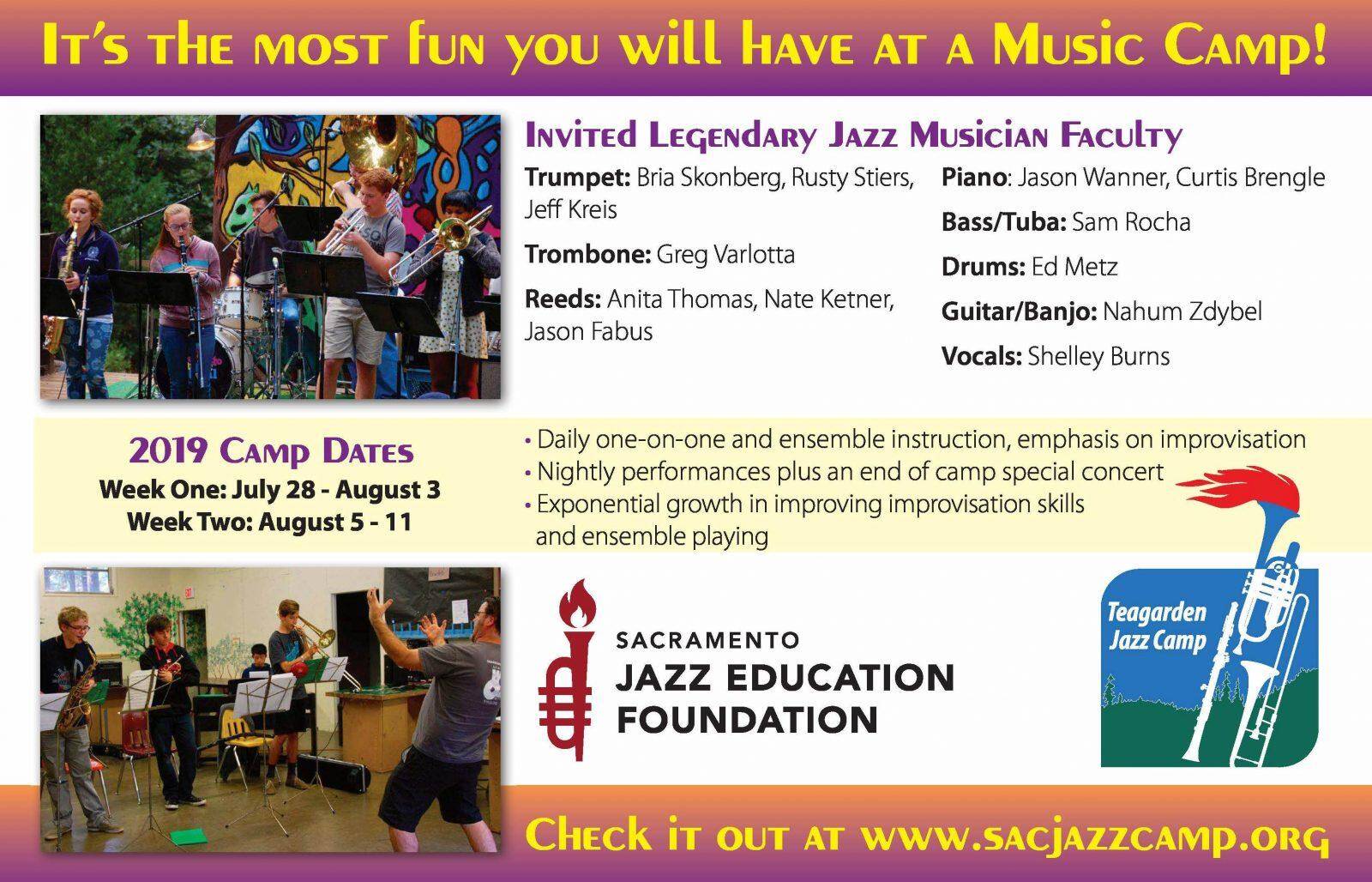 The latest development is the formation of a special interest group within JEN which will enable trad jazz educators and enthusiasts to have a voice within the largest global organization whose mission is to build the jazz arts community by advancing education, promoting performance, and developing new audiences.
– How to Join –
To join the JEN Traditional Jazz Society (JENTJS), one does not have to be a jazz educator or already a member of JEN. The only requirement is an interest in the teaching, performance, and perpetuation of traditional jazz. For $50 annual dues, one becomes a member of JEN, with voting rights (JEN dues are normally $84) along with a terrific package of benefits that include subscriptions to JazzEd Magazine, Downbeat Magazine, and The Syncopated Times, JEN newsletters, eligibility to attend the 2019 JEN Conference in Reno January 9-12 (where there will be a trad jazz panel that Robinson will chair), and sundry scholarship and performance opportunities.
It's up to each of us as individuals or as members of a jazz society to join JENTJS and have our voices heard. Go to jazzednet.org and click JOIN. Enter YES for Society Member, and when prompted, enter coupon code 2018JENTJS. If you have further questions, contact Dave Robinson at [email protected]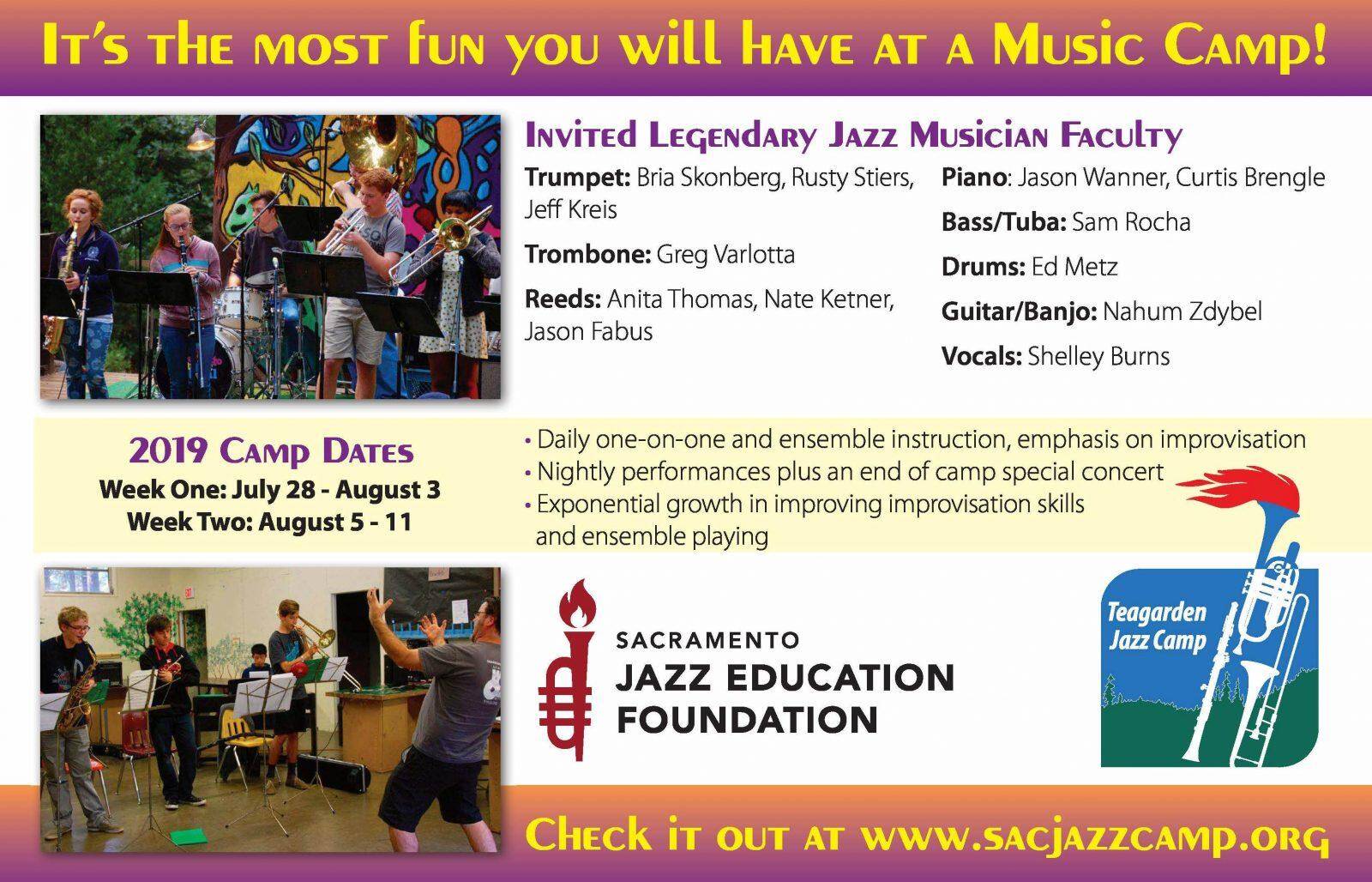 ♫ ♫ ♫ ♫
November 29, 2018 would have been Billy Strayhorn's 103rd birthday and was also the occasion when the Library of Congress announced it had acquired a collection of nearly 18,000 documents belonging to the composer, arranger, and pianist who worked for nearly 30 years with Duke Ellington, and who wrote such enduring compositions as "Take the A Train," "Lush Life," and "Chelsea Bridge." Since 1967, when Strayhorn died from esophageal cancer, the composer's manuscripts, including some 3,000 original music scores, have been in the possession of his family and not available to the general public. His materials will now be available in the Library of Congress Performing Arts Reading Room on Capitol Hill.
♫ ♫ ♫ ♫
Cynthia Sayer's CD, Joyride, garnered a Silver Medal award in three categories among the 2018 Global Music Awards, which are considered "music's golden seal of approval." Among those backing up the Banjo Queen on this 2013 release were Charlie Giordano, Adrian Cunningham, Randy Sandke, Scott Robinson, and Mike Weatherly. The categories gaining recognition were Album, Instrumental, and Emerging Artist, to which Cynthia responded, "Yeah, I know I've been around for a while, but hey, I'm glad to keep emerging."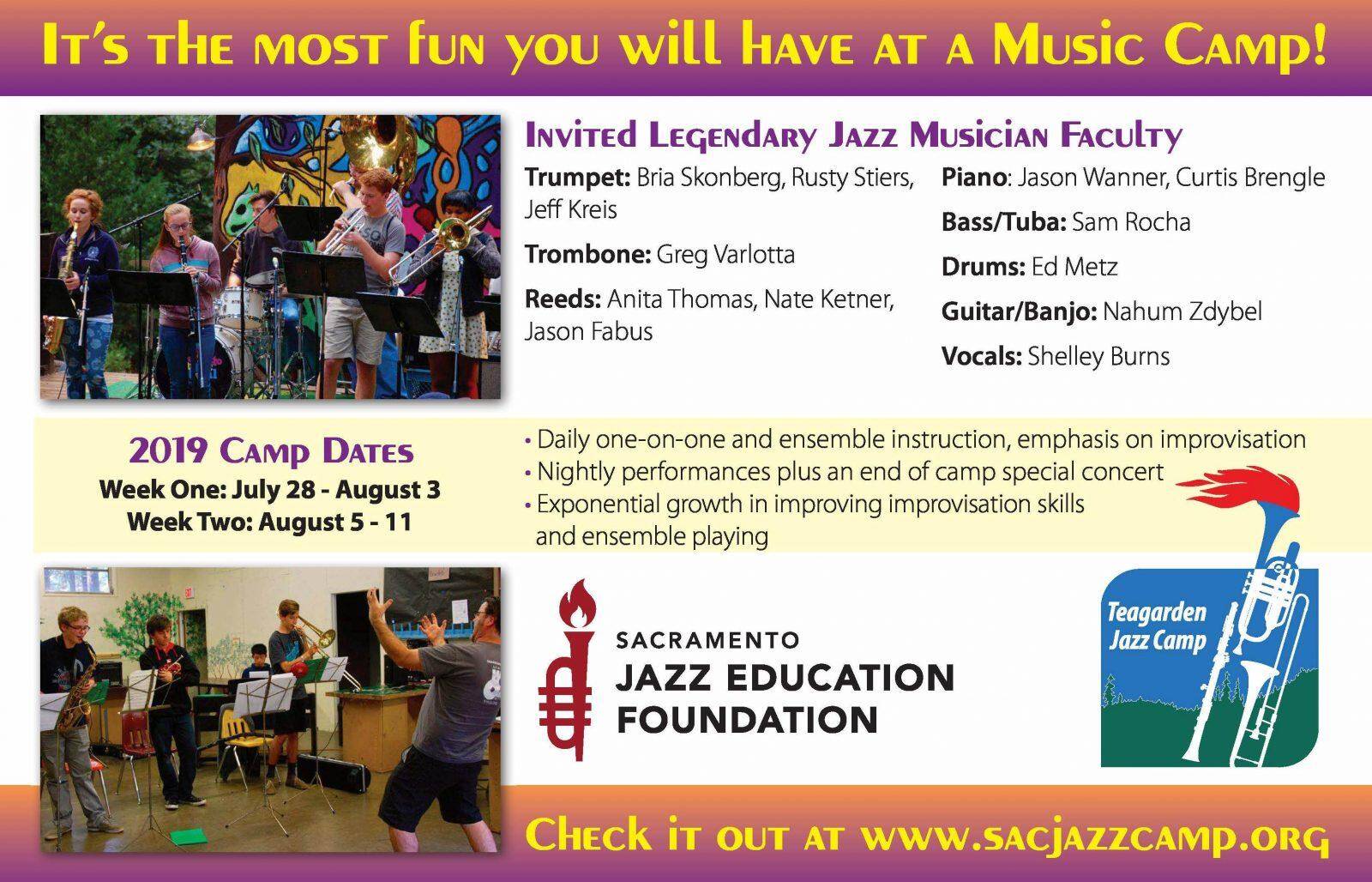 ♫ ♫ ♫ ♫
The nearly-sold out San Diego Adult Traditional Jazz Camp is coming up January 17-20 at the Lafayette Hotel & Suites. The faculty will demonstrate vintage instrumental techniques for performing classic jazz in a classroom setting and supervise the students' performance on their individual instruments in rotating groups. Electives include sessions on Early Jazz History, Stage Presence and Presentation, Music Theory, and Advanced Trad Jazz Ensemble Topics. The seven instructors will wrap up the weekend with a Sunday afternoon concert for the campers and local Society members.
♫ ♫ ♫ ♫
In an interview promoting their new show, Benny Meets Artie with Strings, Will and Peter Anderson acknowledged that when they were eight years old, they were inspired to pick up the clarinet after watching a Chips Ahoy! TV commercial featuring Benny Goodman's "Sing, Sing, Sing" playing in the background. The identical twins began formal lessons the following year and went on to graduate from The Juilliard School in New York City, where they currently live.
♫ ♫ ♫ ♫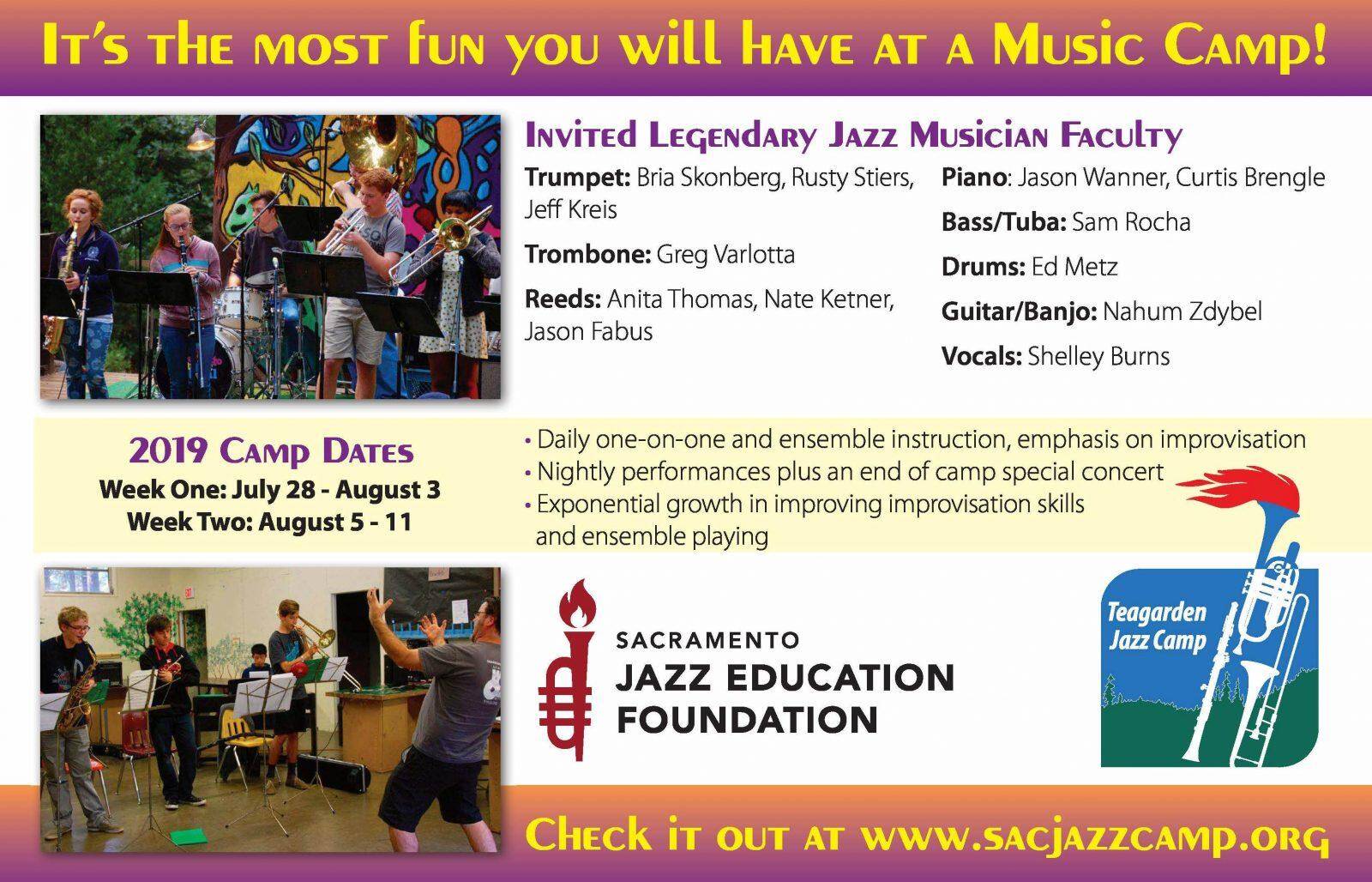 Dave Tatrow, the hot trumpeter from Otisville, Michigan, is the 2018 recipient of the Sonny Award for his "mentoring of jazz students and influence on the jazz community." The Sonny Award was created in 2011 to honor Sonny LaRosa for his tireless efforts in keeping jazz alive through musical training and performance. For three decades, his "World's Youngest Jazz Band" inspired and entertained both young and old on local and international stages. Festival goers know Dave Tatrow best for his high notes and comedic humor with the New Reformation Jazz Band and Wally's Warehouse Waifs.
♫ ♫ ♫ ♫
The folks who run the Telluride Jazz Festival came up with some fancy perks to entice their patrons to help underwrite their 43rd annual event scheduled for August 9-11, 2019, high in Colorado's Rocky Mountains. They start by offering $200 off a Patron Experience Pass, with part of those proceeds going to support music education, student programming, and outreach. Among the amenities available to Early Bird buyers:
On-stage seating with a hosted bar; wine and dine with the artists backstage; private opening reception and concert; eligibility to purchase Safari Cabanas at Telluride Town Park, complete with front porch, fire pit and seating for eight; free massages; designated patron restrooms; and free entry to the Telluride Historical Museum, known for its history of the mining industry.
♫ ♫ ♫ ♫
Sad News/Better News: Pianist Mike Greensill got word that Silo's, the listening room on Main Street in Napa, California, where he and his late wife Wesla Whitfield performed extensively over the past 10 years, was closing on January 1. But as Mike noted, "as one door closes, another opens," he was soon contacted about doing a Sunday jazz brunch every week at the Blue Note, the highbrow jazz club and music venue in the Napa Opera House, also on Main Street. "I thought about it for three seconds and said yes."
♫ ♫ ♫ ♫
The late Nancy Wilson, who recorded over 70 albums during her five-decade career, did it all, but she did it her way. She called herself a "song stylist," refusing to limit herself to any particular genre. "I don't put labels on what I do. I just sing. It's all in the ear of the listener. Let them decide."