Jazz Jottings September 2018
If you believe in the tried-and-true, be aware that there are eight festivals and one jazz party coming up in the next two-and-a-half months that take the prize for longevity and quality jazz. The "beat" starts north of the border in Canada with the 22nd Pentastic Hot Jazz Festival in Penticton, British Columbia (Sept. 7-9).
Ten years before the Pentastic Fest came into being, a group of Northeast Ohio jazz fans formed a club called EARLYJAS (the Earlville Association of Ragtime Lovers for Jazz Advancement and Socialization) that put on a Dixieland festival for the next 25 years. The group reorganized in 2012 as the Grugelfest, named in honor of Ralph Grugel, a former EARLYJAS member and bandleader. This year's party is appropriately at the Holiday Inn French Quarter in Perrysburg, Ohio, Sept. 7-9.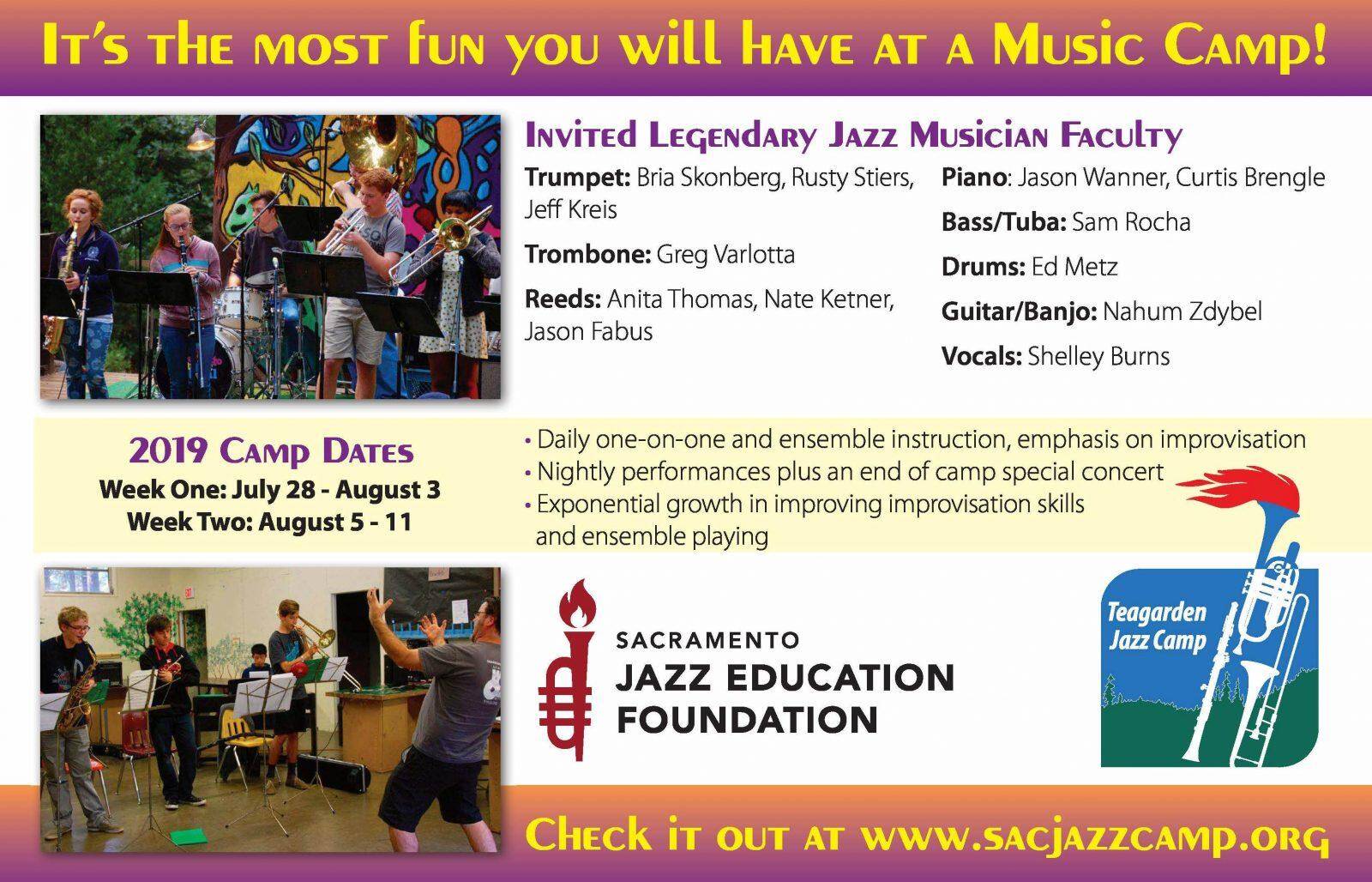 The end of the month takes us to the high altitude of the Rockies for the Colorado Springs Jazz Party (Sept. 28-30), an event that is currently operating under new management, but actually has a long history that goes back to the legendary Broadmoor Hotel.
Sun Valley, Idaho is the ideal setting for the 29th Jazz & Music Festival (Oct.17-21), especially in the Fall when the aspens are at their colorful best. It's a five-day event at this historic ski resort, with a wide choice of 40 bands and 200 sets that produce a million smiles for those who make the trek to the high country.
The granddaddy of this select group is the Jubilee by the Sea (Oct. 25-28), held for the past 42 years in Pismo Beach and Arroyo Grande on California's northern coast.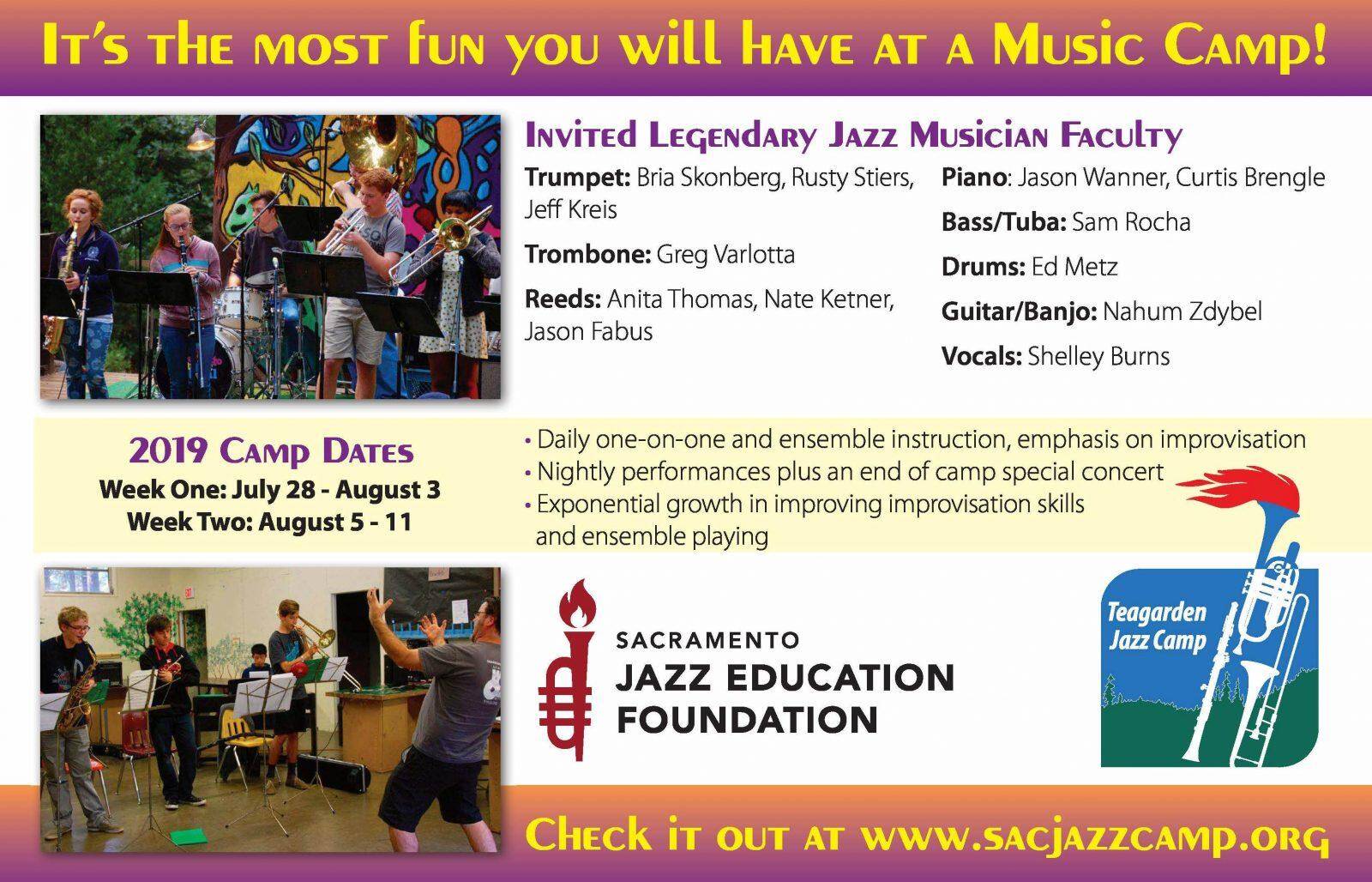 Temperatures have cooled in the dessert by the first week of November when the 29th Arizona Classic Jazz Festival swings into action at the Crowne Plaza San Marcos Golf Resort in Chandler. One set will feature "Aussie Jazz" led by visiting trombonist Paul Ingle from Down Under. The Sunday finale will be a tribute to the Ink Spots.
It's nearly non-stop music for the three days of the 32nd West Coast Ragtime Festival (Nov. 16-18) held at Marriott Rancho Cordova (15 miles east of Sacramento, Calif.)
The same weekend, fans on the East Coast can journey to Sunny Florida for the 28th edition of the Suncoast Jazz Festival in Clearwater Beach on the Gulf of Mexico. Terry Meyers has put together a motley crew composed of Bob Leary, Eddie Metz, Charlie Bertini, Pat Gullotta, Jeff Phillips and Jay Mueller who will be performing as "Terry & the Pirates."
It's turkey and hot jazz at the 39th San Diego Jazz Fest & Swing X (Nov. 21-25) where Michael Gamble's Rhythm Serenaders from North Carolina will be on hand for the Saturday night Swing Dance.
There's nothing like a live performance of great jazz, so check FESTIVAL ROUNDUP for the complete listing of what's coming up before the Holiday Season.
♫ ♫ ♫ ♫
The renovation and upgrading of the Town & Country Resort, site of the San Diego Thanksgiving JazzFest, is now underway and will continue for the next two years. It will have no adverse impact on the annual festival, which has contracts in place through 2022, but do expect to see changes. The hotel registration lobby and some 200 of the 1950s one- and two-level Garden and Courtyard rooms will be gone come late November. For this year, registration for both the hotel and festival will be in the Atlas Ballroom foyer of the Convention Center. Even with the loss of some Garden rooms, more than 700 rooms will remain at Town & Country, which is more than enough to meet the needs of SDjazzfest.
♫ ♫ ♫ ♫
Australian trombonist Paul Ingle will be making one of his frequent visits to the United States this Fall and will be appearing at two upcoming festivals: namely Prismo and Arizona. Ingle commenced playing trombone at an early age under the wing of the legendary Australian trombonist Keith McDonald. He has played in military & brass bands, symphony orchestras, swing bands and cover bands, and for 10 years, was the principal trombonist in the Victoria Police Band and music coordinator of Australia's largest festival in Merimbula. Well-known in Australian jazz circles as the leader of the New Orleans Connection, Swamp Dogs, Jubilee Jazz Band and Extreme Jazz, he currently is trombonist/vocalist with the New Melbourne Jazz Band.
♫ ♫ ♫ ♫
The Arizona Classic Jazz Festival (Nov. 1-4) will mark the final appearance of the 52nd Street Jazz Band led by clarinetist Joe Hopkins. "With the loss of Gary Church, and the fact that we're all getting older and having to deal with health issues, it's becoming increasingly difficult to book a seven-piece band on a consistent basis, Hopkins said.
Originally from Texas, Joe was employed by IBM for 31 years and had a band when he was stationed in Amsterdam, The Netherlands. Back in the United States, he had a 10-year run with the Churchill Street JB while living in Northern California. On moving to Phoenix in 1990, he connected with the Desert City Six and has led three of his own bands as well as serving as vice president and musical director of the Arizona Classic Jazz Society.
♫ ♫ ♫ ♫
In February, clarinetist Ron Hockett received a diagnosis of idiopathic pulmonary fibrosis, which is a chronic and progressive-scarring of the lungs that eventually leads to respiratory failure. There is no cure; the only real treatment is a lung transplant. He is now a patient at Duke University Hospital in Durham, North Carolina.
Ron and his wife have to relocate from their home in Charlotte to Durham for a year. He underwent a five-day evaluation in August to be listed for a transplant. According to his step-daughter, Alexandra Foley, "As you can imagine, the cost is enormous, and we have just started a $20,000 GoFundMe campaign to help with their relocation expenses."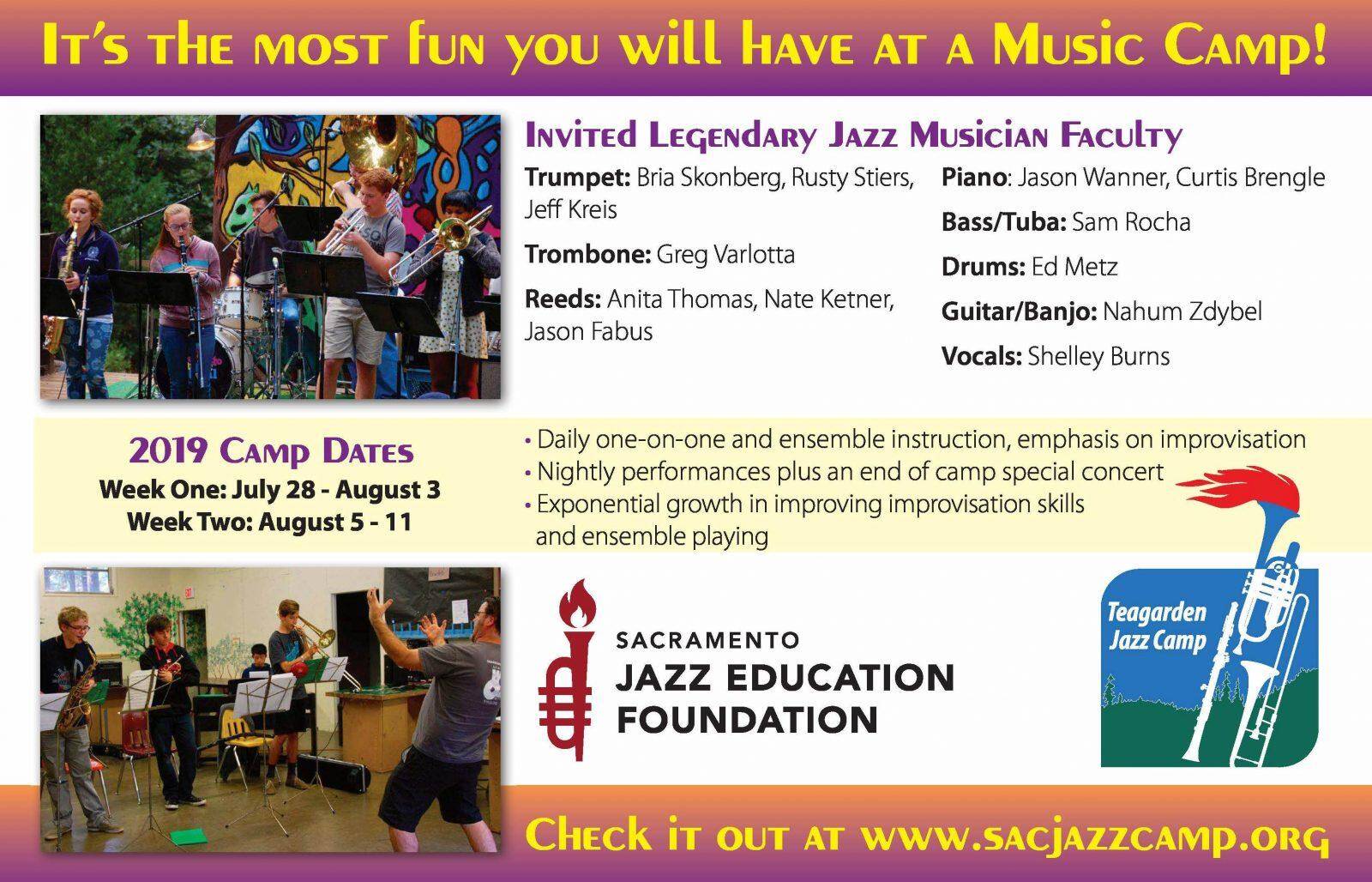 Growing up in Evanston, Illinois, Ron began playing professionally with George Brunies, Bobby Gordon, and the Salty Dogs while still in high school. A member of the popular youth group, The Windjammers, he took part in rehearsals that turned into jam sessions with visiting greats Bobby Hackett, Bud Freeman, and Jimmy McPartland. While a student at Princeton University, Ron toured the Orient with the Dukes of Dixieland.
From 1970 to 1999, he was the lead saxophonist and clarinet soloist in the "President's Own" U.S. Marine Band in Washington, D.C., performing throughout the United States and Europe, and making regular appearances at the White House. He was a member of Jim Cullum's band performing on the San Antonio Riverwalk six nights a week from 1999 until 2011 when he relocated to England.
♫ ♫ ♫ ♫
I believe we have finally reached resolution as to who was the first four-string banjoist to perform at the Newport Jazz Festival. Banjo Hall of Famer Cynthia Sayer became the first leader of a group when she appeared with her trio at the annual event in Rhode Island last month. Carl Lunsford told us about playing with Turk Murphy's band in 1974. Now John Gill, a multi-instrumentalist (including the banjo) who played with the Murphy band for a decade (1977-86), sets the record straight that Turk's first Newport appearance was in 1957 with Dick Lammi on the four-string banjo. Three performances from that Festival were released on a Verve LP titled George Lewis and Turk Murphy at Newport.
♫ ♫ ♫ ♫
Described as "a wonderful gig," trumpeter Mike Vax and guitarist Howard Alden had an interesting experience by being part of a band hired to play for the birthday party of one of Senator John McCain's daughters at the Senator's ranch in Northern Arizona.
As Mike reported, "The ranch is an amazing place, set in a beautiful green valley in the midst of Arizona's high desert. Any concern about dealing with the Senator's security people was unfounded. We were given instructions, as were all the guests, that there were to be no political discussions. They said this was to be a fun party without politics. I thought that was very cool.
"The most interesting thing: It was a four-hour continuous music gig. We get spoiled these days with the two-set concert-type gigs. One quick break for some food, and that was it. Sure glad it was a great band, which made it much easier, but there were some tired chops at the end, for sure."
♫ ♫ ♫ ♫
Since 2000, the Django Festival Allstars from France have been bringing "le jazz hot" of the gypsy jazz guitarist Django Reinhart to American audiences. This year's visits included a Carnegie Hall concert in May, their usual week's stay at New York City's Birdland, and a tour that took them as far west as Colorado, Arizona, and California in July. This internationally-renowned group features one of Europe's best-known musical families: guitarist-violinist Dorado Schmitt and his two sons, Samson and Amati.
♫ ♫ ♫ ♫
Keyboard phenom Joey Alexander, who has just reached the ripe-old age of 15, when discussing how he developed his musicianship at an early age, is quoted as saying, "My dad would have me listen to records and follow along. I tried to feel like I was playing with that group on the record. That helped me listen and interact with other musicians around me when I did start playing live. So it wasn't just about technique. To learn this music, I had to learn to communicate. That's what jazz is to me."
♫ ♫ ♫ ♫
The second annual Jazz Congress will be held January 7-8, 2019 at Frederick P. Rose Hall, home of Jazz at Lincoln Center, located at Broadway and 60th Street in New York City. The Jazz Congress brings together members of the global jazz community to network as well as to seek ways to expand the audience for the music. The 2018 event drew 800 attendees.
♫ ♫ ♫ ♫
George Benson has written a book—The Art of Jazz Guitar—that should be a must-buy for all guitarists looking to polish their skills on the instrument. Retailing for $19.99, the book includes guitar tab and new transcriptions, along with 10 chapters and over 30 examples for students to follow while watching the corresponding video lessons, which can be accessed via the Hal Leonard MyLibrary website
♫ ♫ ♫ ♫

During its heyday as part of its promotion, the Sacramento Traditional Jazz Festival would designate one of its participating musicians as "Emperor" who would oversee the proceedings during the four-day Memorial Day weekend event. The "Emperor" would lead the opening day parade in Old Sac in an open vehicle, sit on the viewing stand as the rest of the parade passed by, and circulate throughout the various venues, often sitting in with the bands, during the rest of the weekend.
This photo shows a group of the notable "Emperors" from the past. Howard Alden, the youngster of the group, is kneeling in front of George Probert, Chuck Hedges, Jim Galloway, Pat Yankee, Tommy Saunders, Bill Allred, Johnny Varro, and Jake Hanna. A true all-star aggregation.