Jean Kittrell with Don Franz, Terry Waldo, and Dr. Edmond Souchon, aboard the Goldenrod Showboat, St. Louis Missouri during the St. Louis Ragtime Festival. 6/16/1967 Al Rose Collection, Hogan Jazz Archive, Special Collections, Howard-Tilton Memorial Library. Tulane University
Related: Stan Vincent of the NBEJB recalls playing with Jean Kittrell in the late 50's on a tour to Germany.
---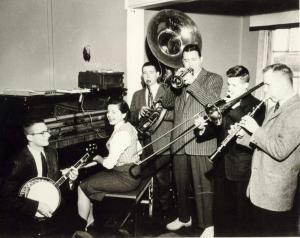 Jean Kittrell, 91, August 14th in Edwardsville Illinois. She was a continuing presence in the midwestern Dixieland revival from 1957 until her retirement in 2008. She played piano in church as a child and majored in music theory at Blue Mountain College but didn't begin her long career in jazz until she was married 30 year old and the jams she and husband, trumpeter Ed Kittrell, would host at their home transitioned into The Chesapeake Bay Jass Band.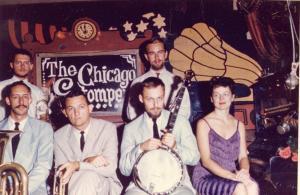 The next year the Kittrells moved to Chicago where they played with the Chicago Stompers, even touring to Germany and the Netherlands for a month. Back home as her husband completed his education she pursued a Master's in Philosophy. By 1967, when she took a position as a composition teacher at Southern Illinois University in Carbondale, she was juggling two young daughters, a jazz career, and directing her church choir. She also recorded a 1967 album of Bessie Smith songs with clarinetist Tony Parenti.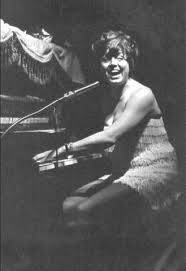 In 2012 she told the Edwardsville Intelligencer that after commuting to St. Louis for Friday and Saturday night concerts, and spending Saturday afternoon grading papers, "I'd drive home sometimes in my fringe! That was quite a time. I'd get home between 2:30 and 3 a.m. on Sunday and then go to church at 10:30 am. to lead choir,". In the early 70's she recorded albums with the Mississippi Mudcats Jazz Band and the Boll Weevil Jass Band.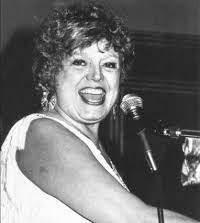 While already teaching for the University, and obviously busy, she completed a PhD in Modern British Literature in 1973. Later the family moved to Edwardsville, outside of St. Louis where she would become a Department Chair at the Edwardsville campus of Southern Illinois University. She also became associated with three different bands that she would lead for the rest of her career; the Jazz Incredibles, the St. Louis Rivermen, and the Old St. Louis Levee Band.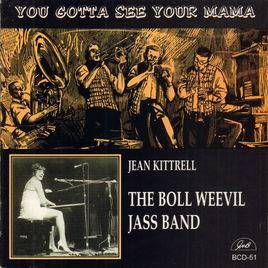 For the next forty years, she took her bands to festivals nationwide and sometimes around the world becoming instantly recognizable for her fringe and her slightly naughty songs and banter. She played with jazz notables and recorded on several respected jazz labels.   Facing health trouble in 2008 she passed off the reins, but she could still occasionally be seen with her old bands.
---
This is what our print edition feels like. If you want good news to read with your morning coffee, order a print subscription. You'll get full online access to our archives, web extras, and our next issue will arrive at your door. Online only access to all of our original material is also available! Support Hot Jazz Journalism- Subscribe
Subscription Options
---
Or get the Print Edition with Online Access. To get the print edition of The Syncopated Times use this Paypal link. After you pay you will be issued a coupon for free online access.