Jeff Barnhart and Joel Schiavone announced that their annual weekend House Party will not take place this year. Since 2012, Jeff and Joel's gem-like event had hosted some of the greatest traditional jazz musicians in the world in an intimate, friendly setting. In recent years, attendees have enjoyed hearing and meeting Paris Washboard, Vince Giordano, Banu Gibson, and Dan Levinson as well as a core group of Connecticut jazzers including Fred Vigorito, Noel Kaletsky, and others.
Those who purchased tickets will receive emails requesting postal mailing addresses. Those who paid by cash or credit card may submit their refund requests to [email protected] or [email protected].
The first House Party was held in February 2012. According to the Jeff and Joel's website, "As our kind of music and musicians evolved from Dixie and traditional music and began to fade in the late 1950s and early 1960s, retreating from clubs and roadhouses, jazz aficionados also retreated into their houses. By bringing together 10-15 of the best musicians these music buffs held a jazz house party: good food, lots of hydration and wonderful music in a small intimate setting. Musicians and audience were face to face for hours as the sweet hot sounds rolled on and on.
"When older musicians began to disappear, festivals rose up to take their place. Sadly, festivals and traditional music are also faltering. The banner has been taken up by younger musicians and a revival of the house party. Jeff Barnhart and Joel Schiavone, two of the leaders of Connecticut Jazz and the Connecticut Jazz Festival, decided to collaborate and Jeff and Joel's House Party was born."
The press release, posted on the home page of jeffandjoelshouseparty.com, reads in part:
"Due to a combination of unforeseen circumstances for which we have no control we must regretfully cancel the November House Party and close an amazing chapter in live jazz music. For nine fantastic events over the past seven years, JJHP, our Branford Connecticut jazz festival, has brought hundreds and hundreds of musicians and fans together over three amazing days. We've made many new friends and renewed old friendships and you are receiving this news because you are among our friends who have showed such great support.
"We are very sad we must end the JJHP. But, we know for sure that all the lives JJHP has touched will continue spreading this joy in never ending circles.
"We'd appreciate as well if you have friends you know are planning to come who might not be on social media or email to spread the word.
"Everything must come to an end, and what will last forever in our hearts, and we hope yours, are the terrific sounds, laughs, food and fun we all shared over these past several years. Thank YOU so much for joining us."
On a somewhat more positive note, an update sent to The Syncopated Times states that a commemorative event is being planned by Joel Schiavone for next year: "The Jeff and Joel's House Party scheduled in Branford, Connecticut, for November 1-3, 2019, has sadly been canceled due to logistic difficulties. More news about future new events will be forthcoming. Joel Schiavone is hard at work creating a fantastic commemorative jazz event for 2020, with a tentative date of Columbus Day Weekend, October 9-11. Watch this paper for details."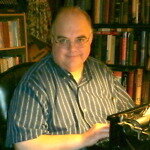 Andy Senior is the Publisher of The Syncopated Times and on occasion he still gets out a Radiola! podcast for our listening pleasure.