Jim Beatty Jazz Band: Old Time Religion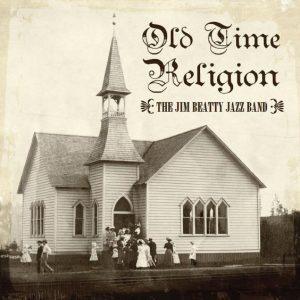 Veteran clarinetist Jim Beatty has had a long and colorful career which he fully outlined in his excellent memoirs Still Ramblin'. A few years ago he had a religious experience which inspired him to record Old Time Religion. Joined by pianist Reece Marshburn, banjoist Dave Johnson, bassist Dave Duthie, drummer Sam Foulger, and sometimes trombonist Pat O'Neal and singer Marianna Thielen, Beatty performs mostly lightly swinging versions of religious themes.
While some of the pieces are taken fairly straight, particularly a medley of two different "Ave Marias," some of the numbers (usually those that include O'Neal) are a bit less inhibited while still being tasteful. Among the melodies caressed by Beatty are "What A Friend We Have In Jesus," "Battle Of Jericho," "Precious Lord Take My Hand" and such New Orleans standbys as "Just A Closer Walk With Thee," "The Old Rugged Cross," and "Just A Little While To Stay Here."
Old Time Religion, which is probably Jim Beatty's final recording (he retired shortly after making the recording in 2013), is both reverent and swinging, a heartfelt statement from a great clarinetist.
Old Time Religion (J.B. Records JB 17, 16 selections, TT = 62:53) www.jimbeattyjazz.com
---
Online Only
For Online Only Access without delivery of the print paper sign up below.
Subscription Options
---
Print Edition
 If you'd like the PRINT EDITION, (12 monthly issues) use the following PayPal link. After your payment is complete you will be allowed to create an online account. You will receive the next mailed copy, usually shipping around the 22nd of the month. See a PDF Sample Here.