Good friend, wise mentor, engaged and storied musicianer, active community leader, strong role model, curator and caretaker of jazz, spirited character: Jim Cullum. This is my experience of Jim.
From all the posts I've read since last night, it's apparent that everyone he touched will say the same. Jim built a scene and nourished a community of jazz lovers; listeners, dancers, musicians of all persuasions. His contributions to our art, through business and band leadership, through stewardship of the traditions and expressions of this music, through his own artistic creativity, are much more than most could achieve, and he did it all with a very personalized gusto – an exuberance, wit, and sarcasm that color the dullest days and lift the heaviest hearts in a call to lighthearted love of life, music, and good company.
He's already and will continue to be dearly missed by so many.
As many could say, Riverwalk Jazz was my first exposure to this great man's music. When able, I tuned in, sat back, and enjoyed wonderful music played by some of the best and kept my ears open for whatever history lesson I could nab.
I arrived in Austin in 1999, somehow not realizing how close San Antonio was and that I could easily be listening to a national treasure live and in person. It took about two years 'til I managed a trip to The Landing. A friend of mine introduced me to Jim; he was kind and welcoming with a few words of encouragement about playing the music.
A handful of years later, he past a gig onto us (The Giant Three). We played NIOSA (5-hour gig, outside that lasted four days straight, playing for vast throngs of not-quite-sober revelers). Jim put us up for a few of those night in his beautiful home, allowing us time to rehearse during the day and explore his fantastic collection of history … and those gorgeous digs. After a few of those gigs, we'd hustle over to The Landing to catch the last set. He wouldn't let us get away with just listening, though.
What a treat to play tunes with an icon … and his band! Never thought that would ever happen!
More time passed and Don Mopsick retired from the band. I was stunned to get a call from Jim asking me to fill those huge shoes. Never thought that would ever happen!
Humbled. Utterly humbled.
Sadly, I couldn't accept the offer. Nevertheless, for a handful of months following, Jim called me often to sub the chair. Jim called and shared conversation with me regularly through that time. During one of those conversations, he gave me a deeply cherished and meaningful compliment. "I dig your playing; you're a great bassist. But I see you and value you as an artist." I had never been called an artist before that day. To be seen as such by a legend has meant a great deal to me; I will never forget that kindness.
If all of this wasn't a deeply prized honor, Jim had both Albanie (along with Doyle and JD) and Erik (along with JD) on the Riverwalk program. Never thought would ever happen!
Getting to know Jim and the musicianers in the band, on stage was truly invigorating, both professionally and personally. Off stage, there was even more entertainment and camaraderie. Jim extended the personal phone calls to personal visits to Austin for music making and general cavorting. I was tickled (and will always be) when Jim started taking gigs with Aunt Ruby's Sweet Jazz Babies.
Apologies, it wasn't Jim; his evil twin, Luigi Spimoni (NOT SpUmoni!), played on those gigs. When Luigi walked through the door, the serious business of fun and celebration commenced with utter disregard for pessimism, irritability, sadness, and fatigue. Spimoni was comic force of nature, unrelenting in the face of negativity, unwavering in his support of joy and happiness.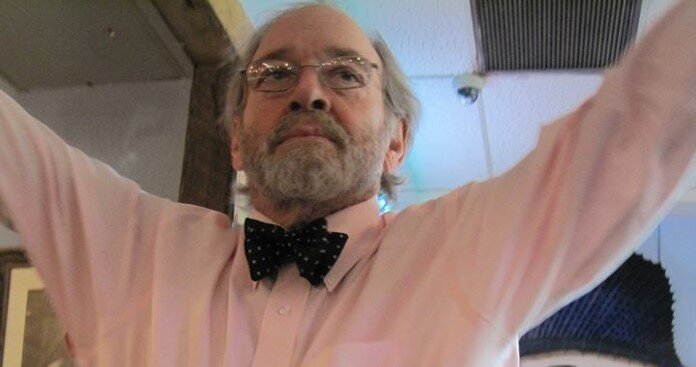 The very first gig Luigi played with ARSJB, he granted us one of the very best memories of on-stage comedy, not to mention completely unexpected surprise antics. The gig was at an end; hard stop at 8:30pm. As Frank Lee Devine was introducing the evening's very special guest baby, expounding on our man's vast achievements (not the least of which: inventor of bowtie pasta), Luigi was rifling through the loose lead sheets in the band's binder. I quietly thought, "Oh no, we can't play anymore. He's gonna be bummed." With true dramatic timing, just before his name jumped from FLD's lips, Luigi walked in front of the music stand (front and center stage, as it were) and prepared to take a glorious curtain call (in an old seafood bar with some questionably interested clientele). "Ladies and gentlemen, LUIGI SPIMONI!" Luigi launched the 20 or so lead sheets he had in each hand straight into the air above his head. As they fell through the air around him, he took numerous and rather audacious bows, bellowing his thanks to adoring fans.
Don't ask me how lucked shined on us that night, but someone was there with a camera. Photos prove it did happen!
Luigi showed up at many gigs after that … those moments never dulled.
Since then, as recently as earlier this year, I would get random texts and phone messages from Luigi. Some of which I couldn't understand because his accent was so thick; others, absolutely hilarious and bizarre. I cannot say how truly entertaining those calls were; nor can I say how much I valued them for their creativity, or how much it meant to me that this friend, mentor, icon, legend, and peer thought of me enough to send them. Never thought that would ever happen!
I am most certainly saddened. There will be no more calls (from Jim or Luigi). There will be no more shared laughter, shared musical moments; there will be no more storytelling and history lessons.