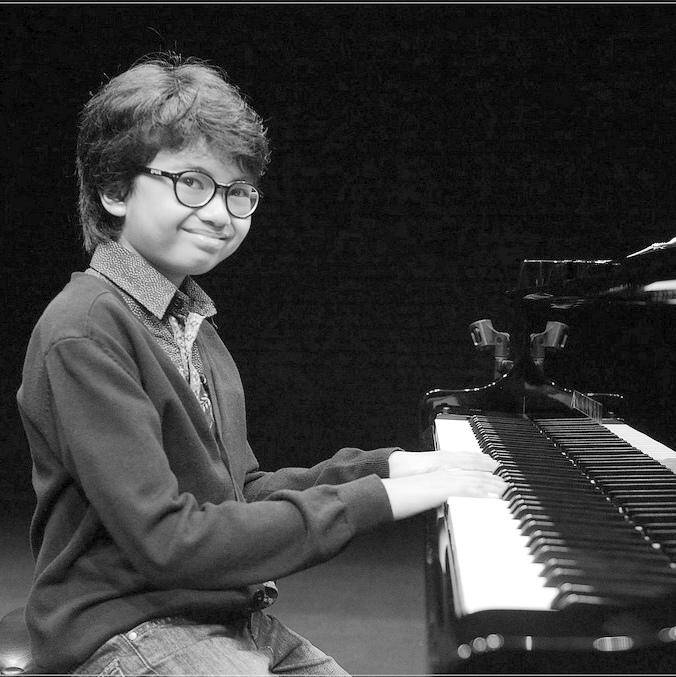 Joey Alexander: Jazz's Newest Sensation
You've heard about this phenom of the keyboard from Indonesia. You've read the lavish praise served up by the pundits of the jazz community and media. And now you see this 13-year-old prodigy saunter onto the stage, clasp his hands and bow politely to the audience. He seats himself at the piano, and the magic begins. His virtuosity and musical sophistication are almost mind-boggling.
In just three years, Joey Alexander has become the hottest ticket on the jazz circuit. Wynton Marsalis, artistic director of Jazz at Lincoln Center, refers to Joey as "my hero," saying, "Joey Alexander is not someone or something you can even explain. We've never had anyone like him in this music, not with that harmonic maturity. I wasn't anywhere near his sophistication at his age, nor has anyone I know ever been. I love everything about his playing—his rhythm, his confidence, his understanding of the music."
Marsalis learned about Alexander after a friend suggested he watch a YouTube video clip of the then-10-year-old playing compositions by Coltrane, Monk, and Chick Corea. He quickly invited him to appear at a JLC gala, marking Joey's United States debut. Positive and enthusiastic reviews followed his performance, particularly for his solo version of Thelonious Monk's "Round Midnight." The New York Times called him an "overnight sensation," and Down Beat magazine wrote: "If the word 'genius' still means anything, it applies to this prodigy."
For one so young, but who plays like a veteran, just consider:
He is the youngest performer ever to be nominated for a Grammy music award;
He's played at the White House, Lincoln Center, NYC Town Hall, and the youngest person to ever take the stage at the Newport Jazz Festival;
His debut album, My Favorite Things, hit #1 on Billboard's Jazz Albums chart;
CBS 60 Minutes ran a 13-minute profile on Joey, and he jammed with NBC Nightly News anchor Lester Holt when he appeared on the Today show;
TIME Magazine ran a feature that referred to him as a "Next Generation Leader" and "Master of the Keys."
According to an edited version of his Wikipedia bio, "Josiah Alexander Sila was born in the city of Denpasar in Bali, Indonesia to parents Denny Sila and Farah Leonora Urbach, who ran an adventure tourism business. His father was an amateur musician, and both parents were jazz fans, particularly the works of Louis Armstrong."
"Joey learned about jazz by listening to classic albums his father gave him. By age 6, he had taught himself to play the piano using a miniature electric keyboard and learning by ear to play compositions such as Monk's 'Well, You Needn't' and other songs from his father's jazz collection. Joey said learning the instrument came naturally for him and considers his ability 'a gift from God.' Alexander considers Monk, John Coltrane, Harry Connick, Jr., Bill Evans, and Herbie Hancock among his main musical influences and also admires Clifford Brown, Miles Davis, Wynton Marsalis, Horace Silver, and McCoy Tyner."
"Due to the unavailability of formal jazz training where he grew up, Alexander began playing in jam sessions with experienced musicians in Bali and Jakarta, where his family moved after disbanding their tourism business so their son could be near Indonesia's top jazz musicians. Alexander played for Herbie Hancock at age eight when the pianist was visiting Jakarta as a UNESCO goodwill ambassador. Hancock told Alexander he believed in him, and Joey later described that as 'the day I decided to dedicate my childhood to jazz.' At age nine, he won the Grand Prix at the 2013 Master-Jam Fest, an all-ages jazz competition in Odessa, Ukraine, which included 43 musicians from 17 nations. Joey and his family moved to New York City in 2014."
Alexander's debut album, My Favorite Things, was released in May of 2015 when he was 11. He arranged all the songs in the album, which included renditions of "Round Midnight," Coltrane's "Giant Steps," and Billy Strayhorn's "Lush Life," plus an original composition called "Ma Blues." Producer George Wein, who is normally reluctant to sign child prodigies, made an exception with Joey and booked him for the 2015 Newport Jazz Festival, where he received standing ovations for his performance. Jazz at Lincoln Center has expressed interest in incorporating him into its educational outreach efforts, hoping to encourage young people to listen to jazz music.
Joey clearly loves and respects his art form. "Jazz is hard work," he says, "and you really have to work at it, but you also should have fun performing." A devout Christian who is homeschooled, his daily routine involves alternating between bible study and three hours of practice on the piano. He considers himself a regular teenager. "I watch movies and play sports—a little tennis, swimming, like a normal kid." Through it all, Joey has remained humble, focused on developing as a player and pursuing his growing interest in composing. He is not comfortable with the constant reference to being a genius or prodigy, saying, "I just want people to dig my music."
---
Online Only
For Online Only Access without delivery of the print paper sign up below.
Subscription Options
---
Print Edition
 If you'd like the PRINT EDITION, (12 monthly issues) use the following PayPal link. After your payment is complete you will be allowed to create an online account. You will receive the next mailed copy, usually shipping around the 22nd of the month. See a PDF Sample Here.