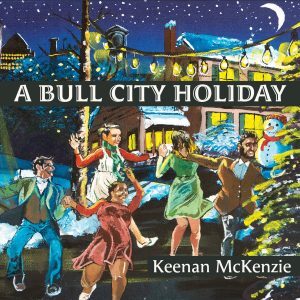 There's something about Christmas that brings out the best in people. That spirit permeates even when you recreate Christmas in August by shuffling most of the North Carolina swing scene through a studio to cut an album of original tunes. It also helps to be the go to guy for new arrangements in a tight and passionate local scene that includes the great Laura Windley of the Mint Julep Jazz Band.
Windley features on this album, of course, but so do nearly thirty names I won't pretend to recognize. Seven vocalists are heard, each perfectly fitting the song.  Keenan McKenzie is an experienced arranger, and enjoys writing with individual musicians in mind. These arrangements of hard swinging small group material capture the Christmas spirit even without the clever and contemporary lyrics to clue you in.
In addition to fresh arrangements for bands of all sizes McKenzie has a real knack for popular song in the best sense. If bands still covered each others material the way they used to some of the tracks from his Forged in Rhythm album would be on their way to becoming new standards. Breaking into the Christmas racket is a little harder, with hundreds of new tunes every December, but at least in Bull City (Durham, NC) these are sure to be favorites for years to come. And like Forged in Rhythm, they'll be DJ'd at swing events around the world. The tunes themselves are so catchy that it would be a shame to keep them on the shelf most of the year, he should workout alternate lyrics for summertime.
Because these 12 original tracks keep the dancers at heart this is also an excellent album to accompany decking the halls, cooking or enjoying hot toddies with friends. It makes all the movements of the holiday season better. As a reed player himself, the instrumentation favors a sax lead with a steady bass, nothing fancy or distracting. Music for making spirits bright.
Christmas and New Year's carry a special meaning in North Carolina where the Asheville based Lindy Focus is readying for it's 18th New Year's spanning event (12/26/19-1/1/20). It's one of the most impressively organized swing gatherings in the world, with full sets dedicated to particular bandleaders performed by some of today's best musicians. "A Charming Winter Town", honors the event by hyping the anticipatory chills that follow Christmas in Caroline.
Romantic themes are dominant. "The Single Tree" bears a message for the unattached young. "Coal For Me" expresses a wish for coal so that "maybe we can spark a fire". "Another Cozy Moment" and "As the Nights Grow Longer" also encourage lovers. "Santa's Cap", and "The Greatest Birthday Party of the Year" both have a party vibe. "You Can't Lock the Chimney", "Snow Day", and "Our Sweet Home" sound like vintage classics. "A Queen's Christmas" shares the engaging history of Christmas trees in Victorian England. Clever and sentimental lyrics abound.
A Bull City Holiday is a remarkable swing album that also happens to be a wonderful addition to the seasonal music canon. Don't be surprised if you're still humming these songs come spring.