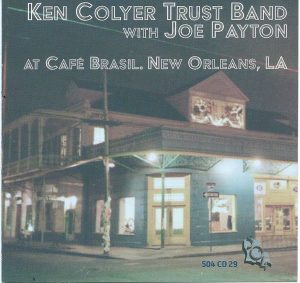 Tom Stagg informs us in the CD booklet, "This session was recorded during the annual Ken Colyer Trust visit to New Orleans and was listed as a 'dance' in the Trust Itinerary. The location chosen was the legendary Café Brasil on Frenchmen and Chartres, an ideal setting for such an occasion." Neither the Trust nor the Café Brasil exists today, the Trust having dissolved not long after accomplishing its mission: to publish the Colyer autobiography When Dreams Are in the Dust. The café was a bar that also served food and featured live jazz as well as other types of music, but following Katrina eventually it closed in 2006, not to reopen.
The New Orleans Trust Band was composed of some of the U.K.'s best musicians and on this recording had local musician Joe Payton as guest on string bass. I was heretofore unfamiliar with Payton, and I did not get much of a chance really to assess or appreciate his playing as, unfortunately, he is so under-recorded here. Stagg informs us he was a "firm and steady bass player with a fine singing voice," so we'll go with that. Certainly his vocals can be heard and he delivers them well. Sadly at the age of just 51 he succumbed to a heart attack some 12 weeks or so after this gig.
Another musician no longer with us is the leader here, Norman Thatcher, who also was felled by a heart attack, his while on vacation in Turkey in 2012. Thatcher was a dyed-in-the-wool New Orleans stylist who could sound uncannily like Ken Colyer, as he does here where there are quite a few Colyer touches—small "Colyeresque" chromatic runs, as, for example, on "Someday Sweetheart", "Love Letters in the Sand", and again on "Bill Bailey"; or fine muted trumpet that can be heard on "Someday Sweetheart" or "Winter Wonderland, and the wonderful muted obbligatos Thatcher plays behind the vocals—"Give Me a Kiss to Build A Dream On" or "I'm Gonna Sit Right Down". His command of dynamics, like Colyer's, is strong, witness the whisper he can descend to on tracks such as "Winter Wonderland", and "Walking with the King", bringing everyone down to his volume level. He was a towering presence on his instrument and is still much missed.
On clarinet, Brian Carrick is his usual ebullient self. His career, too, was almost prematurely ended when he was involved in a very bad automobile accident, which fortunately he survived. His clarinet runs and counterpoint can be heard, but more to the rear than the front, probably due to mike placement. However, his tenor playing is more to the fore, and his solos on that instrument embellish the numbers that feature them, such as "I'll Always Be in Love with You" or "Tulane Swing" (better known as "Washington and Lee Swing"). There is no honking to be heard. Similarly, no squeals or squawks permeate his clarinet solos.
The remaining member of the front line, Dave Vickers on trombone, plays very nice counterpoint to the rest of that line, and although he does not solo often, he can handle such very well as he shows in "On the Sunny Side of the Street" where he also exhibits his facility in all registers. Where appropriate, he can easily provide a slide or a glissando, as he demonstrates on "I'll Always Be in Love with You".
The other two members of the rhythm section, Marc Hurrell on banjo and Malc Murphy on drums, complete this Trust lineup. Hurrell does not solo, but his chording, along with that of the bass, lays a firm ground for the front line to build on. Murphy on drums is one of the best New Orleans style drummers the U.K. has produced, but he is not favored by the mike placement on this engagement, often coming across as a little too pronounced, especially on the bass drum.
All in all, though, this is a very good recording that I can recommend to all lovers of New Orleans style jazz, and especially to those Colyer/Thatcher fans. To me, Thatcher is the star of the show.
(504 Records CD 29). Playing time: 65 mins. 19 secs.
Someday Sweetheart; Give Me a Kiss to Build a Dream On*; Love Letters in the Sand; Bill Bailey Won't You Please Come Home*; Sunny Side of the Street*; I'm Gonna Sit Right Down and Write Myself a Letter*; Winter Wonderland; Margie*; Moose March; When I Grow Too Old to Dream; Beautiful Dreamer; I'll Always Be in Love with You; Panama; Tulane Swing; My Blue Heaven*; Walking with the King
Norman Thatcher, trumpet; Dave Vickers, trombone; Brian Carrick, clarinet, tenor sax; Marc Hurrell, banjo; Joe Payton, string bass, vocal*; Malc Murphy, drums
Recorded at Café Brasil, New Orleans, LA, on April 15, 1996.