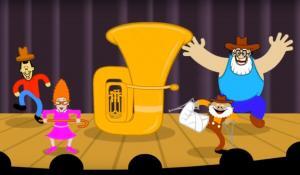 Jim Syoen, of the Assunto Dukes, has a mission beyond merely playing jazz for seasoned fans. A few years ago he created Mister Tuba's Funtime Band, a TV show and musical DVD series that introduces kindergarten-aged children to all the musical instruments, using Traditional New Orleans Jazz.
"I shot the pilot about four years ago. For the original pilot, I used amateur animators, and an amateur puppeteer. These elements will improve dramatically when Mister Tuba goes into production."
Jim received complimentary feedback from New Orleans PBS affiliate WLAE-TV; Greg Lambousy at the New Orleans Jazz Museum has offered support as well.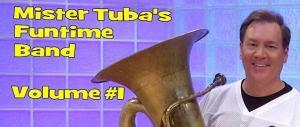 "The music we feature on the show are all Traditional New Orleans Jazz standards that are in the public domain, re-written with child friendly lyrics. I plan to re-record much of the material, using the Assunto Dukes as the 'house' band."
Jim says that his primary obstacle is the budget. He has a 501(c)(3) established, and is working on securing grants. Beyond that, he is open to suggestions as to how to move his project forward.
Jim knows that children have a natural affinity for trad jazz. "My father Fran always told the story that I was a colicky baby, and he used to march me around the house to The Best of The Dukes of Dixieland, Volumes One and Two." Fifteen years later, when Jim was tubist in the high school marching band, he discovered that bandmates had a similar interest in Dixie, so they got together and practiced using Hal Leonard charts.
"The charts were as exactly corny as you'd imagine…but we were very enthusiastic, and actually got a few gigs. One of them a big family reunion. After two songs, all of the kids under eight formed a line and started marching to the music. The parade must have been 20 kids long. It was at that point I knew I wanted to try and introduce this music to young people, as the 'feel' of our music is infectious."
Jim Syoen has a Mister Tuba's Funtime Band Facebook page. Write Jim at [email protected].