It was in March this year when we first began thinking about a virtual festival. By then we could clearly no longer meet in person, but still had a monthly Basin Street Regular concert to schedule. In general we have around 200 people at these last-Sunday-of-the-month sessions mostly for our regular Regulars. Our goal is to break even. It also provides a regular place for seniors to dance, get out, or mingle with friends. So what do we do without live events? This was our predicament.
I have some experience implementing technology at Hughes Aircraft Company (one year I saved the company over $600k applying my Master's degree in Communication Technology from USC Annenberg), I knew that there was a feasible technical solution. Current technology made this possible. I suggested we try a virtual show… a livestream event. Rhonda had also worked at Boeing, so she got my drift & took it from there: Not only was this possible, it was doable.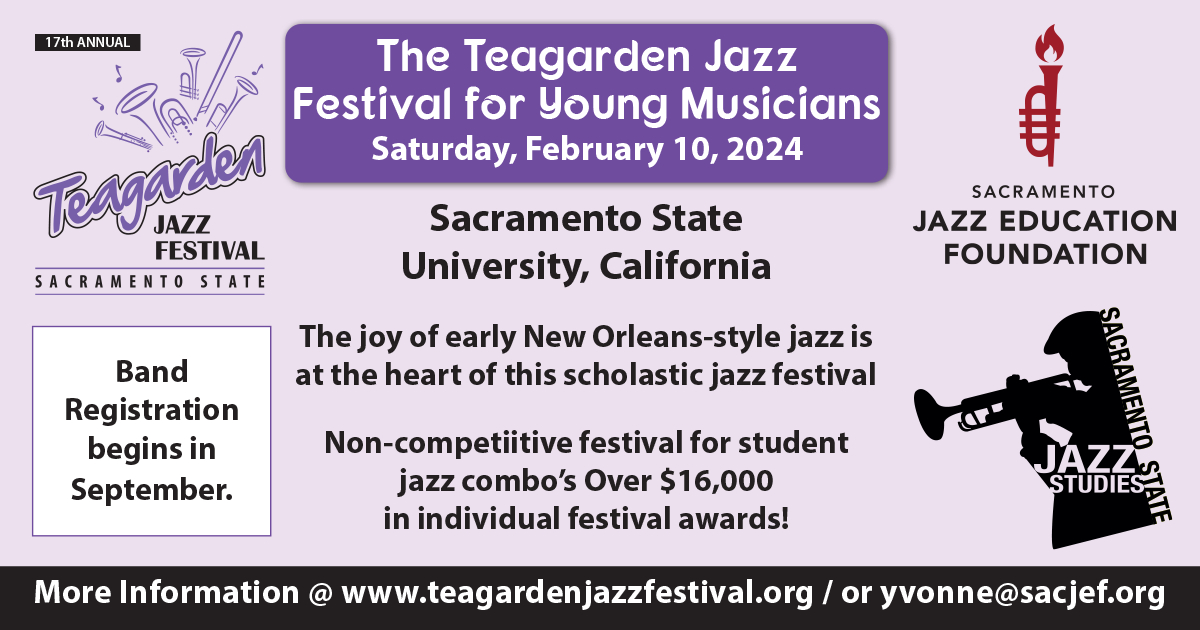 This was not to say it was not difficult, especially in the beginning. Our first virtual event was with Carl Sonny Leyland, who actually broke some keys because he was playing so hard. Luckily Rhonda had a quick solution. In the end, this event surpassed all our expectations based on both comments and views; we got more than twice the people of our in-person events.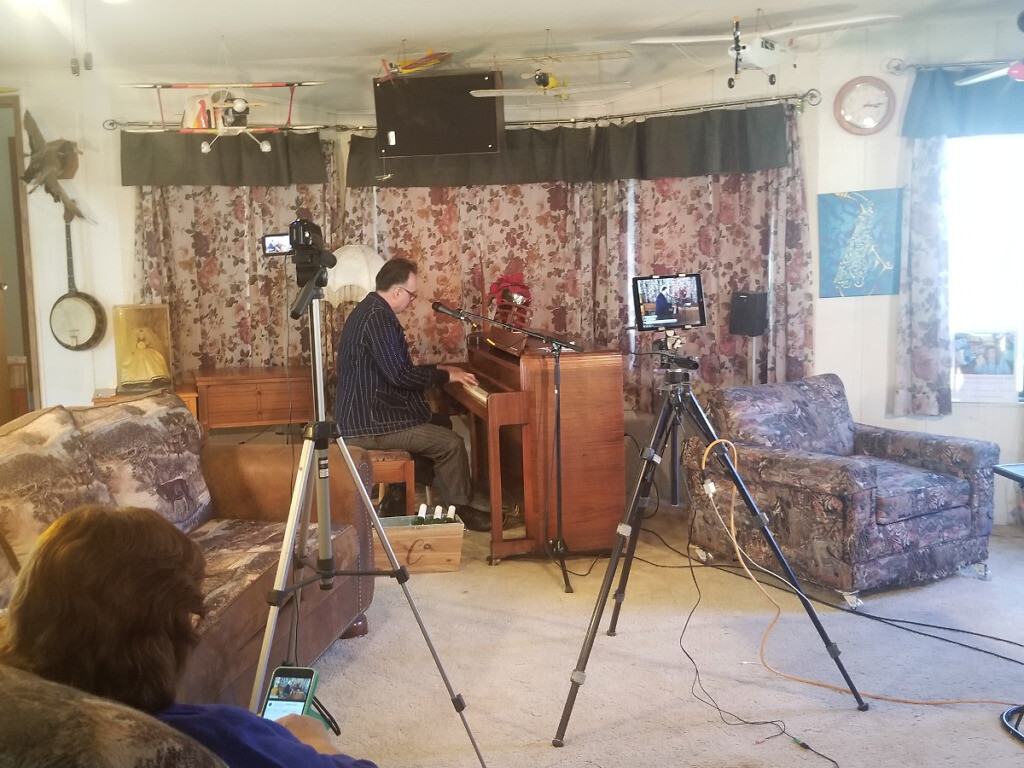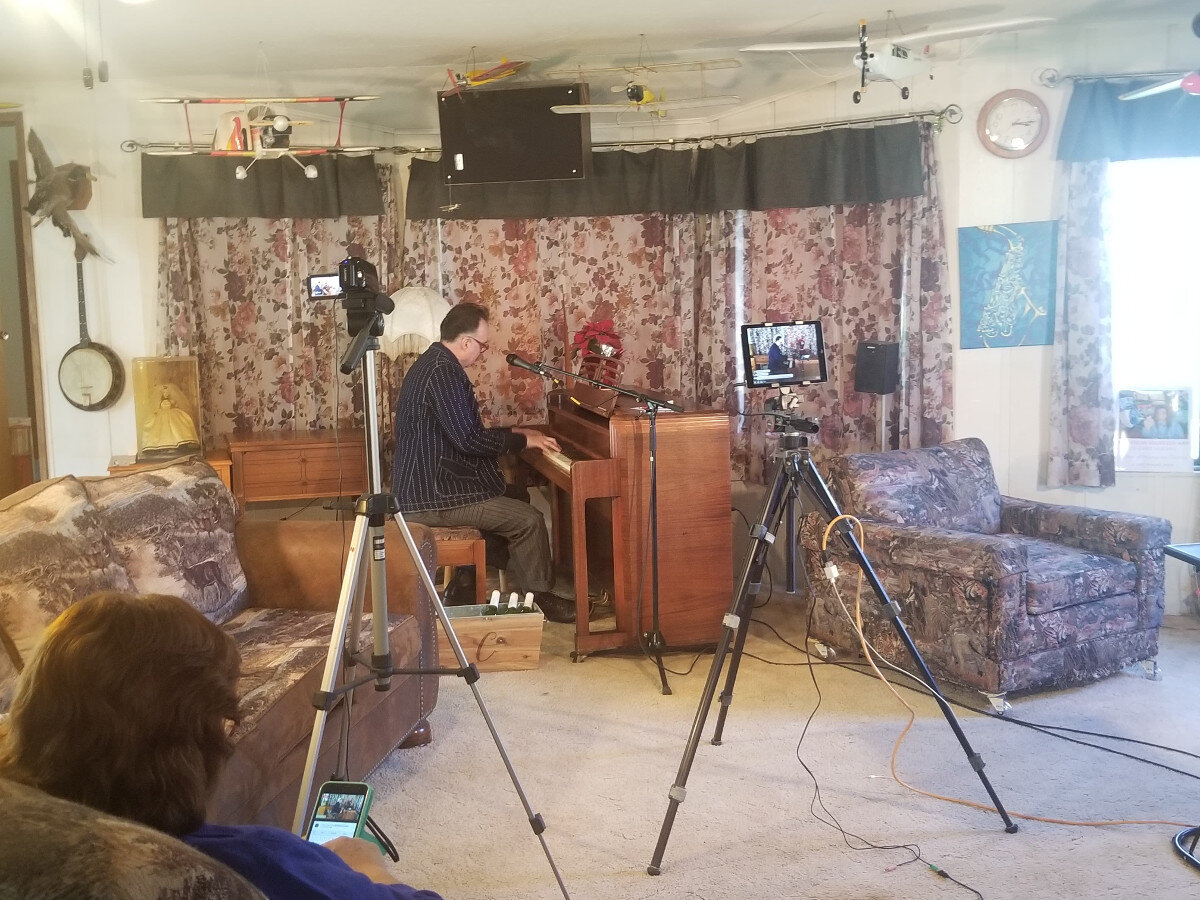 It seems that people who couldn't physically be there because of a physical ailment, long distance, or a money dilemma, could now watch our monthly show for free (donate if u want). We probably couldn't have had a better first host, so that helped ease the burden. It was good to have a one-person act to start. For those who have seen it, it was a great show, virtual or otherwise. I thoroughly enjoyed it. Carl Sonny Leyland live. That works. We were also delighted at the surprise techies amidst our crew. Even 91-year-old Hugh Robinson got online. Heck, in the end we reached twice our regular audience!
As time went on, the videos improved and Rhonda began enlisting Jeff Cardinal and others, ultimately working with Valerie & Simon Mercado & their virtual camera crew from Noble Productions. Lessons learned became best practices (the Hughes Aircraft way). The videos & audios became higher quality (e.g., better lighting, less background noise). Virtual payment systems (such as PayPal) were utilized for tips & donations….building on our previous on-line festival ticket sales.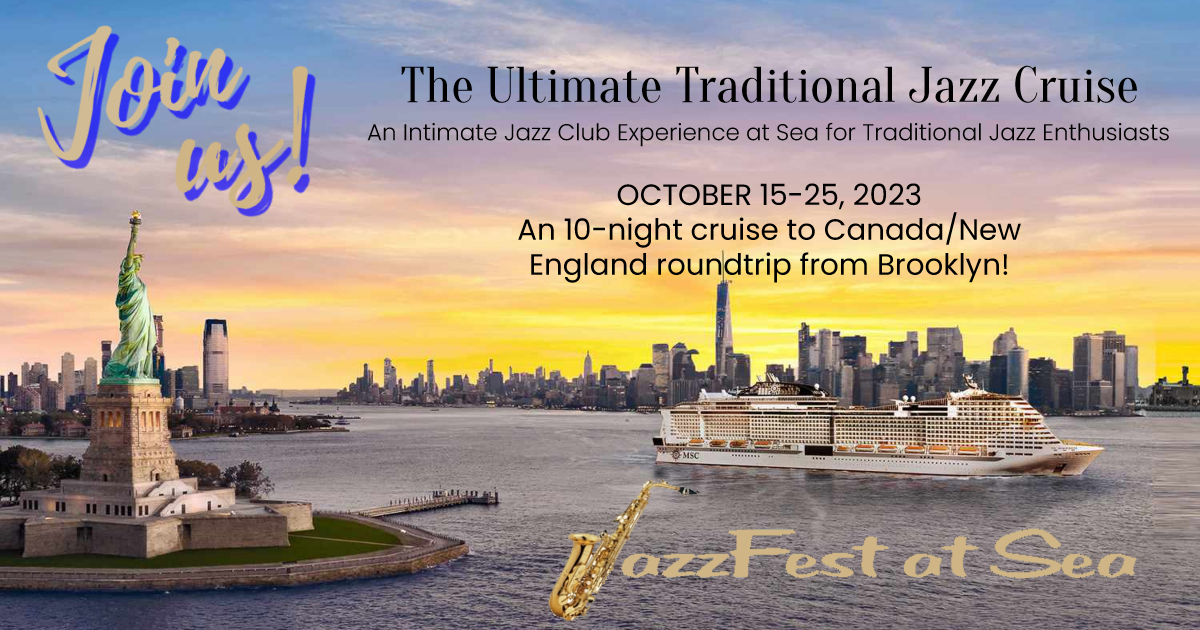 As we approached Jubilee D-Day, it became apparent that we could not hold a live festival. So we did what we could & Rhonda contacted all of our festival bands to see who could participate. Some could and some could not. Without Rhonda this would not have happened. Shonda Croly also helped a great deal on cameras, social media, setup, etc. The techie guidance Shonda provided was invaluable: She mastered the idiosyncrasies of a completely new platform. BTW: This deserves much kudos…I don't think a lot of people could have done what Shonda did, kinda like living without a net because all of this was so new. Thank her when you see her.
The platform itself became a source of wonderment. We now could broadcast live music…if you had an internet connection. Think of the possibilities! Technically speaking, we could broadcast our events to Northern California, Southern California, Idaho, Vermont, even Norway! That would be cool. Maybe we're not as old as the young whippersnappers think. Do they livestream their events?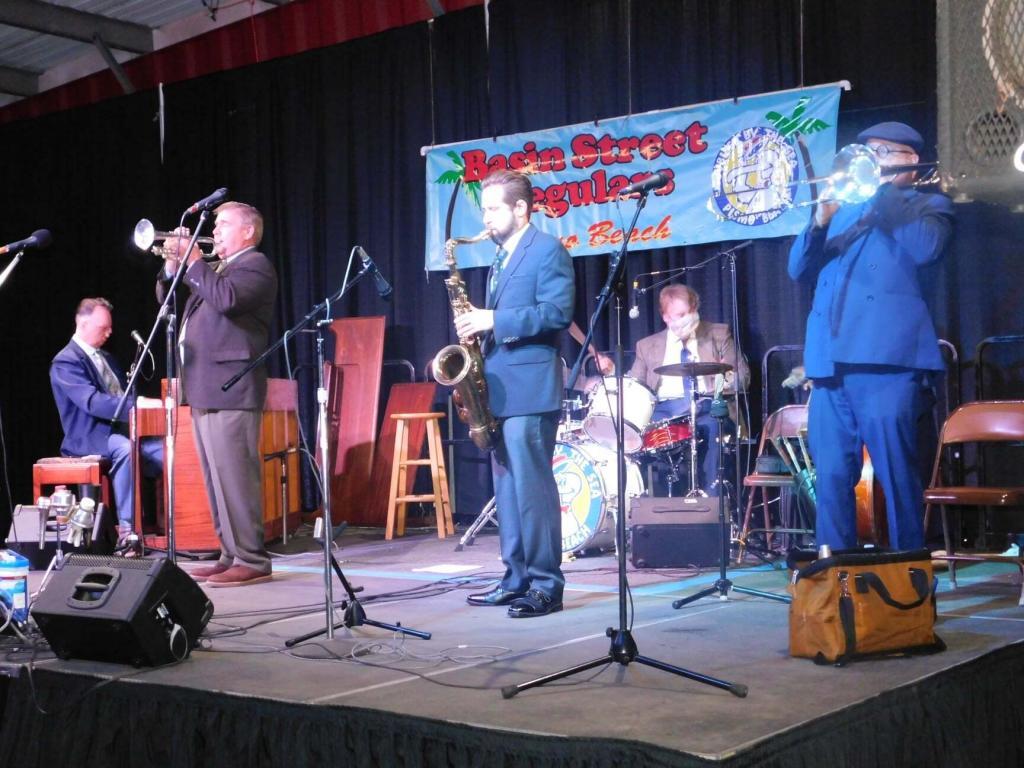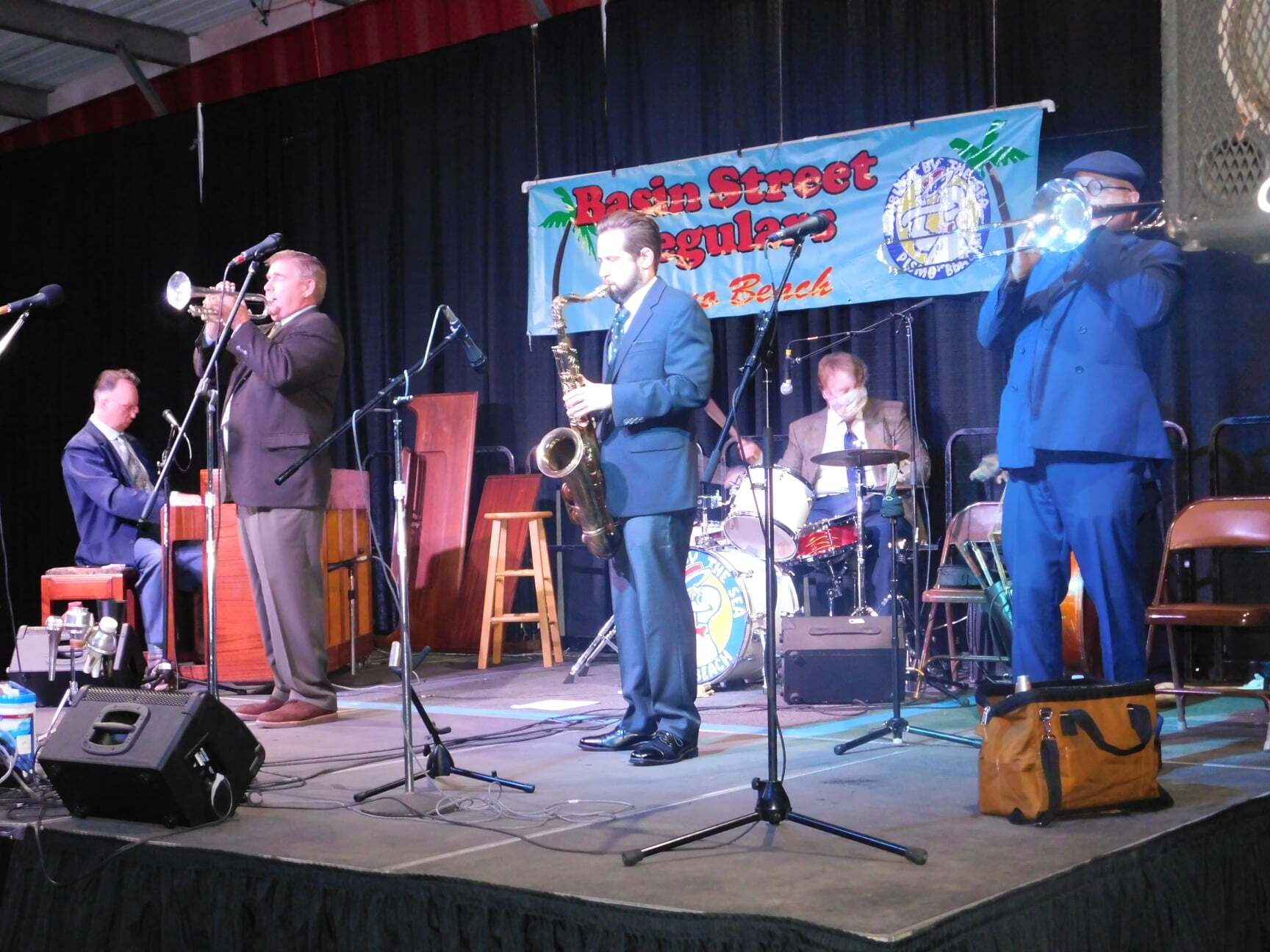 Then we let up our publicity people go to work on our existing social media ad sources, such as Facebook, YouTube, & The Syncopated Times (online edition). Linda Shorb tells the story of how the Syncopated Times had a live link from their site. Hundreds of people clicked over from their site to watch our free live music. This is like a target audience dream come true! Linda had already established our link to existing social media through years of work. She worked hard to gain a following & now it was paying in spades. We were lucky to have an existing social media presence so that when we went virtual, we had our outlets in order. So thank Linda as well, her persistence paid off, as our digital presence allowed us to reach people we had never reached before (e.g., Facebook Shares: We love it when people share).
In the end we know how to run a virtual festival (at least Rhonda & Shonda) and will do better the next time. The key take away is that we reached over 10 times our audience from last year. People from all over the world got to see our little old Jubilee for free, yes even people from Norway (apparently big trad jazz fans…who knew?). Donations paid for bands who could not attend. So everyone seemingly won here.
Holding this event also helped clarify what we would do when we do hold an in-person event, such as fewer venues & one livestream. We have great social media numbers that will interest potential grant, advertising, & corporate partners. This year we also saved volunteers so many hours, while still delivering a good show! We also have so many new fans out there! We hope to keep you coming back for more by delivering even better shows. Rhonda definitely has some great positive experiences running virtual festivals. So stay tuned there will certainly be more to come.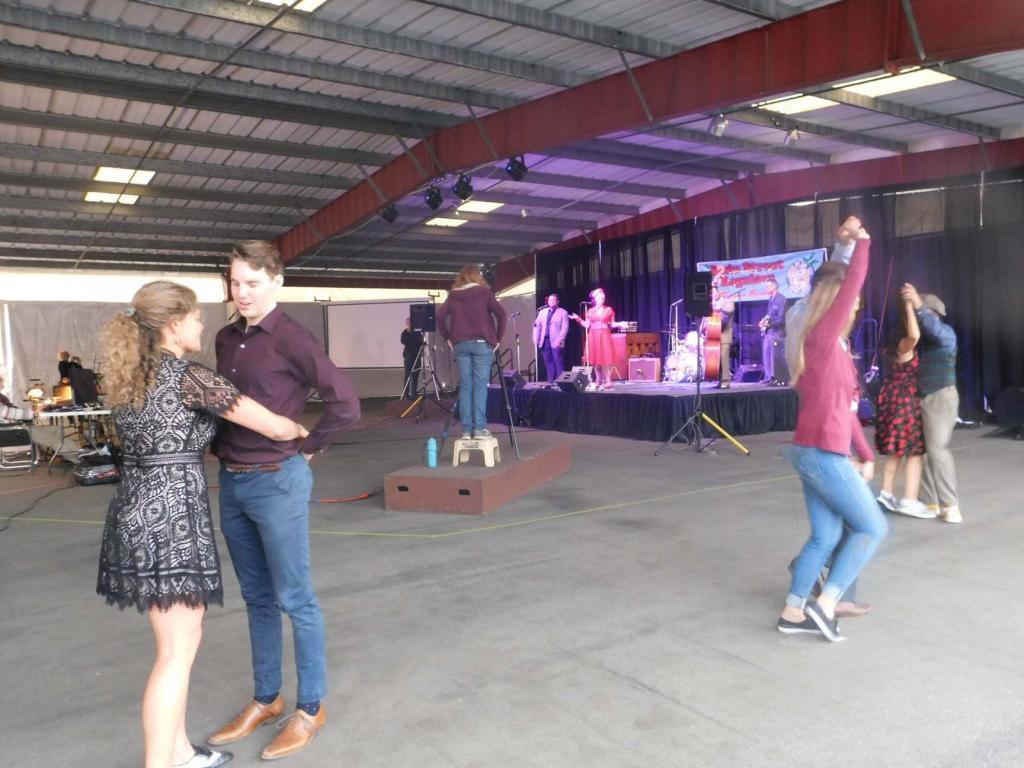 The streak continues! Festival #44 was a tough one, but we came through with flying colors! Thank you to all that made this possible, it was a team effort…led by Rhonda. In closing, I can't help but think of our co-founder (& Internet pioneer), K.O. Eckland. He would have certainly been proud. Laissez les bontemps streamer.