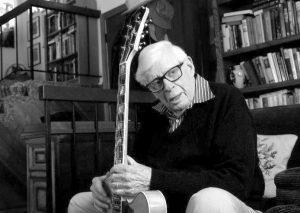 Guitarist and fellow-Mississippian Mundell Lowe died on December 2nd, 2017 at age 95.
My encounters with Mundell were brief but meaningful and I'd like to put these on record. Mundell, born in 1922, is nine years my senior. We grew up about 25 miles from each other but didn't cross paths until much later. I saw him at a jazz festival in Mobile in the mid-'80s. Since Mundell had Mississippi and South Alabama relatives, he would visit the area when he had the opportunity.
The Jazz Society of Pensacola invited him one summer evening when he was in the area. He had played the W. C. Handy festival in Florence, Alabama. Pensacola's guitarist Lloyd Ellis had just retired from 14 years with New Orleans clarinetist Pete Fountain. We had duo-guitars of Mundell Lowe and Lloyd Ellis with accompaniment by our own Pensacola bassist Tim Jackson. It was a delightful and exciting evening watching and listening to these two masters of the guitar.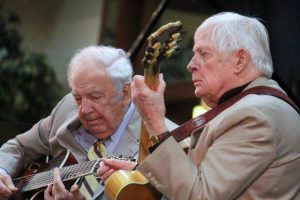 A year or so later, I had occasion to call Mundell at his home in San Diego for advice regarding do's and don'ts regarding jazz festivals. He was polite and gracious, as always. I got the information I needed and he added a gratuitous anecdote.
The advice was: always read the musician contract carefully and strike out any riders which were in appropriate. He gave the example that pianist Oscar Peterson had added a rider which said that he would not have to play if the schedule ran fifteen or more minutes behind schedule. And, additionally, he had a Cadillac automobile and driver available to him at all times during the festival. Since the contract was approved with the rider intact, this was a very expensive drain on the festival.
At a later point, I picked up a book by Betty Bennett, Mundell's longtime wife, entitled Ladies Who Sing With The Band. Mundy, Betty, and I had the opportunity to talk about this by phone. It was remarkable that Betty had a brief marriage to Andre Previn. Parting was amicable and there were no children. Also, later Mundell, pianist-composer Previn, and bassist Ray Brown made a number of recordings together. There was also a TV segment where the group taught opera singer Kiri Te Kanawa to sing jazz—more or less.
More recently, Jazz Pensacola had opportunity to have jazz guitarist Gene Bertoncini in for an artist-in-residence program. Gene told us that his major jazz mentors had been Mundell Lowe, Johnny Smith, and Chuck Wayne. What an inspiring trio!
Good wishes, Mundy. I suspect the celestial choir could use a great guitarist.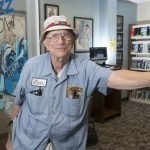 Dr. F. Norman Vickers is a founder of the Jazz Society of Pensacola/Pensacola Jazzfest and a charter member of the Jazz Journalists Association.