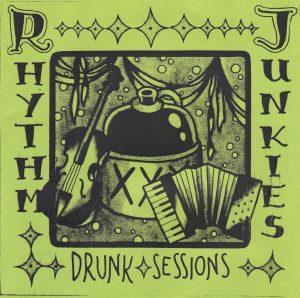 Stretching to eleven members and having survived for over a decade Lithuania's Rhythm Junkies are as much a jazz collective as a traditional band. Think of Baby Soda and the Loose Marbles in the United States. They consider themselves a "Street Swing Ensemble" and originally formed to provide the local Lindy Hop community music to dance to that wasn't coming from speakers. While they still enjoy busking in the fresh air, long winters, swing events, and a growing reputation now find them frequently on stage. They've even guested in videos with European pop bands to add some jazz flavor to their tracks and videos.
Their first album in eight years, Drunk Sessions, is a testament to the commitment they have to each other. Despite targeting swingers their sound is traditional ensemble jazz: tuba, banjo, washboard even kazoo. Tracks featuring violin and accordion lend an unavoidable European flavor but the guitar is kept a rhythm instrument. Milda Stasaitytė is a rare treat on vocals singing in an unamplified Sophie Tucker style that gives her tracks an acoustically-recorded quality. The male vocals are joyful, and usually done as an accent chorus, but where Mindaugas Bikauskas leads he is the better of many men fronting trad bands in the US.
"I've found a new baby" is given an instrumental go at a tempo that allows the instruments to speak for themselves. Actually, no less than four titles are '20s standards informing us about the singers "baby," and though you've heard them before the band seems to go out of their way to instrumentalize them and jam to the point you forget how familiar they are. Track lengths often approach five minutes. One soloist is even unafraid to hop momentarily into "The Chicken Dance." They bring an early jazz inflection to some swing standards. I was very impressed with their takes on "Dinah" and "Digga Digga Doo." With its campfire gypsy flavoring, "Satan, Your Kingdom Must Come Down," a song that seems to have been a standard of the band for many years, was my album favorite.
This review was part of a column in our August 2018 issue.