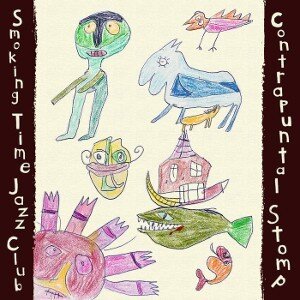 As I noted in my review of their last album, Take Your Time And Fly, The Smoking Time Jazz Club are a hardworking New Orleans band that has retained a tight lineup in a town where most musicians are freelancers and many bands are simply called up to order under the leader's name.Their loyalty to each other pays off in their long-running weekly gigs at The Maison and The Spotted Cat. And the easy familiarity from all that gigging has dividends in the nine albums they have released in as many years.
They took the time to get everything right on their latest release, Contrapuntal Stomp. The album kicks off with some crowd-pleasingly jumpy numbers but I prefer the band when they get into a more nuanced and bluesy mode. If "Si Tu Vois Ma Mere" is more my speed than "Snake Hip Dance" it may be that I'm mellowing out as the big 4-0 looms, your mileage will vary.
Band leader Sarah Peterson was already a fantastic jazz singer but she has developed even further in recent years. She pays tribute to the inflections of 20s jazz originators while bringing something uniquely her own. "Everything I've Got Belongs to You" and "My Baby", are album highlights in her style. The band makes excellent work out of the Dorsey Brothers' "Chasing Shadows" with another fine Peterson vocal.
"Trombone Slide", and its reprise at the end of the album highlight the creativity the band brings to instrumental numbers. Bud Freeman's "The Eel" gets a super hot instrumental take giving the band members each a turn to shine. The band is, Russell Ramirez – trombone, Joe Goldberg – clarinet, saxophone, piano, John Joyce – upright bass, Mike Voelker – drums, Jack Pritchett – trumpet, and Brett Gardner – guitar, banjo.
They exude a respect for the tradition in fine arrangements of Armstrong classics including "Perdido Street Blues" and "You Made Me Love You When I Saw You Cry." On their website the band has something like a mission statement, "When we play the greats… It's because the contributions and insights they made to jazz are relevant right now. We aim to bring that music and those great musical ideas into the future."
The Smoking Time Jazz Club is everything a casual visitor to the city would hope to hear in a New Orleans bar, and they are true artists in the style to please the connoisseur. When you're in town bring your "party" around to one of their gigs, and show them what this hot jazz thing is really about.