The Jazz Education Award (JEA) was created in 2012 by the Sacramento Traditional Jazz Society (STJS) Jazz Education committee with financial support from the STJS Foundation. The award honors Sacramento area jazz musicians and music educators who have a long, consistent history of providing and supporting traditional jazz education.
Sacramento State University Jazz Studies director and Trad Jazz Youth Band Festival (TJYBF) director Dr. Steve Roach, presented this award during the evening Showcase of the TJYBF (a JEN & CAJ school festival partner). In addition to the award plaque, the recipient also received a $500 cash grant from the STJS Foundation.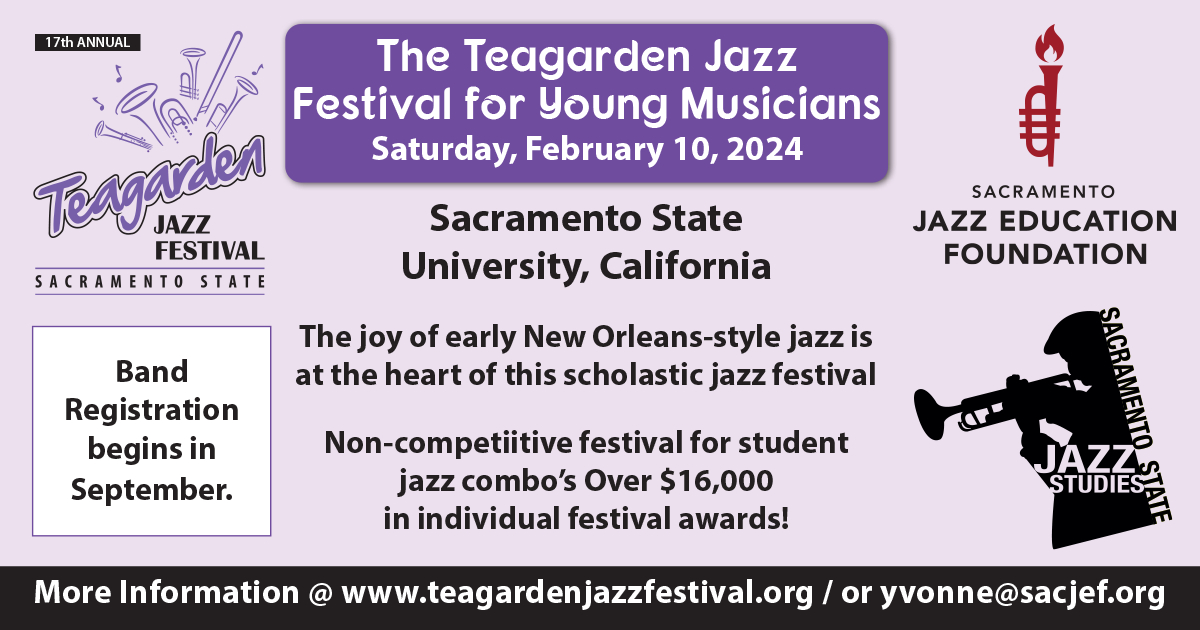 Previous award recipients include inaugural recipient Celia Cottle, private instructor and owner of J Street Studios in Davis, CA (2012) and River City High School band director Felicia Weatherly in West Sacramento, CA (2014). 2017 JEA recipient Craig Faniani taught music for more than 25 years in the San Juan Unified School District (SJUSD), mostly leading the award-winning jazz ensembles at Rio Americano High School.
Band director Josh Murray credits Faniani as the "architect" of the current Rio band program. Faniani's long list of accolades include SJUSD and Sacramento County Teacher of the Year; "Music of the Heart" Award; Outstanding Administrator Award by the CMEA (CA Music Education Association) and many other honors for making a strong contribution to music education.
Faniani's top high school jazz ensemble, the Rio AM Jazz Band, won the Monterey Jazz Festival's Next Generation Jazz Festival high school competition 7 times. The band also won multiple 1st place and Sweepstakes at the Reno International Jazz Festival, Folsom Jazz Festival; was a 3-time finalist at the Jazz at Lincoln Center Essentially Ellington Festival; and countless other accomplishments.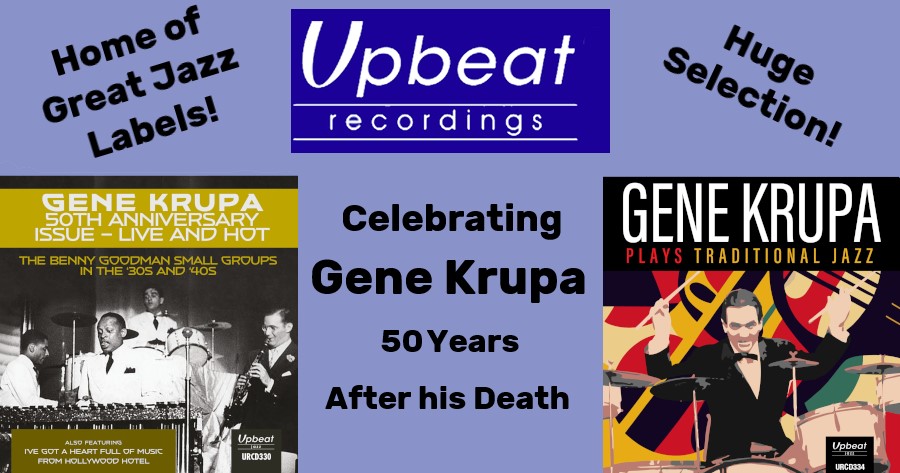 In his most recent administrative position in the school district office before retirement in June 2016, Faniani supervised and supported the visual and performing arts while working to expand offerings in the district.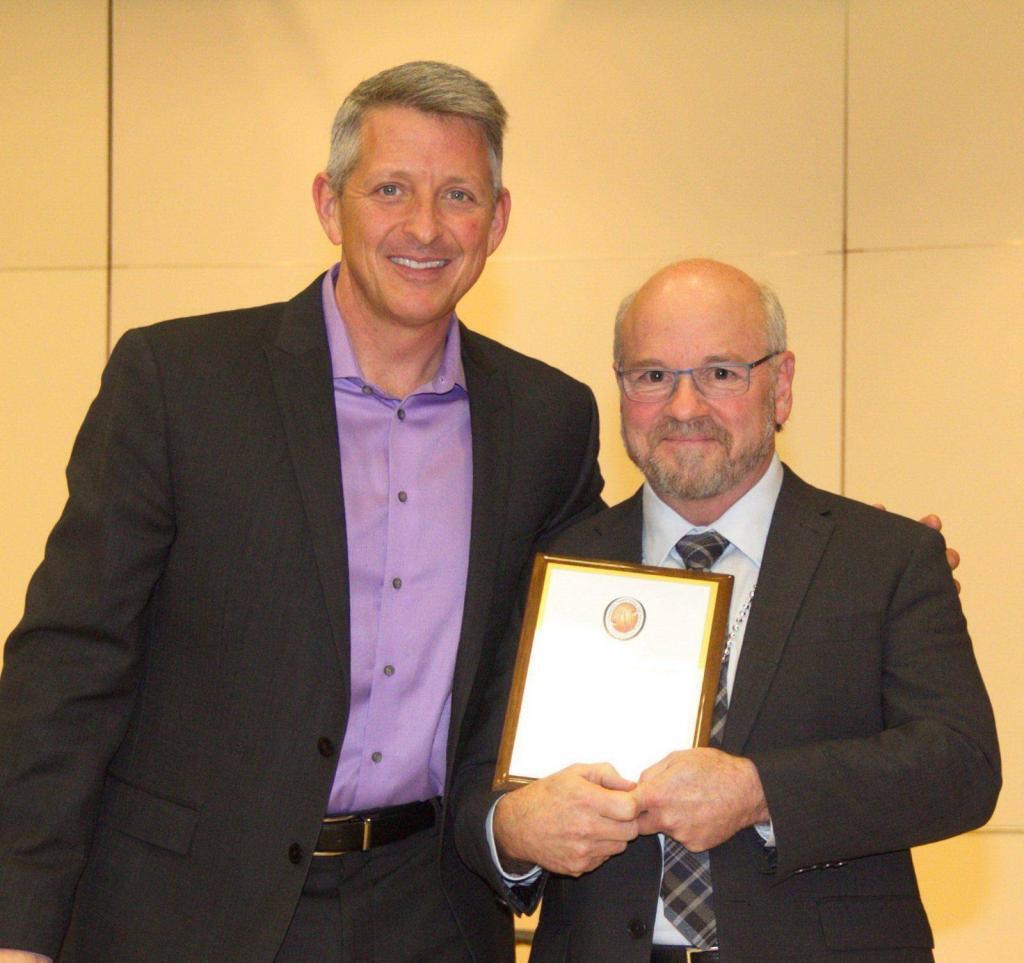 For example, since the 2014-2015 school year, the choir programs increased by 30%. As the VAPA coordinator, he kept music and the arts afloat during the recent recession in one of the only school districts not to cut Arts funding.
Since the inaugural TJYBF in 2006, Faniani has presented and organized jazz workshops, in-service education and clinics as part of the Trad Jazz Project, a joint program with the STJS in the San Juan schools. Thanks to mentoring and support from Faniani, many of these teachers now include traditional jazz as part of their band curriculum.
The onstage presentation of the Jazz Education Award and standing ovation from a packed concert hall was a big surprise for the newly retired VAPA (Visual and Performing arts) curriculum coordinator and past music director of the Rio Americano High School band program. TJYBF clinician Craig Faniani had just finished a long festival day conducting lead-sheet clinics, and was about to depart for an early Valentines Day gig that evening.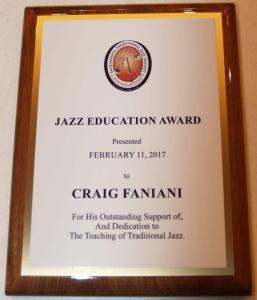 The following morning Faniani humbly wrote, "…It was a big day for all of us and after working with 10 bands, standing up there with Steve, and then hitting the road to the Bacchus House gig, I was so pumped and exhilarated I could barely sleep—too much adrenaline coursing through.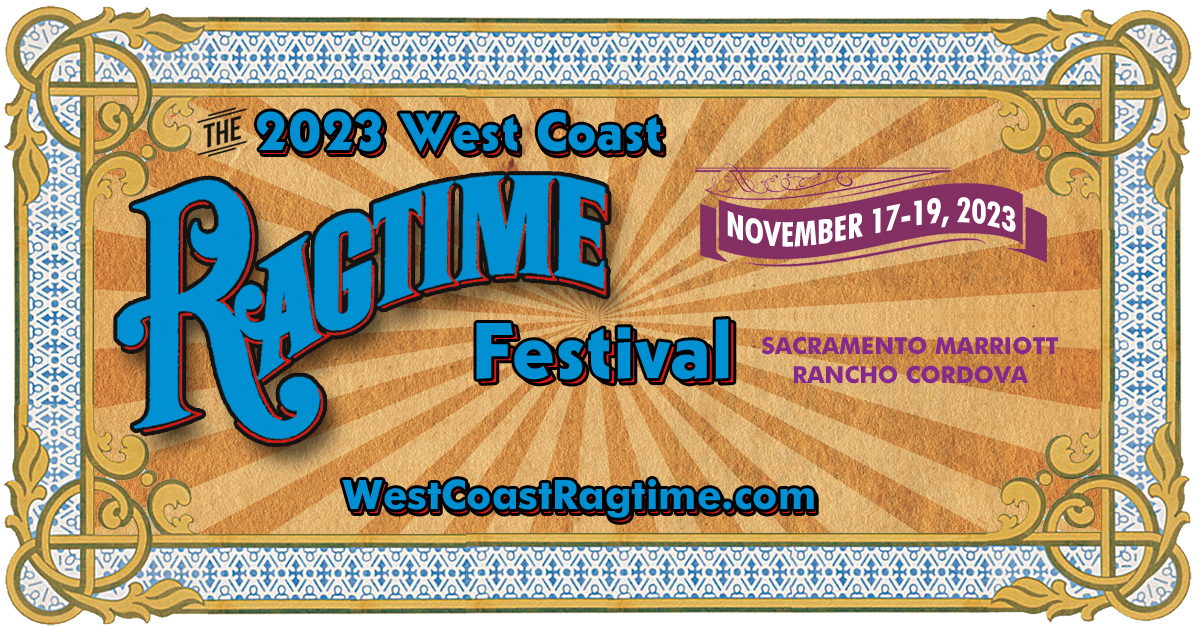 I woke up today feeling so much gratitude and thanks that we can all be involved in such worthy work. The spirit inherent at yesterday's festival was testimony that we are making a tremendous difference in the lives of our students, families and even communities. Thank you again for allowing me to be part of it. I hold this honor very dear to my heart and will never forget the love in the room."
Congratulations to our 2017 recipient of the Jazz Education Award, Craig Faniani.