Famed Harlem Ballroom to Throw Open its (Digital) Doors Once More
In May of 1937, around 4,000 swing fans crowded a ballroom to see two jazz giants trade musical blows. Another 5,000 gathered outside, as the bands of Benny Goodman and Chick Webb dueled on the venue's famous double bandstand.
That venue was the Savoy—cradle of rising stars like Ella Fitzgerald and Billie Holiday, crucible of the flying Charleston, Lindy Hop, and jive. For three short decades it brought black and white musicians, singers and dancers together betwixt its crystal chandeliers and mahogany floorboards.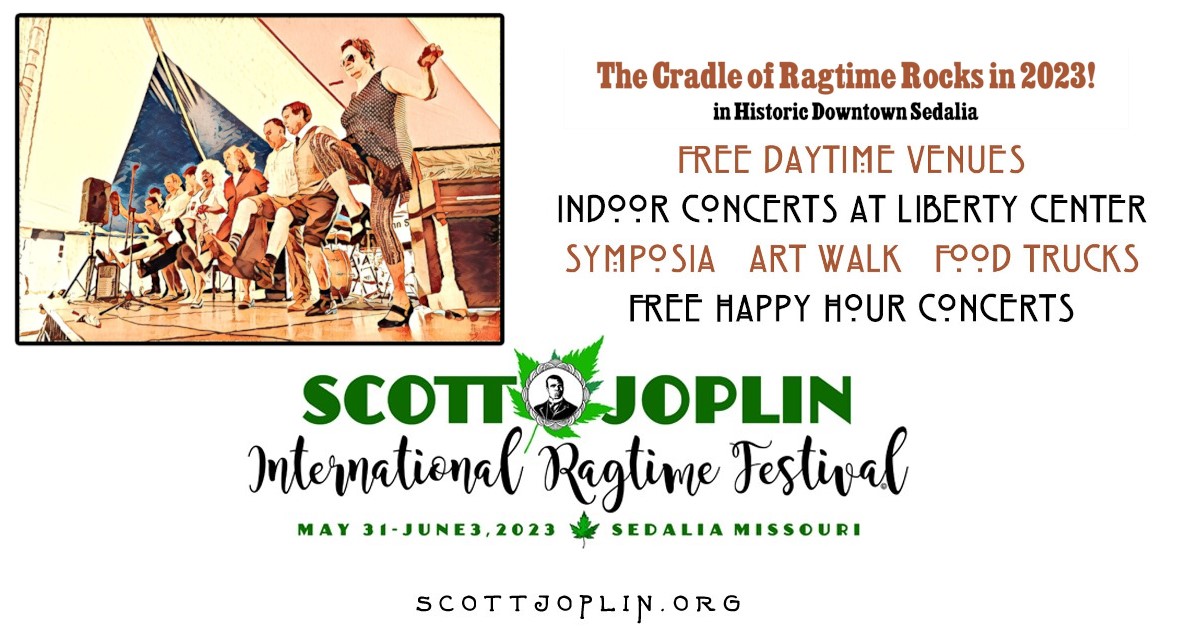 Demolished in 1959, it has become Babylon to swing fans—a culture-crossing high water mark now long gone, which many would love to have experienced. Thanks to an ambitious virtual reality project, they could soon have the chance.
Welcome to the Savoy is rebuilding the ballroom digitally, reopening its doors to new generations of jazz-lovers. French CGI experts Novelab have already recreated a bare interior, on which digital decorators will paint pixel-perfect decor.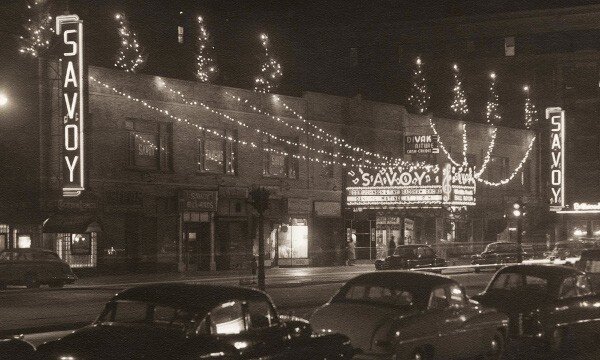 The virtual venue will invite guests through a host building's real doors, interacting with live bouncers and cloakroom attendants, before donning a VR headset and stepping into the animated ballroom. There they will mingle with computer characters and real actors—digitized live using Hollywood motion capture technology—playing some very famous names.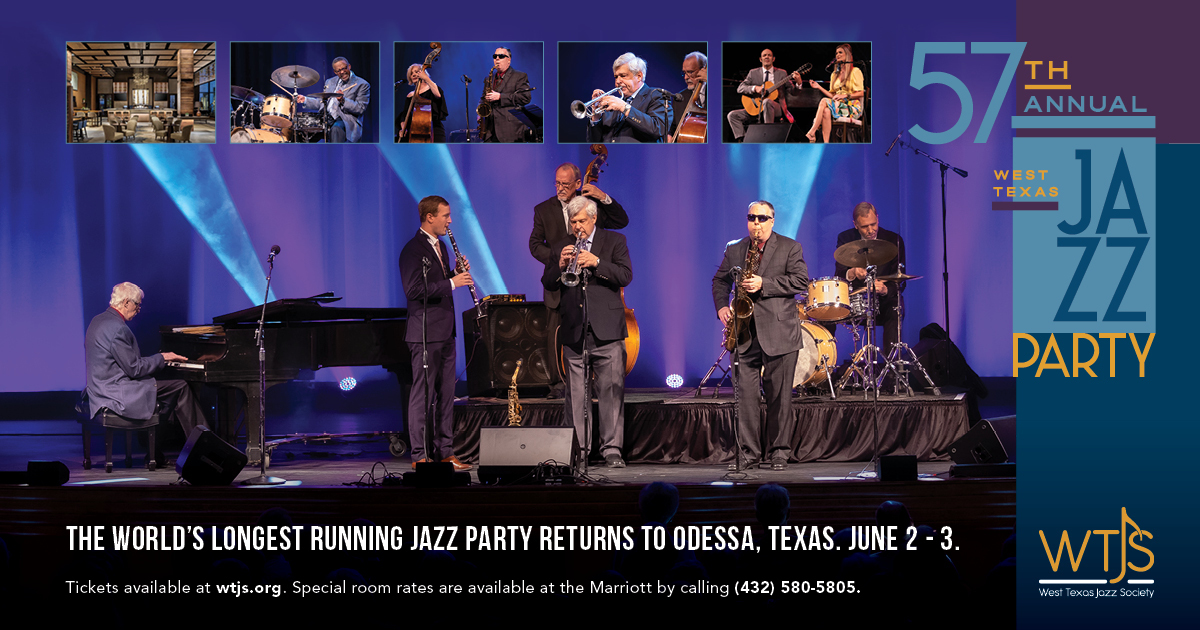 Landia Egal founded Tiny Planets, which will supply these actors. The French firm creates immersive theatre and cinema experiences—past projects include food-based play Umami, selected by the 2018 Venice Biennale. Swing dancer Landia took up Lindy Hop in London two years ago. "A friend mentioned that they were going and I went along," she said. "That's how I met [swing dance sensation and project historian] Sharon Davis, who told me all about the Savoy."
The following week, Landia was in New York City for the Tribeca Film Festival. She visited Harlem to see this long-gone dance Mecca, and was "disappointed" by what little remained. So she called Novelab founder Amaury La Burthe, who agreed to help resurrect the Savoy. Landia approached Sharon after class one night and a dream team was formed.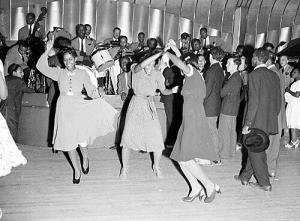 Australian-born Sharon directs the European Swing Dance Championships and has taken gold at the International Lindy Hop Championships, Ultimate Lindy Hop Showdown, National Jitterbug Championships, and Canadian Swing Championships.
In a recent project promotional video, she said: "My generation learned to dance from the legends of the Savoy, like the late Norma Miller and Frankie Manning. To us it is a kind of magical, mythical place. If you asked any swing dancer in the world if they could go back in time for just one night, where would they go, they would say the Savoy. So we're creating a time machine."
Sharon assembled documents and photographs of the long-demolished ballroom for its digital builders—but no architectural blueprints surfaced, so the team could not even be sure of its size. Anecdotes of dance floor dimensions vary, exaggerated by excitable swing cats as their nightspot drifted into the murky realms of memory. Undeterred, Sharon worked out the building's dimensions using not-to-scale floor plans, grainy photographs and Manhattan's municipal archives, scaling it to within five feet.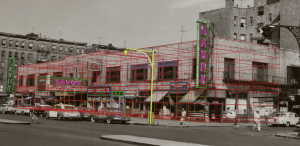 The Savoy was remodelled several times, with the now-legendary striped bandstand installed in 1936. Sharon selected this era for the recreation—the one which saw Webb and Goodman's battle of the bands, and for which the most photographs remain. Furniture will be placed by reverse-engineering these, using optics to create three-dimensional spaces from flat images.
Sound and light engineers will recreate acoustics and illumination before Novelab replicate the club's clientele using Tiny Planets' actors. Landia said: "The building is less interesting than what happened inside—the birth of Lindy Hop, the legendary musicians who played there—the fact that in Harlem, between two World Wars and in a depression, the Savoy welcomed everyone."
Her vision is to have guests chat with these legends. But how to recreate them? "You would need an incredibly advanced AI to recreate Duke Ellington," she explained. "So we decided that this must involve live actors. It will be both a real and a virtual experience." DVgroup, who previously put a motion-captured actor in a Dracula play called The Horrifically Real Virtuality, accepted the challenge.
The Savoy 2.0 will feature 4,000 mostly-animated patrons, but only a dozen or so live guests at a time. "We want to make it very personal," said Landia. "Everyone there should have a chance to meet Cab Calloway and Frankie Manning."
The team hopes to open its digital doors in April 2020. The project got €60,000 from the French Centre National du Cinema, for its first phase—Landia presented the results at Cannes XR in May. She is now seeking further funds, with a possible backer (and host building) in Montreal. The team would like to find the same in New York, London, Paris, Shanghai, and Seoul. Landia wants to bring the Savoy back to Harlem, but finances might stymie this.
"We're hoping to screen it at Tribeca, so it will hopefully come to Manhattan," she said, "but I doubt the jury would travel to Harlem, just to see us." She is confident cash will be forthcoming, though. "Investors want to know what IP (intellectual property) you've got to work with," she said. "Well, we've got the most famous jazz musicians in the world."
Visitors to the attraction can expect jaw-dropping spectacle, alongside stunning realism and a stellar cast. One scripted scene involves a reporter asking 'Shorty' George Snowden what his novel footwork is called. When Shorty replies "the Lindy Hop", the Savoy's roof will vanish as Charles Lindbergh's aircraft zooms overhead. "We want to show what went on here, but also its historical context," said Landia.
The show will end with the building's dramatic collapse, leaving only Savoy Park and the brass plaque which honors its pioneering patrons. Landia had hoped to record Norma—whose biography was a key source—for a cameo. Sadly, the dance legend died weeks before Landia could meet her. She now hopes to have Norma's recollections voiced by an actor.
Fellow dancers will be keen to swing out on the Savoy's reimagined dancefloor, but their style might be cramped by technology. "The VR equipment limits movement somewhat," she said. "And it would be hard to animate many dancers going full speed, without the software slowing down." (Developers are working with Microsoft and VR giants HTC on this.)
But limitations have not dulled Sharon's enthusiasm. "There's still a lot of work to do, but even at this early stage it's already really exciting," she said. "When I first put on the headset and stepped into the first draft, it was so beautiful and so real that it made me cry."
Landia added: "The Savoy is a beautiful message from history about what happens when you remove barriers and discrimination. There a lot of challenges ahead and we will have to move mountains to make it happen, but we will make it happen."
Anyone interested in the project is urged to like it on Facebook and join the mailing list. Those with memories, photographs or mementos of the ballroom are especially encouraged to get in touch at [email protected].
"Now seems like the right time—interest in this era is really strong, with La La Land and Lady Gaga singing swing," said Landia. "Plus, the living legends of the Savoy are all leaving us. This might be our last chance to honor them."