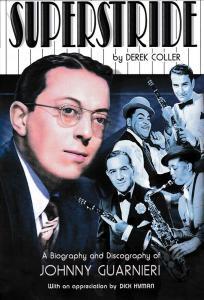 Johnny Guarnieri (1917-85) was one of the great stride and swing pianists, a natural who when he was 15 had not only heard of James P. Johnson but had met and learned directly from him. He overcame having small hands to develop his own style (sometimes using the thumb of his right hand as part of his left) and also the ability to emulate some of his favorite pianists.
In Superstride, Derek Coller not only relates and evaluates every aspect of Guarnieri's career but, through diligent research, he includes excerpts from practically every review written during the pianist's lifetime, quotes and storytelling from his contemporaries, and parts of Guarnieri's many interviews.
Johnny Guarnieri had an episodic career that evolved logically. A descendant of the Guarnieri dynasty that made world class violins, his father was a violinist and a music teacher while his mother was a talented (but not professional) singer. After a stint on violin, Guarnieri developed quickly as a pianist and was a major part of the swing era, working with the big bands of George Hall (1937-39), Benny Goodman (1939-40 and in 1941), Artie Shaw (1940-41 and 1941-42 including playing harpsichord with Shaw's Gramercy Five), Will Bradley, and Jimmy Dorsey. Guarnieri may very well have been the only musician to work at the same time with the orchestras of Goodman and Shaw; there was a brief period when both of their big bands were part-time affairs.
Coming off the road, Guarnieri appeared on an extensive series of all-star recordings during 1943-47 with such notables as Lester Young, Hot Lips Page, Roy Eldridge, Cozy Cole, Ben Webster, Don Byas, and Louis Armstrong ("Jack-Armstrong Blues"). During this period he was at the height of his fame. Although some criticized the fact that he could sound just like Teddy Wilson, Jess Stacy, Count Basie, Art Tatum, or Fats Waller (including singing like Fats to Waller's delight), he also had his own advanced swing/stride style.
In the late 1940s, Guarnieri made the decision to become a studio musician. Although he never stopped playing jazz, he became both prosperous and anonymous to the general public. Guarnieri was always extremely busy, popping up in a wide variety of settings in addition to playing jazz at night after a full day in the studios. Hoping to break into the Hollywood studios as a composer, he moved to Los Angeles in 1963 but instead ended up mostly playing solo piano in clubs (including regularly at the Tail o' The Cock during 1972-82) and festivals. In his later years, he became very proficient at playing any song that he wanted in 5/4 time, including "Maple Leaf Rag." While no longer a household name, he impressed every pianist who was lucky enough to see him play. Guarnieri was very active up until the time of his death at age 67.
Superstride covers all of this activity plus a lot more in a colorful, sometimes witty, and very readable fashion. In addition to the biography (which is around 100 pages), there is an appreciation by Dick Hyman, an overview of his recordings by Derek Coller, several appendixes including an extensive list of Guarnieri's compositions, some memories by others about seeing the pianist at the Tail 'o The Cock, and a very extensive 64-page discography.
Superstride is the type of book that should be written about every significant jazz musician.