James Conway, who plays trumpet and cornet for the Ten Bells Rag Band, was kind enough to inform me that Limehouse is "an old dockland area of East London, where a number of rivers and canals enter the Thames. There is no delta!" I've also discovered that Limehouse has become a hub of the traditional jazz scene in London.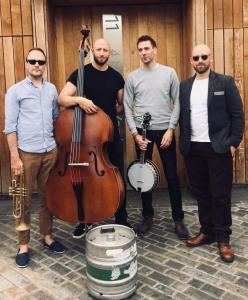 It was home until recently of Jamboree, an intimate Vaudevillian bar and the backdrop to many Youtube videos of British traditional jazz bands. Jamboree was located on Cable Street, the inspiration for the name of one band, and the name of a song by another.
Ten Bells was a bar in Spitalfields where some of Jack the Rippers victims supped their last sup.  The band members "hail from London's East End (Mile End and Whitechapel) which, like New Orleans, was a melting pot of different cultures at the start of the 20th century." If you were a London cabbie you'd know this stuff.
They have a more creative backstory for fans involving Shakelton's lost expedition to the Antarctic. They take joy in their band and that joy makes for natural self-promotion on social media. You want to root for these guys.
Meanwhile, they've been developing their own sound and expanding into a street collective, like many of the best scenes support. Others sit in on guitar, piano, drums, or other instruments but the core group consists of James Conway, Simon Conway on trombone, Chris Newstead on clarinet, and Dave Pogson on bass.
As for the sound, Conway said something interesting. "We realized that we could never capture the full essence of the music, being thousands of miles away across the pond. So I guess we play traditional jazz, imagined as though it had been born in Whitechapel, rather than Storyville. We have a deep respect for the original hot jazz, but equally have to accept it will absorb a bit of local flavor."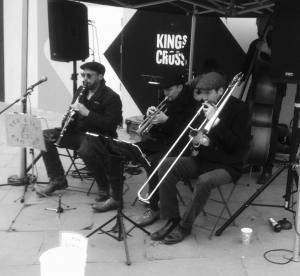 The band was inspired to try their hands playing traditional jazz by the emergent popularity of New Orleans street bands like Tuba Skinny and Shotgun Jazz Band. They play on the street and soon after forming in 2017 cut this EP as a way to hustle up gigs. They feel modest about the result and plan on returning to the studio soon.
The five-track EP consists of standards; "Jelly Roll Blues", "All of Me", "Jackson Stomp", "Beale Street Blues", and "Careless Love". Played well by a group of musicians just getting used to each other.
It is solid, nothing to be modest about, and not everyone can have an Ewan Bleach in their band. The EP did the job. Their many youtube videos from gigs prove that.
What excites me about Ten Bells Rag Band is their freshness. For jazz to grow we need more people playing it in public. I dug a little and found some musical charity work in one member's background, and an association with a Dixieland band earlier in his life. Another member may have family roots in the UK Dixieland community.
But they haven't been actively playing traditional jazz their whole lives. Their existence means the London scene has gravity enough to inspire these adult musicians to start a new band and find places to play. That happy reality is reason enough to encourage them with your support. Their success may inspire others to get off the fence and start or join bands.
They've also demonstrated the dedication required to become more cohesive as a unit. Compare videos from last September with this September and you can tell how much time they've put in. Their next studio effort will be a sure winner. I'll keep an ear out.