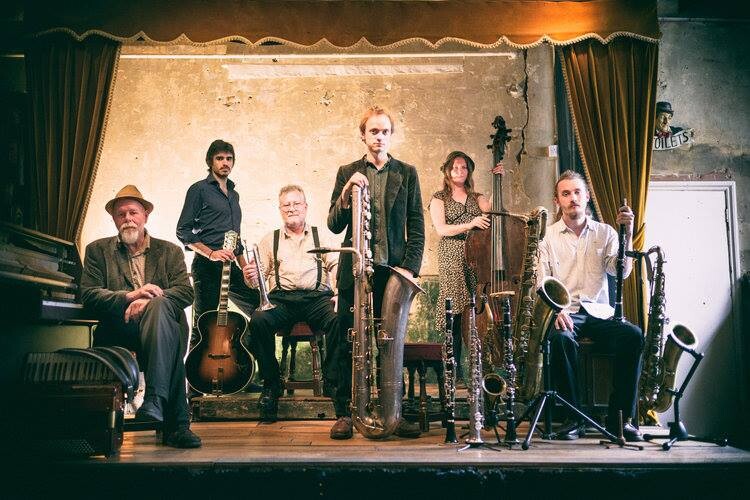 London Calling: The Next Traditional Jazz Revival in Britain
Hot Jazz Catches On, Again
As promised when we left Europe back in August (See: Grand European Tour) we've returned to catch up with the UK. Britain was unique during the jazz revival period of the 50's and 60's in the wild popularity "Trad Jazz" achieved there, airing on pop radio and even being recognized as a unique local style of the music. Subsequently, and perhaps because of that early success, traditional jazz has been slower to re-emerge than it has in other parts of the world. But emerge it has, around a core group of extremely talented young artists who are now inspiring others to follow their lead.
Man Overboard Quintet
Down in the Deep Deep Blue
This is the second studio effort from a hot swing ensemble built on the collaboration between reed superstar Ewan Bleach and classically trained violinist Thomas Gould.
An electric and distinct feel is created by their back and forth. The violin makes the difference. This isn't gypsy jazz, Gould often fits into the band the way a cornet or trombone might, but with that unique violin character. When he makes a hot rhythmic drone at the opening of "I Hate Myself For Being Mean to You" the result is so vital you'll be pleased the instrument is becoming more common in trad bands.
Several fully instrumental tracks give space to Gould and Bleach's interactions with each other as well as with Jean-Marie Fagon on guitar and Dave O'Brien on bass. "Sister Sadie" is well placed as a second track to let everyone introduce themselves. Most of the vocals numbers also leave plenty of room for improvisation.
The song choices are perfectly in tune with the natural tone of each singer and the feel of the band. The result is a lyrical identification in the listener that is immediate and personal, something rare in traditional jazz where lyrics often function as little more than a familiar melody line. Louisa Jones has the most prominent vocals, but everyone contributes, with male leads on some of the best selections. It stands up to repeated, even constant, listening, growing better each time.
16 tracks intentionally veer from the canon of major composers for reasons explained in the liner notes. Numbers from Billie Holiday's repertoire are one theme and Jones does them justice without being imitative. She also impresses on "Me and My Gin", and "Dirty TB Blues". Fud Livingston's "Imagination" uses the whole band as a haunting chorus and is the highlight of the album for me, for its drive rather than musicality.
That drive is worth mentioning. From start to finish this is a very danceable album, even when they're taking it slow.
Gould has been recently replaced in the band by Fiona Monbet, making Down in the Deep, Deep, Blue and its 2013 predecessor All Hands on Deck, the record of a now historic collaboration. But the band is still hugely popular around the UK, playing regularly and garnering rave reviews even from mainstream publications. More albums are to be expected. (View and Share as single Post)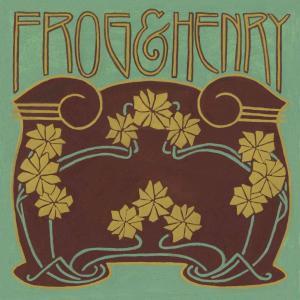 Frog and Henry
Frog and Henry consider themselves a New Orleans based band, and they have fine reasons to do so. As a collective, they've included members from Tuba Skinny, The Hokum High Rollers, The Loose Marbles and other notables of the Crescent City busking scene.
I've included them with reviews of UK based traditional jazz groups because they recorded their recent album in England and the previous one in Europe, and because Europe and the UK have been the locus of their touring thus far. (Minus a stint in Turkey and a 2019 spring tour planned to South Africa)
Their history and lineup are intentionally hard to pin down. Liner credits list instruments, recording locations, dates, equipment, but not bandmembers. They do give Ewan Bleach composer credit for one track on each album. Out of respect, I won't name anyone else here.
The distinguishing features of this collective originated when two one-man bands created a duo and performed together on the folk circuit before settling in New Orleans around 2011. Once there they were able to find other musicians with an interest in the vortex of jug bands, string bands, ragtime, and jazz. An email from the band explained their history this way:
"the group was formed in late January 2013, in New Orleans as an eight-piece street performing band. The original line-up included two jug players who also played tuba and guitarron (Mexican string bass), mandolin-banjo, violin, guitar, clarinet, tenor banjo, and washboard. We made our first recordings within two weeks of forming and then were inactive as a large group until 2017. The tenor-banjo player, who no longer plays with us, named the group during a car-ride down N.Rampart St./St. Claude Ave, from the French Quarter to the lower ninth ward."
Those gap years explains how they can sound so established after bursting on the scene less than two years ago.  All were involved in other great groups during those years and in other configurations with each other.
Frog & Henry still uses a foot peddle tuba, freeing up hands for a second instrument, otherwise they mostly play their instruments one at a time. It is now the music that makes them stand out. On their first album Frog & Henry sound like an honest to goodness rag band, in that anyone who heard them in 1905 would say, "That there's a Rag Band and gee I love that foot tuba thing."
They have talent in spades and use it to create understated rhythmic complexities that will please the most critical ear. Most of the titles they cover are from established jazz artists like King Oliver and Jimmy Noone but the tone often feels earlier. They are pulling on influences from prejazz recordings and the hokum, jug, and string acts that were also tapping those prejazz sources.
Part of that feeling is derived from the actual tone created recording on a "Nagra iii full-track 1/4" mono reel-to-reel tape-recorder, with a single Electrovoice 664 on low impedance setting." You can feel them crowded around the mic as if it were a horn they were playing into.
They pull together their albums from multiple small sessions over the course of a year. Their two so far are both posted on Bandcamp as self-titled so I'll refer to them as 2017 and 2018.
 The 2017 album was made in three sessions and consists of two different lineups. The album opens with a set of clarinet, alto-sax, tuba, guitar, and tenor banjo. The first track is an Ewan Bleach original, "Berlin Rags". Bunk Johnson's "Thriller Rag" comes next and within a chorus you'll get what is special here. They aren't all rags, "So Sweet" and "San"  highlight the reed section's jazz chops, as does "L & N Rag", their arrangement of a fiddle tune.
The second block of tracks uses clarinet, violin, mandolin, banjo, washboard, drum kit, baritone sax, and guitar with the addition of a tuba and second reed on the last three tracks of the album. "White Birds", credited to Hawiaan Orchestra, "Marsovia", a Spanish number, and "Griserie", a composition Django Reinhardt played on banjo, are waltzes. They demonstrate the broad palette of influences bands drew from during the time period. "The Big Four" by Bobby Leecan's Need More Band is an album highlight, with truly impressive washboard playing complementing the strings like hand and glove. 
 The 2018 album has enough instrumental variation to make your head spin but the basic lineup they vary from is clarinet, alto sax, soprano sax, tenor sax, tuba-machine, guitar, and banjo. In many cases musicians are switching instruments during the breaks. In the extreme case of "A Good Man is Hard to Find", nine instruments are played by only four musicians, you can see the process on a Youtube video.
"Cable Street" is an original composition created during the recording process and Ewan Bleach contributes a blues number. Twelve other tracks collect from a range of artists from Piron's New Orleans Orchestra to Rudy Vallee.  It is jazzier all the way to the closing tracks, "Buddy's Habit" and "Tin Roof Blues".  It has less of the late 20's reaching for the 1890's, and more of the early 20's dreaming forward.
The inclusion of several vocal tracks, which weren't a feature on 2017, add spice and a popular song feel. Their website mentions that all members are asked to contribute vocals. I can say that I didn't hear that many voices, but the ones I heard fit the sound. I especially enjoyed "Song of the Wanderer", and  "The Object of my Affection", both really get the period voicing without a trace of exaggeration or irony.
If a lot of what I said about the band seems gimmicky I encourage you to look past it and make a judgment based on the results. Despite all the restraints they put on themselves this isn't a process group, and the end result is magic. That a group with this sound is booking shows all over the world delights me, give a listen and I'm sure you'll be delighted to. (View and Share as single Post)
Cable Street Rag Band: Dust
Had this album been available twenty years ago I am certain that I would still be listening to it now, and I may have spent less time in the musical wilderness than I did. This is no excited first impression. I've been listening to it regularly for over six months now.
Dust is one of a handful of next generation traditional jazz albums that smash any thought that there is nothing new to say in the form. It is artistic in the sense that art is communication, and what it communicates taps those human universals so broadly that it makes you wonder how this isn't today's popular music. The sound isn't nostalgic, it is truly as if music had simply developed along a different course, one without the reboot of Rock n' Roll.
From beginning to end it is effective, as an album. The musicianship is among the best and the level of vocal talent, from three distinct voices, is not to be found elsewhere.
So, I've shared my bias, I've found an album I will likely play from time to time for the rest of my life. That's a very idiosyncratic thing, it hit all the right buttons for me. Your mileage may vary, but here's why you should give it a listen.
The band is led by Ewan Bleach on reeds, piano, and vocals. Bleach has earned a reputation stretching all the way to New Orleans and back and is the driving force in the current UK traditional jazz revival.
Louisa Jones is on double-bass here, (she also plays accordion, cornet, and clarinet,) but it is her haunting vocals that will stay with you. She highlights those vocals in her own band, Whiskey Moon Face, which features this same lineup, plus others, around her original songs. That band has a ghostly Gypsy sound that has earned her fans across Europe.
"Dakota" Jim Ydstie, who plays piano, accordion, and bass, has warm vocals of his own. He is originally from North Dakota and used to play with New Orleans Clarinetist Dr. Michael White. The Dakota Jim Band features Bleach and Jones supporting Ydstie's efforts.
John Kelly, guitar and Will Scott, reeds, fill out the band, and the talents of both are on display throughout the album.
The title track, "Dust", and "Don't Start No Stuff" both highlight Louisa's vocals, and her rendition of "You're My Thrill" is absolutely spine-tingling.
"That's a Plenty", "Persian Rug", and "Panama" get frequent play as instrumental vehicles, but their treatment here is to hear them anew. It is hard to describe how fine Bleach's arrangements are, or the band's intuition in the studio. "Panama", in particular, I would use to demonstrate what traditional jazz can be.
Other standards include "Lulu's back in Town", "One Sweet Letter", "Gloomy Sunday", "Lay Me Down a Pallet on your Floor" and "Goofus", all with distinctive arrangements and vocals.
Each of 17 tracks could be a called a highlight, but two more deserve mention:
"Under the Blasted Oak" is a developed version of a very strange George Fromby comic sketch that will certainly confuse some American audiences but would have excited my college friends about jazz.
The only bands I know to play Clarence Wiliams' "Chocolate Avenue" are Tuba Skinny in live sets, CSRB on this album, and Frog and Henry in one live appearance. I don't know for sure, but Ewan Bleach seems to be the common denominator so my intuition is he introduced it to the scene. He deserves a thank you, it has become one of my favorites.
This is the hardest review I've ever written. Superlatives are all overused, and descriptives don't convey enough. All I can say is take the time to listen to this album, and if you know a teenager like the one I was 2o years ago put this album in his or her hand and pull them out of the wilderness. (View and Share as single Post)
Ten Bells Rag Band
James Conway, who plays trumpet and cornet for the Ten Bells Rag Band, was kind enough to inform me that Limehouse is "an old dockland area of East London, where a number of rivers and canals enter the Thames. There is no delta!" I've also discovered that Limehouse has become a hub of the traditional jazz scene in London.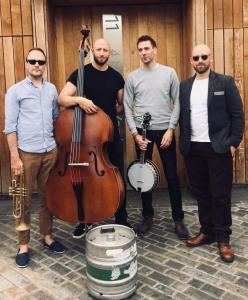 It was home until recently of Jamboree, an intimate Vaudevillian bar and the backdrop to many Youtube videos of British traditional jazz bands. Jamboree was located on Cable Street, the inspiration for the name of one band, and the name of a song by another.
Ten Bells was a bar in Spitalfields where some of Jack the Rippers victims supped their last sup.  The band members "hail from London's East End (Mile End and Whitechapel) which, like New Orleans, was a melting pot of different cultures at the start of the 20th century." If you were a London cabbie you'd know this stuff.
They have a more creative backstory for fans involving Shakelton's lost expedition to the Antarctic. They take joy in their band and that joy makes for natural self-promotion on social media. You want to root for these guys.
Meanwhile, they've been developing their own sound and expanding into a street collective, like those many of the best scenes support. Others sit in on guitar, piano, drums, or other instruments but the core group consists of James Conway, Simon Conway on trombone, Chris Newstead on clarinet, and Dave Pogson on bass.
As for the sound, Conway said something interesting. "We realized that we could never capture the full essence of the music, being thousands of miles away across the pond. So I guess we play traditional jazz, imagined as though it had been born in Whitechapel, rather than Storyville. We have a deep respect for the original hot jazz, but equally have to accept it will absorb a bit of local flavor."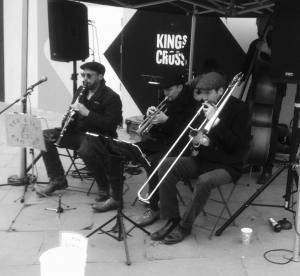 The band was inspired to try their hands playing traditional jazz by the emergent popularity of New Orleans street bands like Tuba Skinny and Shotgun Jazz Band. They play on the street and soon after forming in 2017 cut this EP as a way to hustle up gigs. They feel modest about the result and plan on returning to the studio soon.
The five-track EP consists of standards; "Jelly Roll Blues", "All of Me", "Jackson Stomp", "Beale Street Blues", and "Careless Love". Played well by a group of musicians just getting used to each other.
It is solid, nothing to be modest about, and not everyone can have an Ewan Bleach in their band. The EP did the job. Their many youtube videos from gigs prove that.
What excites me about Ten Bells Rag Band is their freshness. For jazz to grow we need more people playing it in public. I dug a little and found some musical charity work in one member's background, and an association with a Dixieland band earlier in his life. Another member may have family roots in the UK Dixieland community.
But they haven't been actively playing traditional jazz their whole lives. Their existence means the London scene has gravity enough to inspire these adult musicians to start a new band and find places to play. That happy reality is reason enough to encourage them with your support. Their success may inspire others to get off the fence and start or join bands.
They've also demonstrated the dedication required to become more cohesive as a unit. Compare videos from last September with this September and you can tell how much time they've put in. Their next studio effort will be a sure winner. I'll keep an ear out. (View and Share as single Post)
---
Online Only
For Online Only Access without delivery of the print paper sign up below.
Subscription Options
---
Print Edition
 If you'd like the PRINT EDITION, (12 monthly issues) use the following PayPal link. After your payment is complete you will be allowed to create an online account. You will receive the next mailed copy, usually shipping around the 22nd of the month. See a PDF Sample Here.