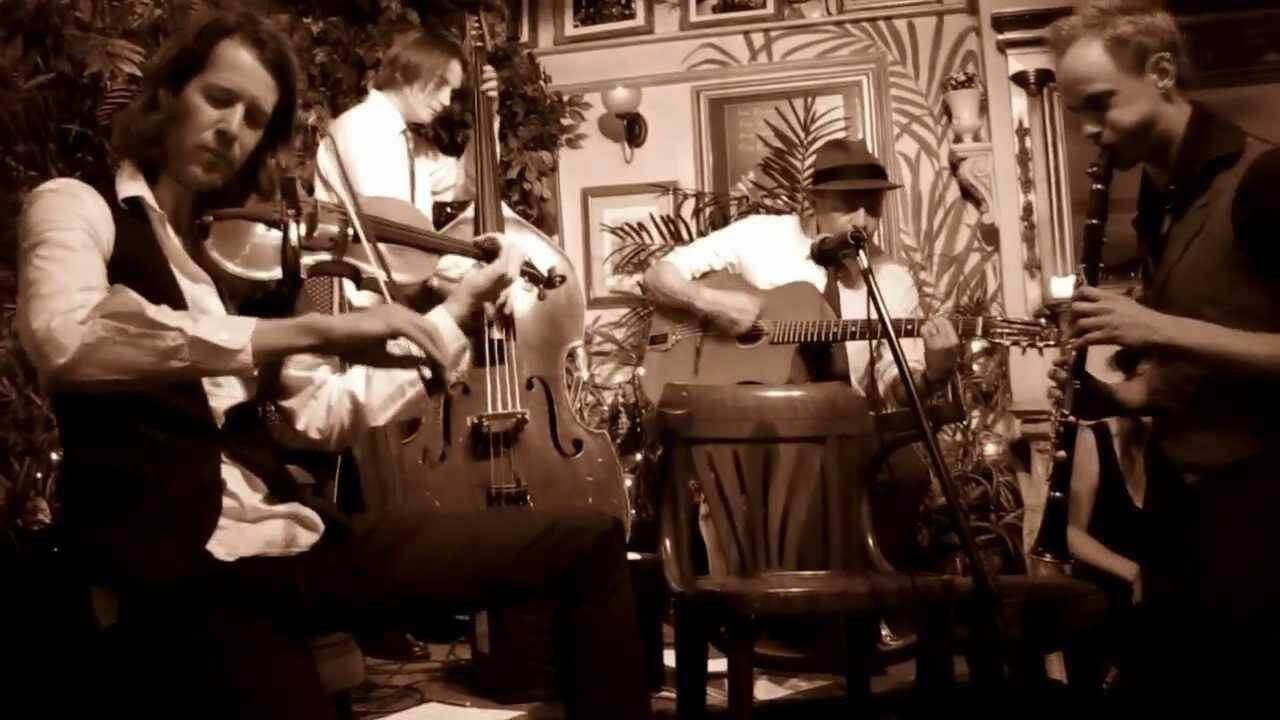 Man Overboard Quintet- Down in the Deep Deep Blue
Man Overboard Quintet
Down in the Deep Deep Blue
This is the second studio effort from a hot swing ensemble built on the collaboration between reed superstar Ewan Bleach and classically trained violinist Thomas Gould.
An electric and distinct feel is created by their back and forth. The violin makes the difference. This isn't gypsy jazz, Gould often fits into the band the way a cornet or trombone might, but with that unique violin character. When he makes a hot rhythmic drone at the opening of "I Hate Myself For Being Mean to You" the result is so vital you'll be pleased the instrument is becoming more common in trad bands.
Several fully instrumental tracks give space to Gould and Bleach's interactions with each other as well as with Jean-Marie Fagon on guitar and Dave O'Brien on bass. "Sister Sadie" is well placed as a second track to let everyone introduce themselves. Most of the vocals numbers also leave plenty of room for improvisation.
The song choices are perfectly in tune with the natural tone of each singer and the feel of the band. The result is a lyrical identification in the listener that is immediate and personal, something rare in traditional jazz where lyrics often function as little more than a familiar melody line. Louisa Jones has the most prominent vocals, but everyone contributes, with male leads on some of the best selections. It stands up to repeated, even constant, listening, growing better each time.
16 tracks intentionally veer from the canon of major composers for reasons explained in the liner notes. Numbers from Billie Holiday's repertoire are one theme and Jones does them justice without being imitative. She also impresses on "Me and My Gin", and "Dirty TB Blues". Fud Livingston's "Imagination" uses the whole band as a haunting chorus and is the highlight of the album for me, for its drive rather than musicality.
That drive is worth mentioning. From start to finish this is a very danceable album, even when they're taking it slow.
Gould has been recently replaced in the band by Fiona Monbet, making Down in the Deep Deep Blue and its 2013 predecessor All Hands on Deck, the record of a now historic collaboration. But the band is still hugely popular around the UK, playing regularly and garnering rave reviews even from mainstream publications. More albums are to be expected.
---
This review appeared as part of a longer column in or October 2018 issue, see: London Calling: The Next Traditional Jazz Revival in Britain
---
Online Only
For Online Only Access without delivery of the print paper sign up below.
Subscription Options
---
Print Edition
 If you'd like the PRINT EDITION, (12 monthly issues) use the following PayPal link. After your payment is complete you will be allowed to create an online account. You will receive the next mailed copy, usually shipping around the 22nd of the month. See a PDF Sample Here.