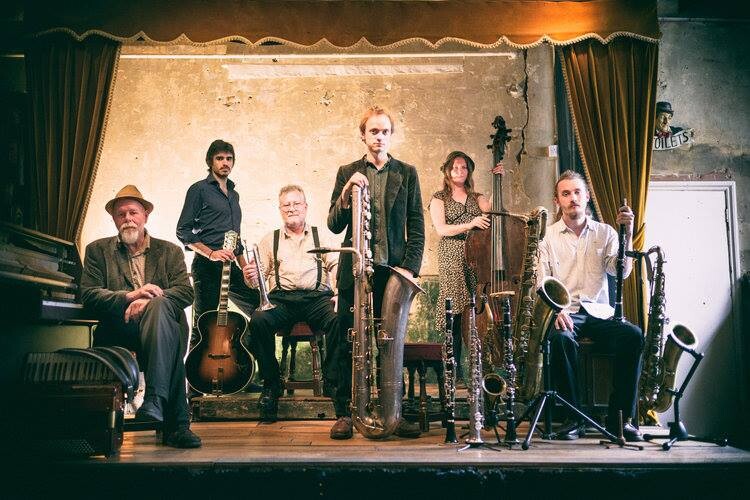 Cable Street Rag Band- Dust
Cable Street Rag Band: Dust
Had this album been available twenty years ago I am certain that I would still be listening to it now, and I may have spent less time in the musical wilderness than I did. This is no excited first impression. I've been listening to it regularly for over six months now.
This is one of a handful of next generation traditional jazz albums that smash any thought that there is nothing new to say in the form. It is artistic in the sense that art is communication, and what it communicates taps human universals so broadly that it makes you wonder how this isn't today's popular music. The sound isn't nostalgic, it is truly as if music had simply developed along a different course, one without the reboot of Rock n' Roll.
From beginning to end it is effective, as an album. The musicianship is among the best and the level of vocal talent, from three distinct voices, is not to be found elsewhere.
So, I've shared my bias, I've found an album I will likely play from time to time for the rest of my life. That's a very idiosyncratic thing, it hit all the right buttons for me. Your mileage may vary, but here's why you should give it a listen.
The band is led by Ewan Bleach on reeds, piano, and vocals. Bleach has earned a reputation stretching all the way to New Orleans and back and is the driving force in the current UK traditional jazz revival.
Louisa Jones is on double-bass here, (she also plays accordion, cornet, and clarinet,) but it is her haunting vocals that will stay with you. She highlights those vocals in her own band, Whiskey Moon Face, which features this same lineup, with others, around her original songs. That band has a ghostly Gypsy sound that has earned her fans across Europe.
"Dakota" Jim Ydstie, who plays piano, accordion, bass and has warm vocals of his own, is originally from North Dakota and used to play with New Orleans Clarinetist Dr. Michael White. The Dakota Jim Band features Bleach and Jones supporting Ydstie's efforts.
John Kelly, guitar, and Will Scott, reeds, fill out the band, and the talents of both are on display throughout the album.
The title track, "Dust", and "Don't Start No Stuff" both highlight Louisa's vocals, and her rendition of "You're My Thrill" is absolutely spine-tingling.
"That's a Plenty", "Persian Rug", and "Panama" get frequent play as instrumental vehicles, but their treatment here is to hear them anew. It is hard to describe how fine Bleach's arrangements are, or the band's intuition in the studio. "Panama", in particular, I would use to demonstrate what traditional jazz can be.
Other standards include "Lulu's back in Town", "One Sweet Letter", "Gloomy Sunday", "Lay Me Down a Pallet on your Floor" and "Goofus", all with distinctive arrangements and vocals.
Each of 17 tracks could be a called a highlight, but two more deserve mention:
"Under the Blasted Oak" is a developed version of a very strange George Fromby comic sketch that will certainly confuse some American audiences but would have excited my college friends about jazz.
The only bands I know to play Clarence Wiliams' "Chocolate Avenue" are Tuba Skinny in live sets, CSRB on this album, and Frog and Henry in one live appearance. I don't know for sure, but Ewan Bleach seems to be the common denominator so my intuition is he introduced it to the scene. He deserves a thank you, it has become one of my favorites.
This is the hardest review I've ever written. Superlatives are all overused, and descriptives don't convey enough. All I can say is take the time to listen to this album, and if you know a teenager like the one I was 2o years ago put this album in his or her hand and pull them out of the wilderness.
---
This review appeared as part of a longer column in or October 2018 issue, see: London Calling: The Next Traditional Jazz Revival in Britain
---
Online Only
For Online Only Access without delivery of the print paper sign up below.
Subscription Options
---
Print Edition
 If you'd like the PRINT EDITION, (12 monthly issues) use the following PayPal link. After your payment is complete you will be allowed to create an online account. You will receive the next mailed copy, usually shipping around the 22nd of the month. See a PDF Sample Here.